Vermont has a reputation for being the place to visit for fall foliage.
You could go to other New England states, but why? Vermont has the best fall foliage in New England because of the diverse landscape.
Brightly colored leaves show off atop rolling hills and peaks (hello, Green Mountain State).
Northern Vermont is where the leaves often show their colors first. They provide an incredible backdrop to the many dairy farms located in this region and throughout the state. Think postcard-perfect photos of cows grazing with radiant colors behind them.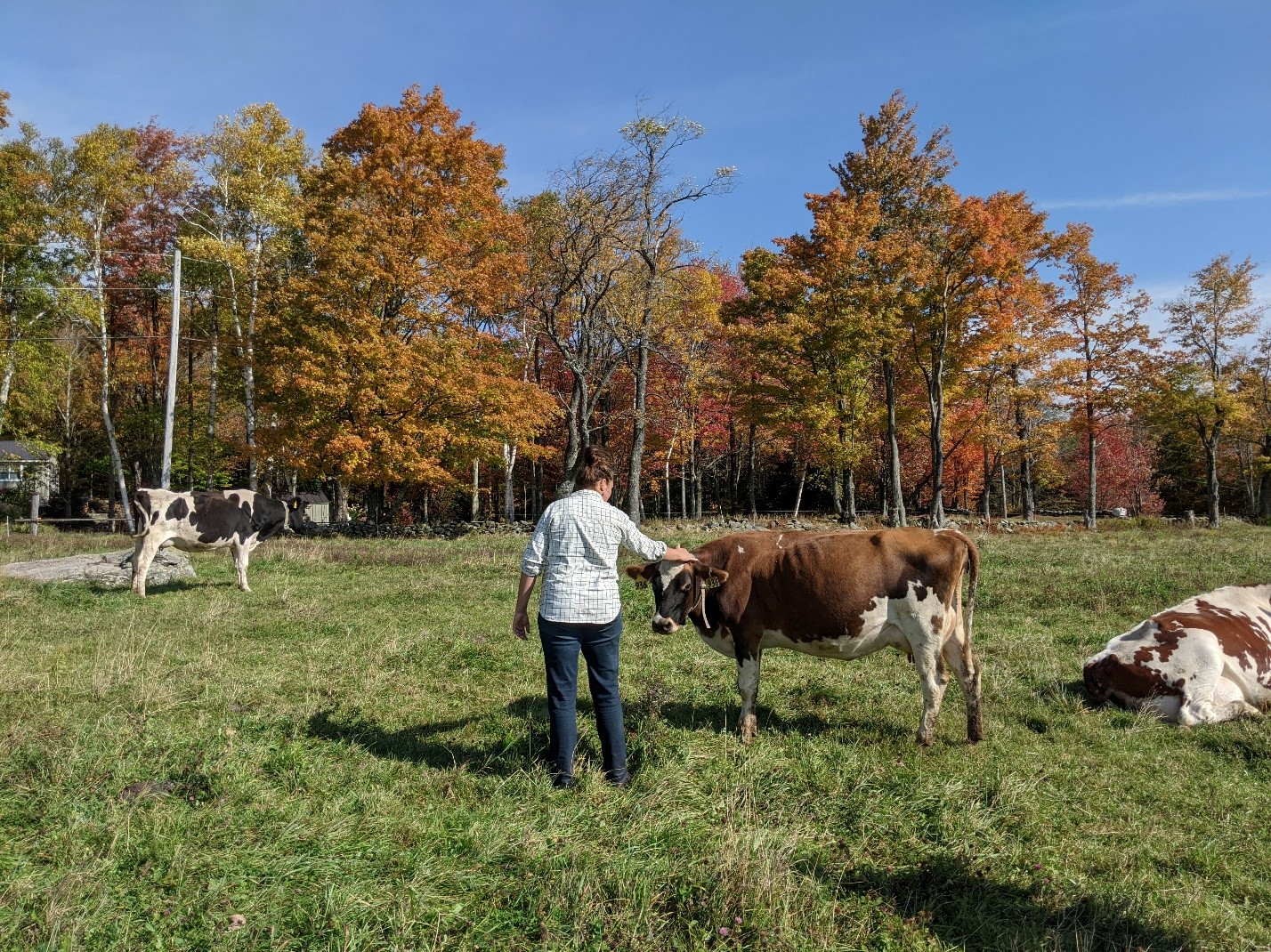 Cows grazing at Corse Farm Dairy in Whitingham in Southern Vermont. Whether you choose to visit Northern or Southern Vermont, you'll likely see cows dotted across the landscape.
When is Peak Fall Foliage in Northern Vermont?
Generally, peak fall foliage in Northern Vermont is the first or second week in October.
There are lots of foliage maps that can help you properly time your leaf-peeping adventures in Vermont. The Vermont Department of Tourism has a fall foliage map that lets you choose the date to see the varying colors on the map.
Northern Vermont is the first area to show off its extravagant fall colors because it's the coldest area of the state and has some of the highest elevations. Leaves show different intensities of colors depending on the temperature, soil, and precipitation each year as well.
At Snow Farm Vineyard, though we are in Northern Vermont, the leaves don't peak until late October because of the warming effect of Lake Champlain. A longer fall foliage season to enjoy!
Best Places to Vist in Northern Vermont in the Fall
Check out our top 20 picks for places to visit and things to do in Northern Vermont in the fall.
We're obviously partial to wine tastings at our family-owned vineyard in South Hero where you can enjoy views of the mountains and lake, but since we've been part of the community here for generations, we're got a few other recommendations too!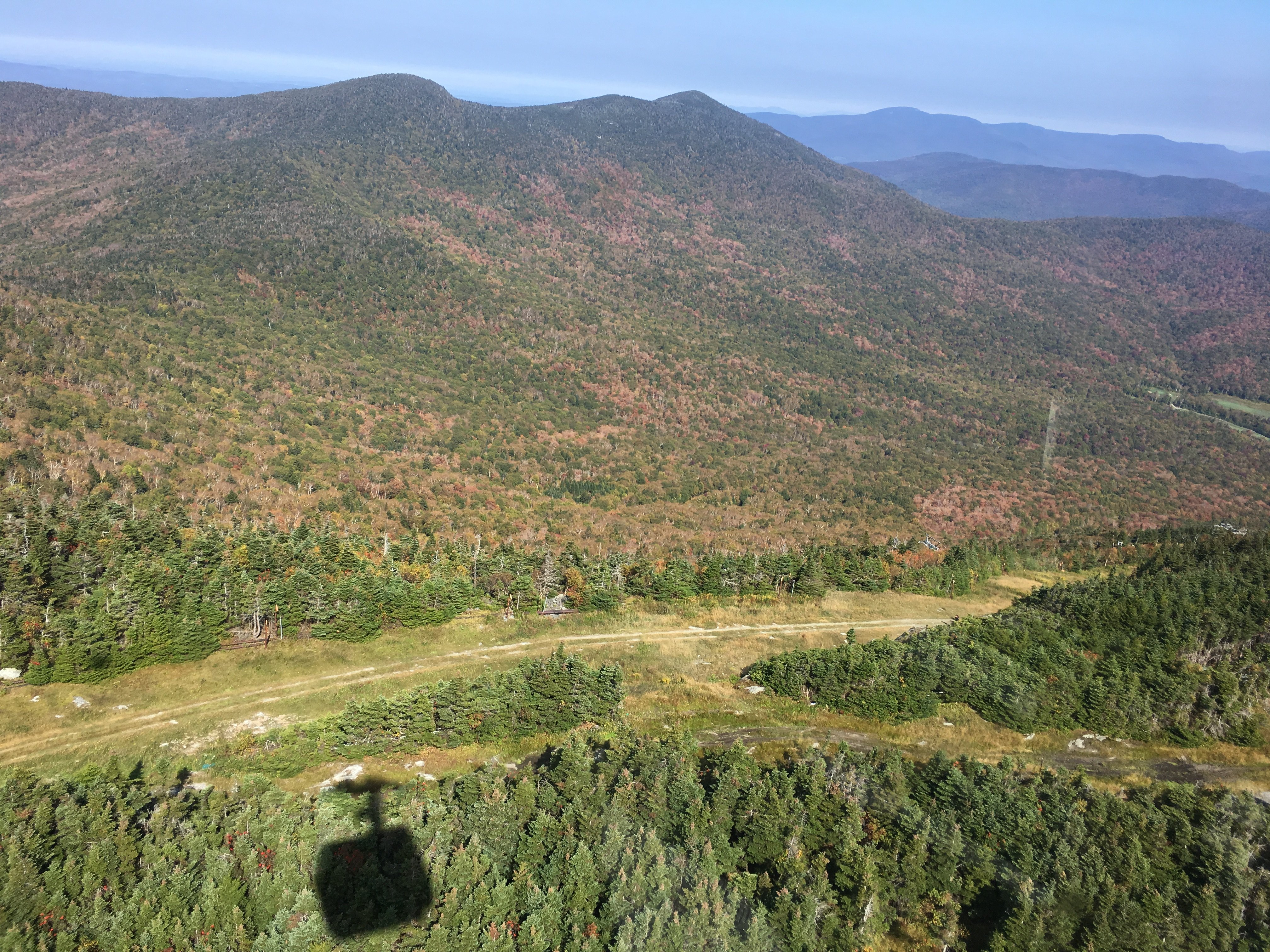 The view from the gondola ride at Jay Peak
Take the Gondola at Jay Peak and Play Disc Golf
When you ride to the top of the gondola at Jay you'll be able to see not only the mountains in Vermont but also in Canada too. The disc golf course just outside the main lodge is a great way to spend the afternoon.
Kayak the Lamoille River to the Sand Bar State Park
Kayak the river for up-close leaf-peeping and then get expansive views of the Adirondacks from the lake on the same trip as you end at a state park. Check out our kayaking blog post for two- and four-mile kayak options from Milton to the South Hero, ending at the Sand Bar on Lake Champlain.
Drive the Northern Mountains and Lake Champlain Islands Loop (165 miles)
Thanks to Vermont Tourism for mapping out this beautiful fall foliage drive through the Lake Champlain Islands and on to the Northern Mountains where "almost every twist and turn of the roads towns reveals both countryside views and vistas across the lake and out toward distant mountains. A unique and impressive mix."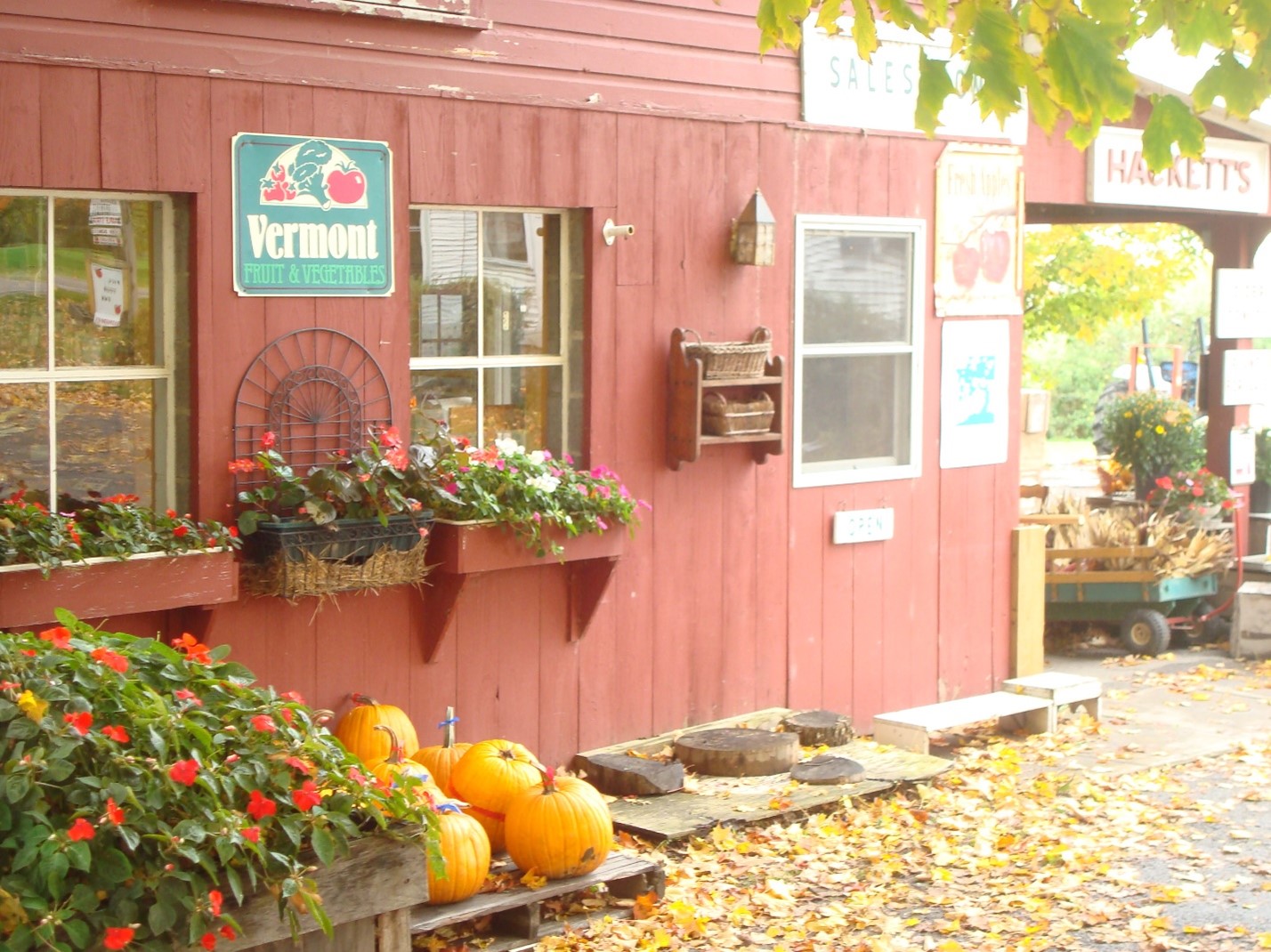 Hackett's Apple Orchard
Go Apple Picking
At the many apple orchards in Vermont you'll find cider donuts, creemees, freshly-made pies, cider slushies, and lots of Vermont gifts. Here is a complete Vermont apple orchard listing, with a few of our favorites below.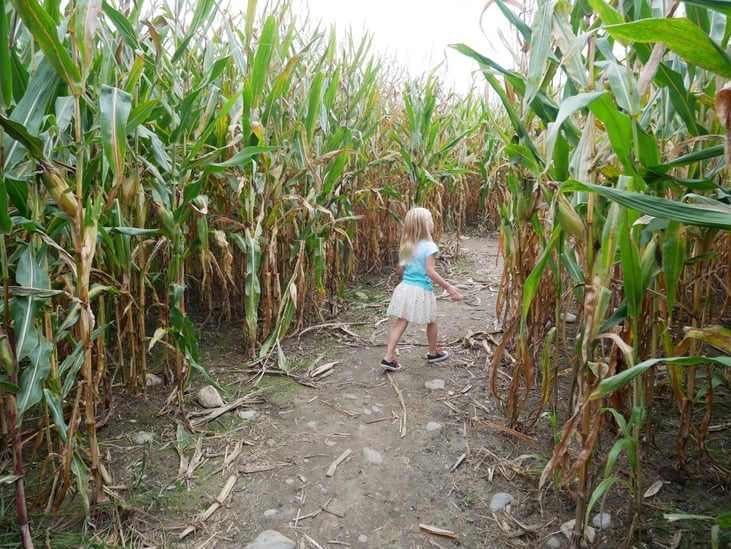 Percy Farm Corn Maze
Find Your Way Out of a Corn Maze
It's harder than you might think to navigate through a corn maze. Can you do it without having to call the cell phone number for help? Try your luck at these mazes.
Go to a Fall Festival
Hayrides, animals, fall food, you can see it all at Vermont fall festivals. In the Islands, check out:
Fall Harvest Festival at Snow Farm Vineyard, October 3, 2021 from 1 to 5 p.m.
Join us to harvest grapes from 9 a.m. to noon. All harvesters recieve a gift bag with a bottle of wine (adults only). From 1 p.m. to 5 p.m. join us for wagon rides around the vineyard, grape stomping and live music by the Buck Hollers! Free admission.
Champlain Islands Farmers Market Fall Festival, Oct 9, 2021 from 10 a.m. to 3 p.m.
Music, games, fall foods, crafts, and more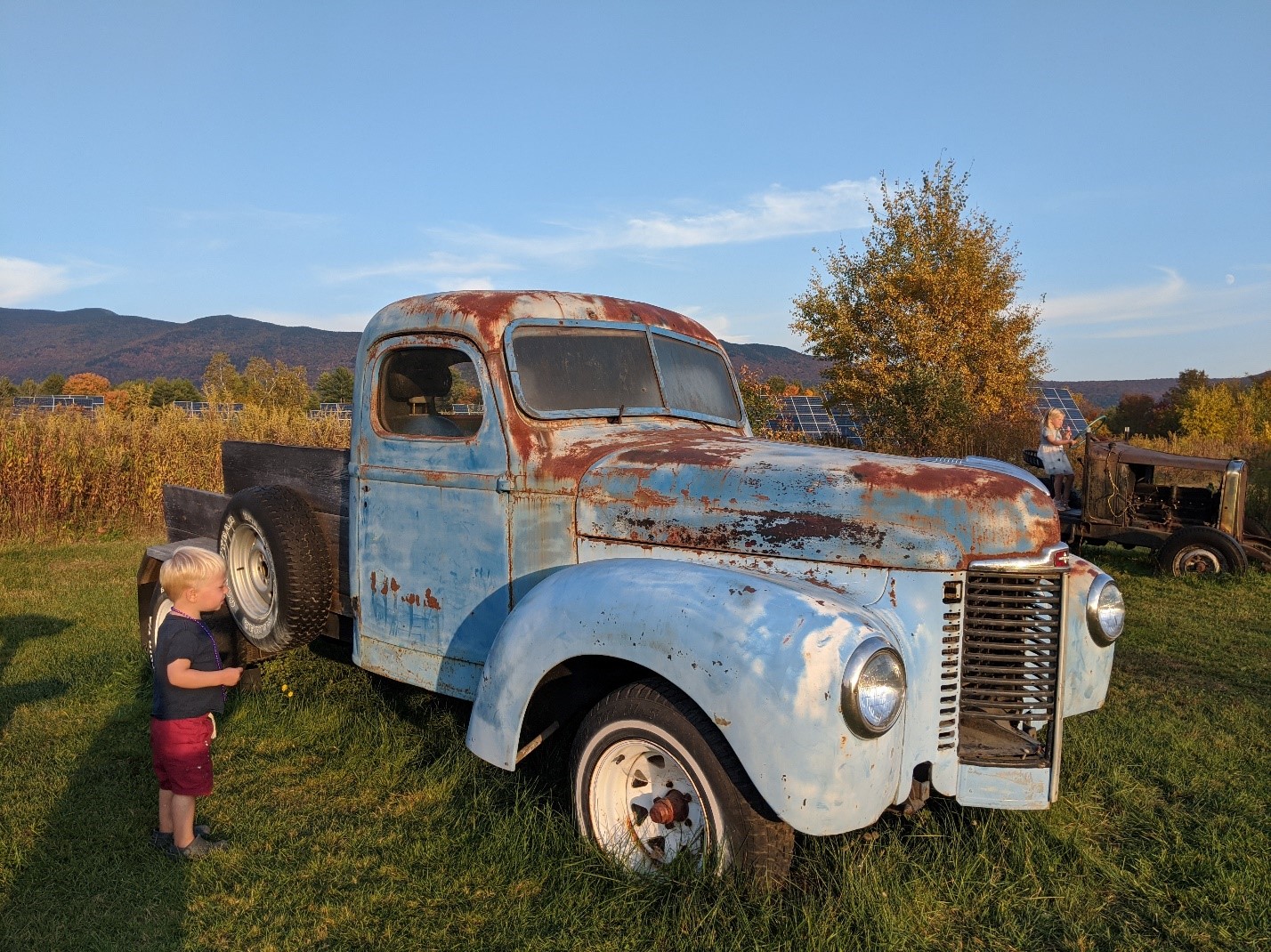 The Little Blue Truck at the Cold Hollow Cider Mill

Visit the Cider Mill & Little Blue Truck
While technically not in Northern Vermont, no Vermont fall foliage list would be complete without mention of the Cold Hollow Cider Mill in Waterbury Center. If you have kids who are fans of the little blue truck book series they'll be thrilled to find him at the cider mill. A great photo op against the fall colors!
Experience a Farm Stay
The Couture family in Westfield, Vermont operates a dairy farm, maple operation, and bed and breakfast experience. Warning: they say the cows might wake you up in the morning!
Our own Crescent Bay Bed and Breakfast in South Hero is only a half mile down the road from our vineyard and maple operation, located on 100+ acres of farmland. Walk through the vines and appreciate Vermont agriculture.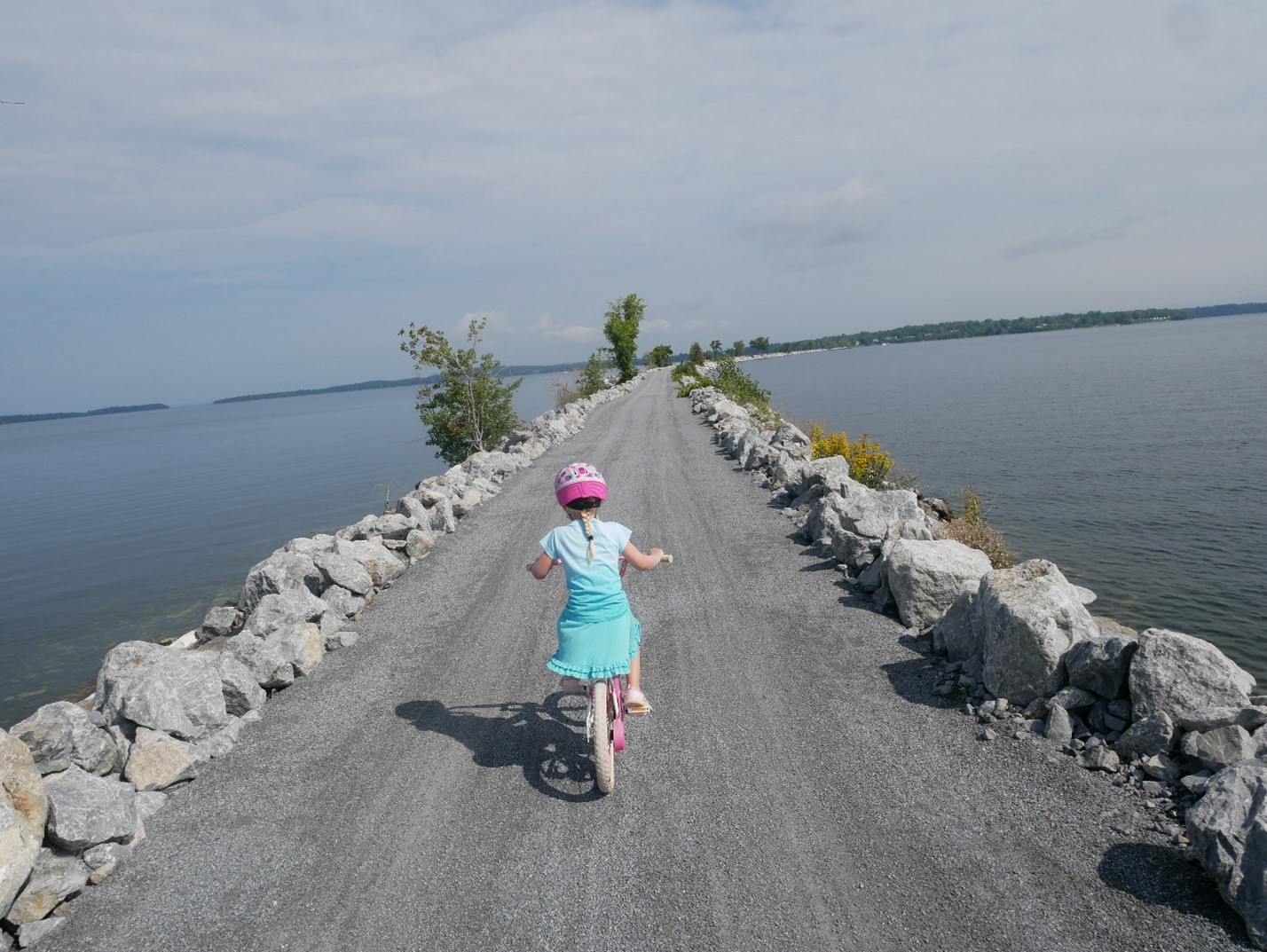 The Island Line Trail to South Hero from Burlington
Cycle From Burlington to South Hero
As far as we know, the Islands Line trail is the only bike path that crosses a lake on an old railroad track. You can bike on the Burlington Bike Path all the way to South Hero in 13 mile trip (one-way) via the trail known as the causeway, with water on both sides. Check out the map, linked above, to create your own journey.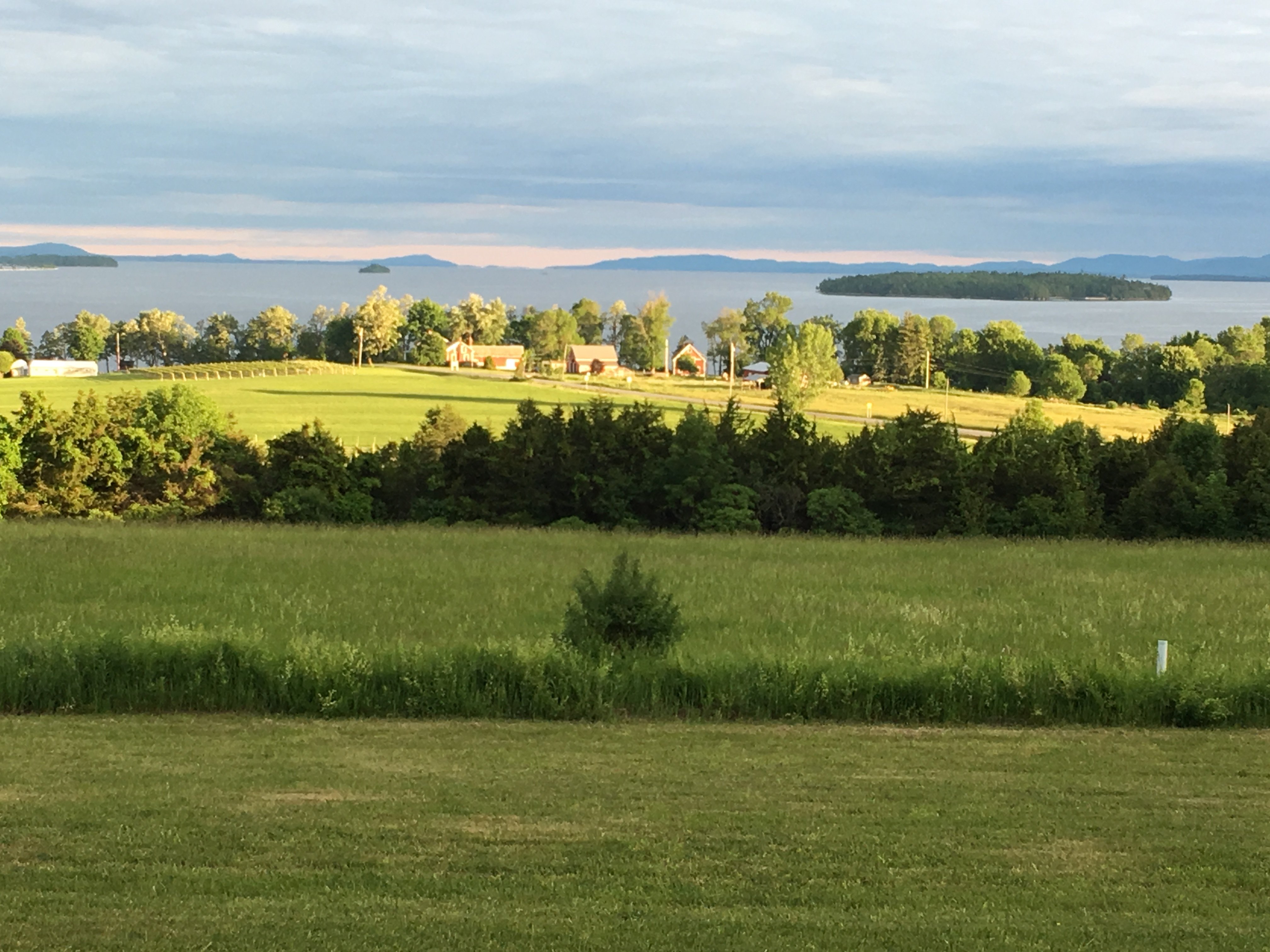 Fox Hill at Snow Farm Vineyard
Hike Fox Hill - Easy
The Fox Hill hike starts at the Snow Farm Vineyard tasting room and is an easy 20-minute walk one-way to views of Mansfield, the Adirondacks and Lake Champlain. Grab a glass of wine, enjoy an easy walk, and take in the views!
Hike the Eagle Mountain Natural Area - Easy
If you have young kids or are just looking for a leisurely stroll, this is the hike for you. This one-hour round-trip hike takes you to one of the highest spots on the Lake Champlain Shoreline. When you reach the top, you'll be able to look out over the lake and see the Adirondacks.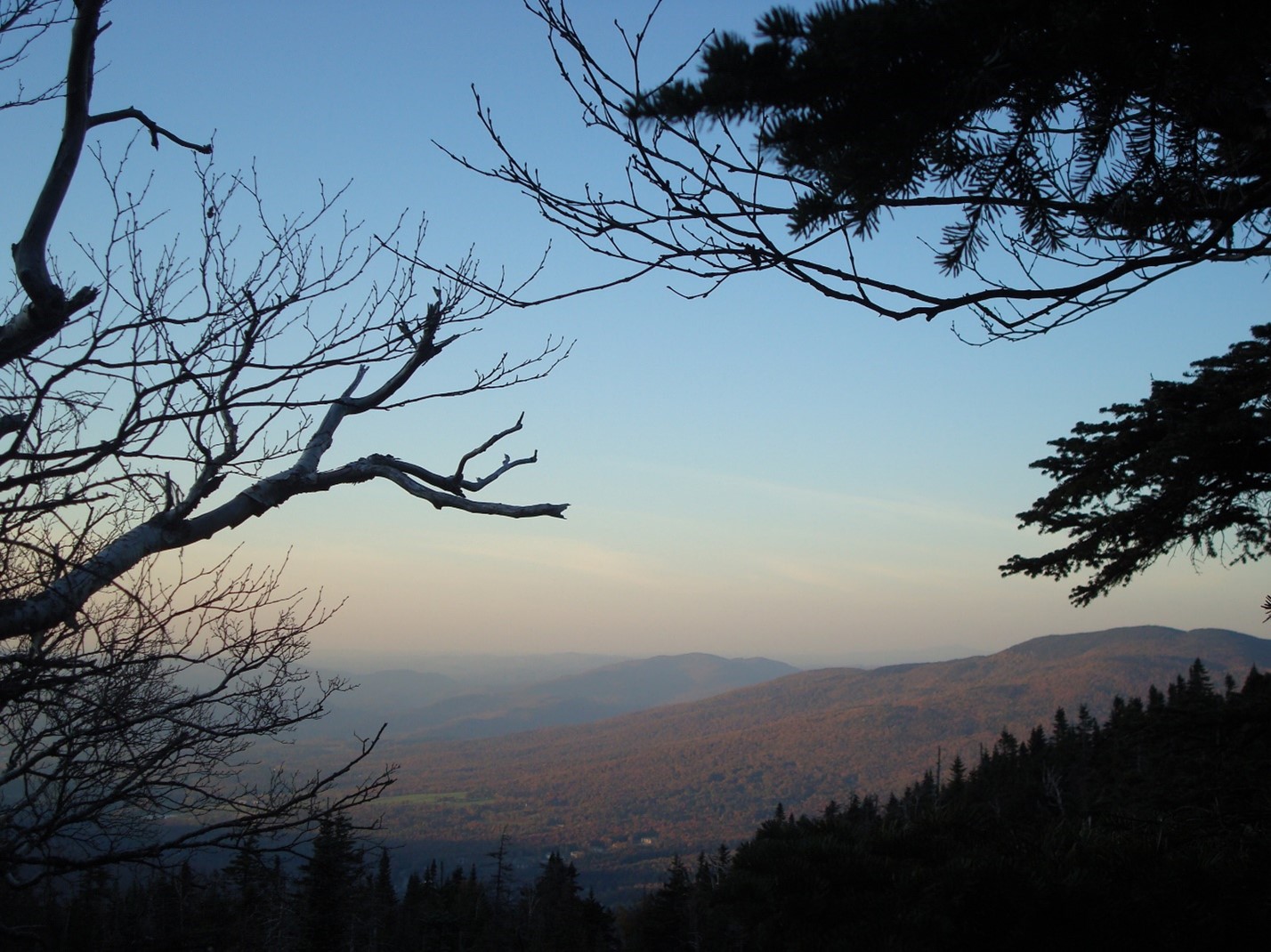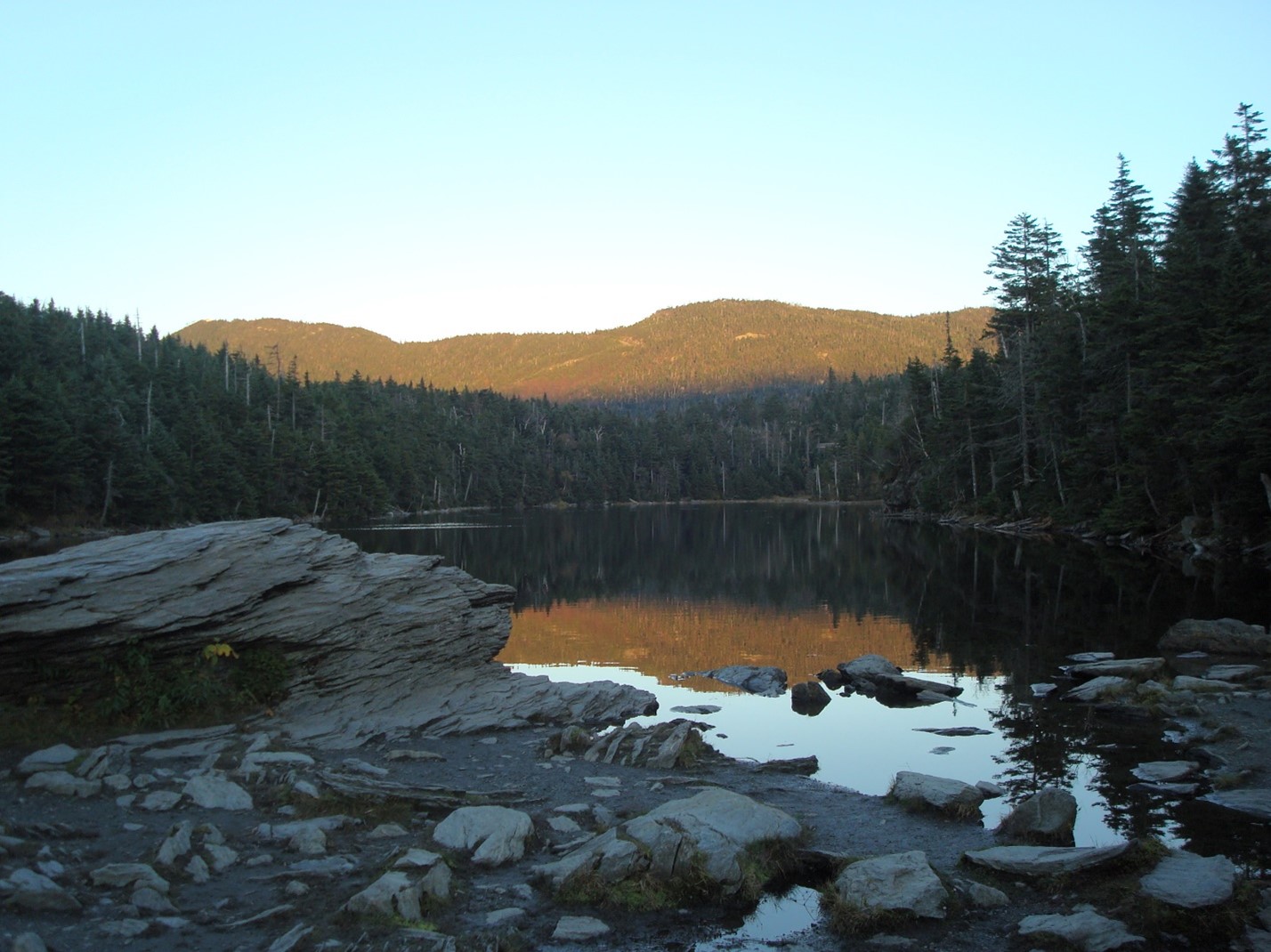 Sterling Pond
Hike to Sterling Pond - Moderate
The trail head for the Sterling Pond hike is located on Route 108 at the top of the notch, a twisty, windy road lined with massive boulders and cliffs. The hike brings you to a large pond used for snowmaking by Smugglers Notch Ski Resort. On your way up you'll be able to look out over the mountains. Approx. two to three hours round-trip.
Hike the Sunset Ridge Trail to Vermont's Highest Point - Difficult
One of the most popular and more challenging hikes in the state is the Sunset Ridge Trail in Jericho (pictured above) to the top of Mt. Mansfield (the highest peak in the state), where you'll get 360 degree views. Aprox. four to five hours round-trip for experienced hikers.
Visit a Dairy Farm
Vermont is home to approx. 600 dairy farms, many of which are open to the public. Dairy farming is a big part of the way of life in Vermont. When you visit a dairy farm you'll leave with a deep appreciation for how your milk, cheese, and yogurt are made, especially if you visit a farm that bottles their own milk, like Aires Hill Farm & Creamery in Berkshire.
Visit a Farmers Market
Vermont agriculture and artisanship is on display throughout the year at farmers markets. It's a great way to support small food and fiber producers. Many farmers markets in Vermont have live music. Bring a blanket and taste and try seasonal products you wouldn't get a chance to have otherwise! It's also a great spot to find gifts to bring back home.

Check out this list of farmers markets and their schedules from NOFA-VT.
Visit a Vineyard
Our tasting room in South Hero is located within our 13+ acre vineyard, and is surrounded by Lake Champlain and mountain views - a true Vermont experience.
Visit a Brewery
Great spots to appreciate the beauty of Vermont and craft beverages are: Hill Farmstead Brewery in Greensboro, Von Trapp Family Lodge (the Kaffeehaus and the Bierhall have views), and Foam Brewers' Waterfront taproom (overlooks Lake Champlain).
Go to a Concert
Shelburne Museum offers outdoor concerts in the summer through mid-September on a hillside with views of the mountains behind the stage. Higher Ground has an outdoor performance space in Burlington called the Backside 405, and concerts available throughout the year at their indoor spaces.
Visit a Vermont State Park
Most state parks are open through Labor Day or the 2nd Monday in October, with some remaining open later. A few of our favorites that are open through the second Monday in October:
Elmore State Park - lovely beach and trail to hike to the fire tower for views
Niquette Bay - a forested walk to 4,700 feet of scenic rocky and sandy shoreline
North Hero State Park - open year-round, a forest and beach with wildlife spotted often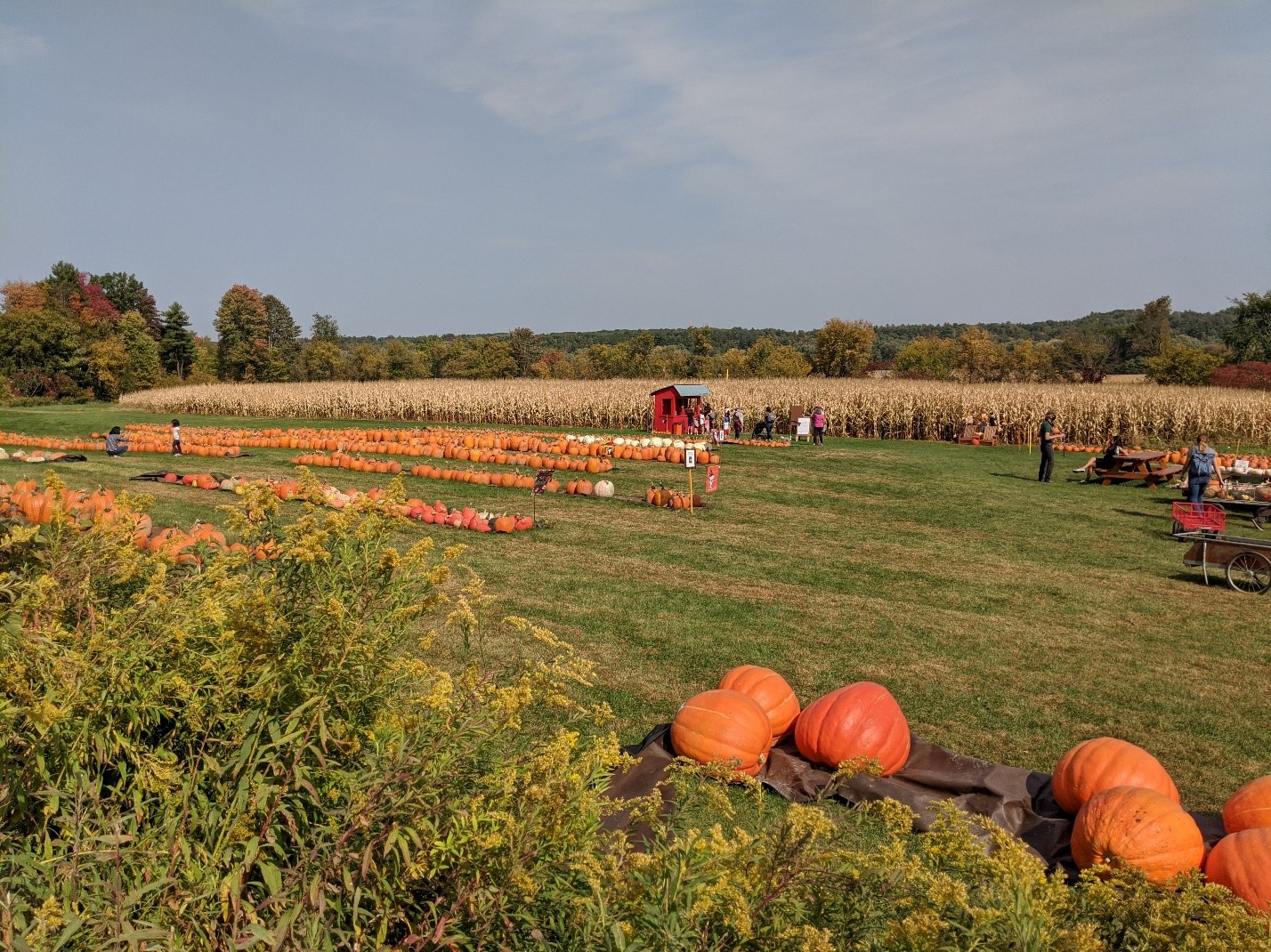 Whitcomb's Land of Pumpkins

Pick Your Own Pumpkin
Fall and pumpkins are basically synonyms. Check out these pumpkin patches in Northern Vermont this fall and support a local family-run business.
Isham Family Farm, Williston - wagon rides, a corn maze, and pumpkin picking
Whitcomb's Land of Pumpkins & Corn Maze, Williston
Sam Mazza's Farmstand, Colchester - corn maze, pumpkin picking, and hayrides
River Berry Farm, Fairfax - PYO fall raspberries too!
Enjoy Fall Foliage in Vermont!
This post was curated by Snow Farm Vineyard. Be sure to stop by and visit our tasting room in South Hero while you're out leaf peeping, or shop our wines online.