When you think of mulled wine, do you suddenly get a sense of warmth and happiness? Is your mouth starting to water? Are you feeling all nice and fuzzy inside? Well, if this is the case then read on. We have some tips for you on how to choose the best wine for mulled wine, and a perfect mulled wine recipe made with our very own Snow Farm Vineyard wine.
Whether you like to drink it on its own or perhaps with a charcuterie board by the fire, there's nothing better on a cold winter's night than a mug of soothing, warm and richly spiced mulled wine.
Types of Wine to Use for Mulled Wine
When it comes to choosing the right type of wine for mulled wine, is there any difference between the type of red you buy to create your favorite winter beverage? As it turns out, yes. There are a few differences between the types of red wine you should buy for mulled wine. Look for a red wine that is:
Fruity: a fruit-forward wine is one of the best qualities of red wine for mulling. Try Snow Farm Vineyard's Leon Millot. It's dry and smooth with blueberry and plum aromas, soft tannins, and gentle earthy notes, with blueberry flavors in the finish.
Dry: In general, mulled wine is made with dry or semi-dry wine. Avoid acidic or tannic wine. Snow Farm Vineyard's Crescent Bay Red is our signature dry red blend with complex fruit and earthy flavors and aromas.
Medium to full-bodied: You'll want wine that is rich and full, and generally has a higher alcohol content. Try Snow Farm Vineyard's Petite Pearl. A mix of ripe red fruit and oak on the palate, finishing off with smooth tannins.
How to Make Mulled Wine
It's pretty easy to make mulled wine. Pour a bottle into a pot and add a few ingredients. Since we like to keep things simple we only recommend adding a few key ingredients.
Fruit: add an orange. Remove the peel if you'd like to reduce the bitterness.
Spice: you can add whole cloves, a cinnamon stick, and star anise.
Sweetener: maple syrup or honey work great.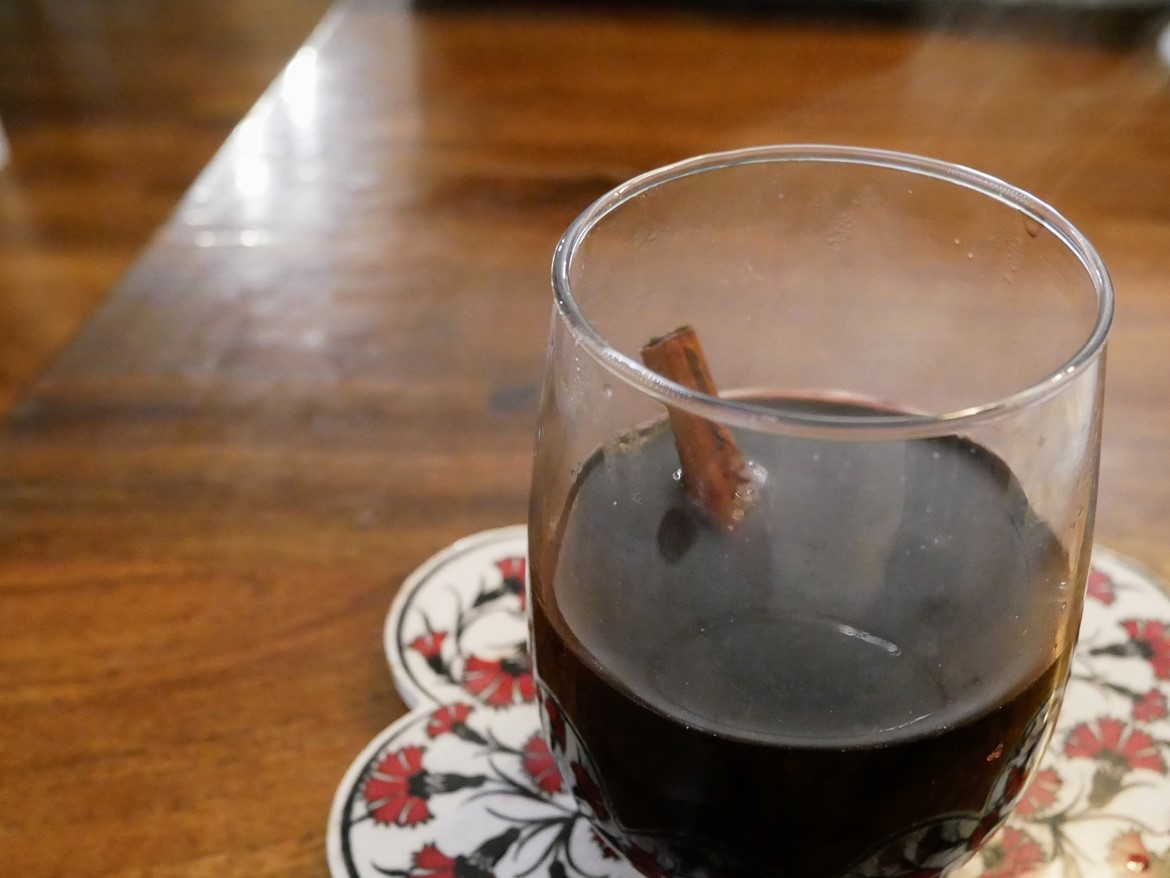 Mulled Wine Recipe
This is the recipe used by Snow Farm Vineyard at our tasting room and only takes 5 minutes to prep! You can let it mull for as long as you'd like.
Ingredients:
1 bottle of Crescent Bay Red by Snow Farm Vineyard
2–4 tablespoons maple syrup to taste (dark maple syrup has the best flavor)
2 cinnamon sticks
5 or 6 whole cloves
Half an orange, peeled and sliced into rounds
Directions:
Combine all ingredients in a pot and heat on low until it just barely reaches a simmer. You can also use a crockpot to double or even quadruple the recipe. Cover and let it simmer for at least 15 minutes or up to 3 hours. Be careful to not let it boil, as that will boil off the alcohol. Strain it through a fine-mesh strainer, and serve in mugs. Enjoy!
Be sure to visit our tasting room in South Hero, Vermont this winter to enjoy a glass of mulled wine while you take in the views of the snowy mountains and lake!
Posted by Cassandra Martin