Camping in Vermont is a favorite activity of locals and tourists alike. The best part about camping near Burlington, Vermont is how close you can be to the wilderness and things to do in Vermont's largest city.
If you love the outdoors and are looking for a family vacation that combines fun, relaxation, and adventure in equal parts, then camping near Burlington, Vermont is a great idea.
You'll have the opportunity to explore your surroundings without having to worry about schedules and your to-do list. Plus, you'll feel off the grid but you'll be close to Burlington and will see many more things than you would if you stayed in a more remote area. Here are the best spots to camp near Burlington, Vermont, and things to do while you're there.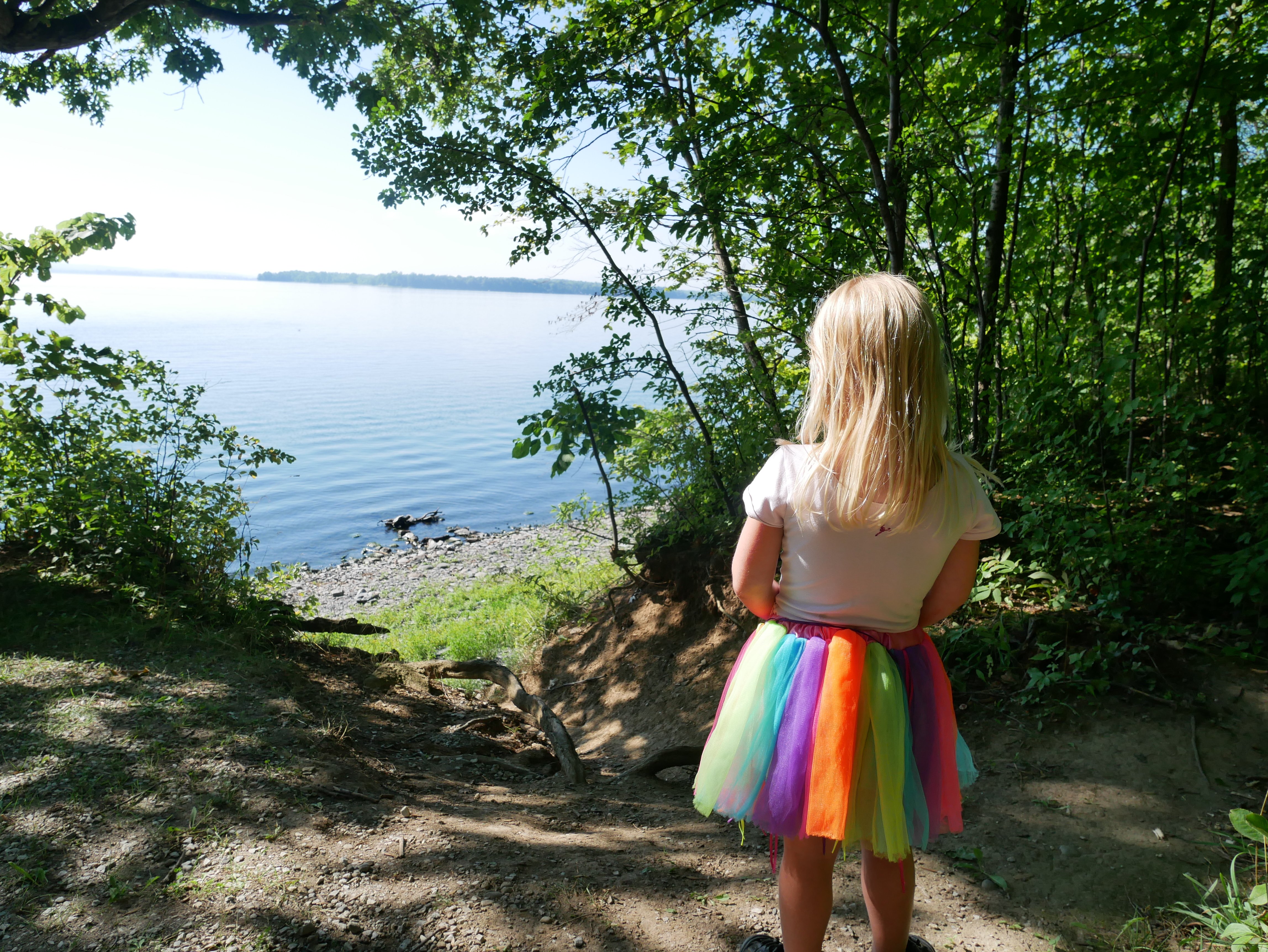 Many of the tent sites at Grand Isle State Park are on the lake with great views. Imagine waking up to the sun coming up over the lake and walking down to the beach from your campsite.
Grand Isle State Park
Grand Isle State Park is a camping destination with 115 tent sites that also accept RV parking. There are 36 lean-to sites that can make camping a little easier, comfortable, and family-friendly.
If you like you're camping on the more comfortable side, you'll appreciate that there are 4 cabins as well as restrooms that have running water and hot showers!
The park includes a nature center that offers interesting activities including campfire programs, night hikes, as well as natural crafts and games, making it a nice place for your family to enjoy. If you want to bring your own boat on a trailer, there's a boat ramp on site. There's a sand court for volleyball as well as horseshoe courts and a play area.
People who camp at Grand Isle State Park can also enjoy Knight Point State Park and Alburgh Dunes State park for free. These are 7 miles and 19 miles away respectively. Alburgh Dunes State Park has possibly the best sandy beaches in Vermont so that's a great place to spend a day sipping some SnowFarm Vineyard wines.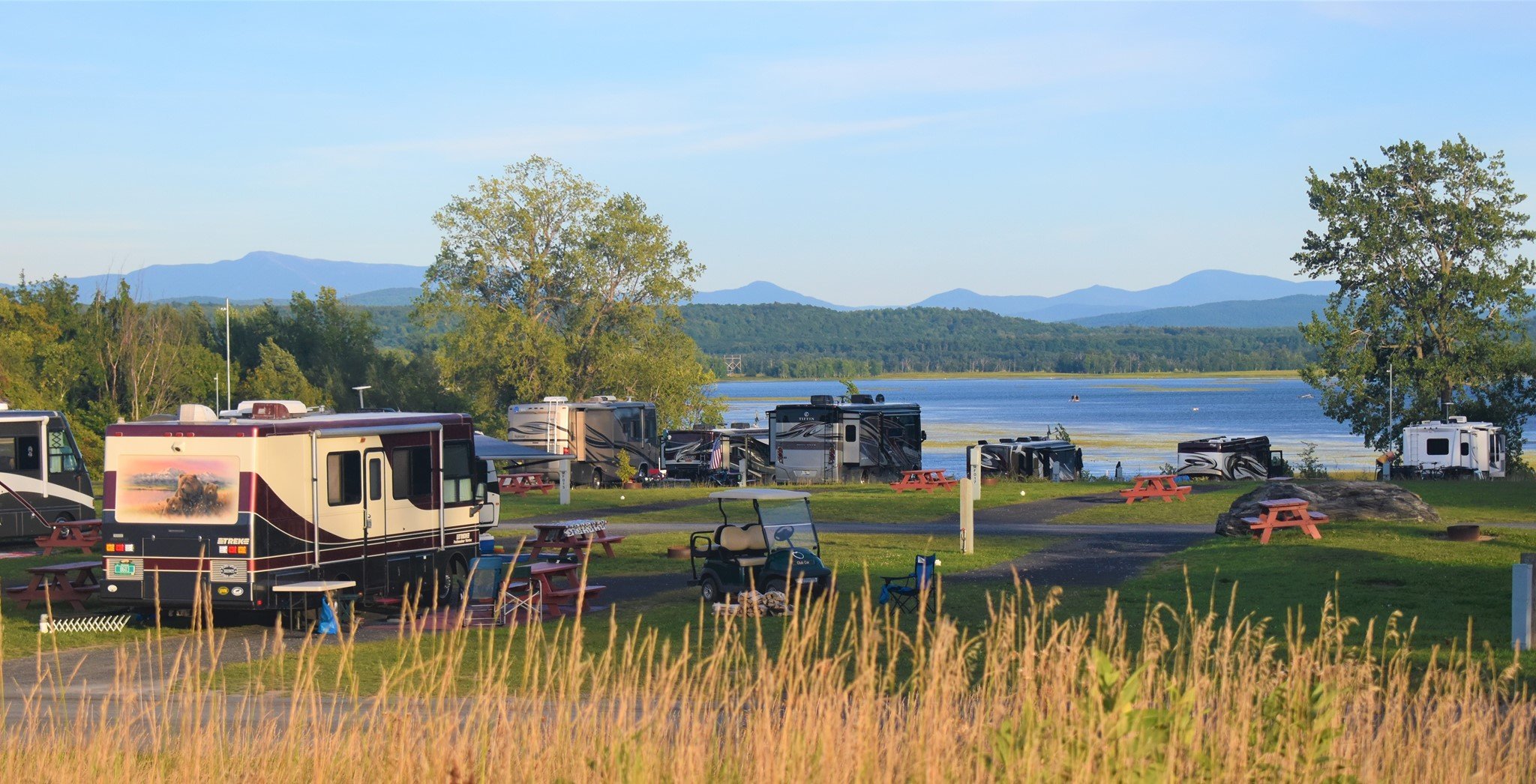 Photo courtesy of Apple Island Resort & Golf Club.
Apple Island Resort & Golf Club
If you're more into glamping and have a camper or an RV, Apple Island Resort is the place to be. The resort is set back on a hill and overlooks Lake Champlain in South Hero. It's popular with RV owners because it has concrete pads to park with hookups for utilities.
Apple Island also offers tent sites, rustic cabins, cottages, and a remodeled farmhouse. Every camping space includes a picnic table and a fire pit.
They also have a pool and offer golfing, boating, and fishing.
While you're there, enjoy Thursday night concerts at Snow Farm Vineyard. Bring a picnic, some chairs and buy a bottle of wine to enjoy while listening to music. For food, Pan's Pizza is just down the road and Seb's Snack Bar.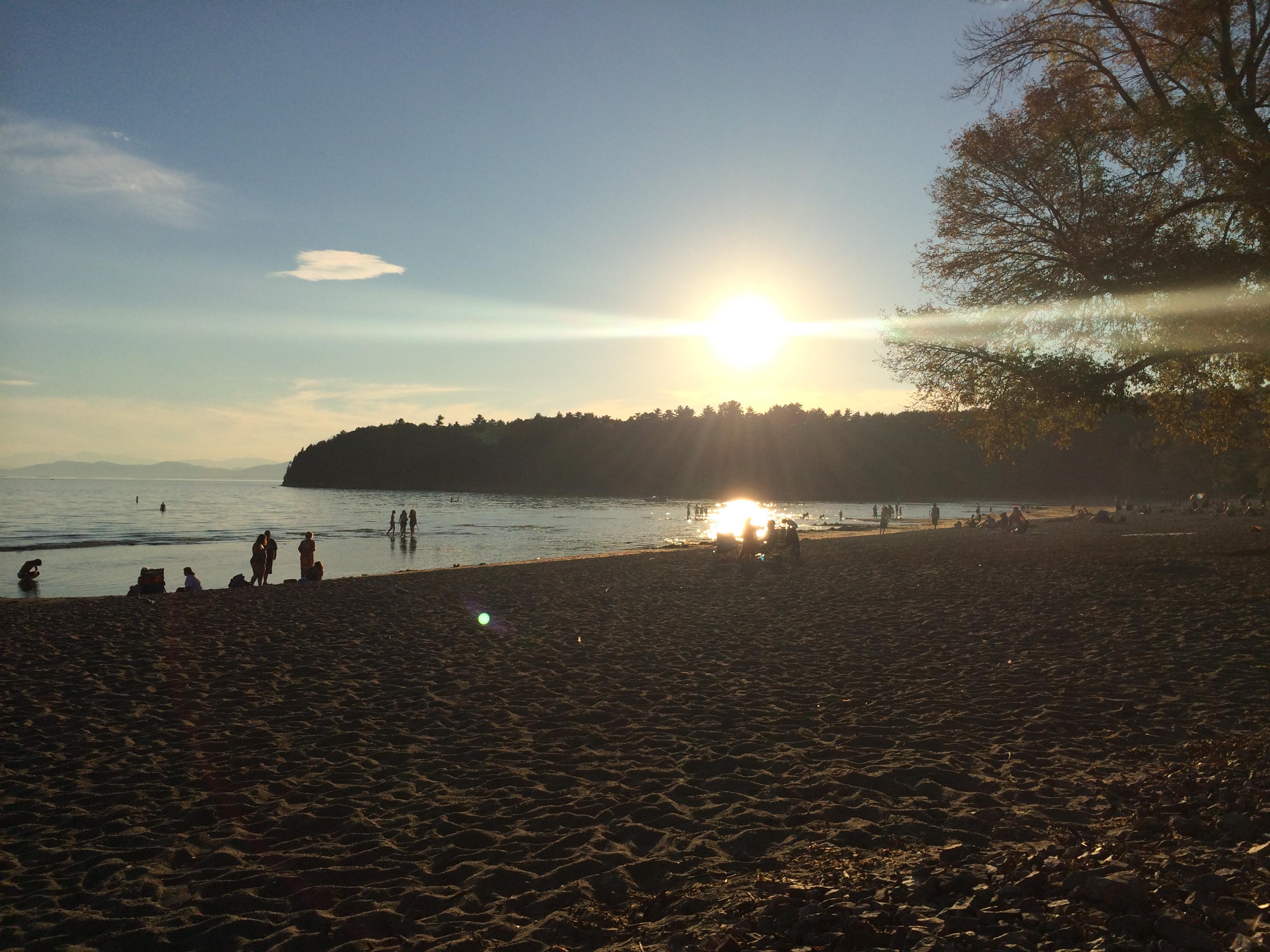 The sun setting at North Beach in Burlington, Vermont.
North Beach Campground
Located on the shores of Lake Champlain, North Beach is a popular summer destination for residents and visitors alike. It boasts the popular sandy shoreline, 45 acres of woods, over 100 campsites, and a woodsy feel in Burlington! The campground also connects to the Burlington bike path. The bike path connects to the Island Line Trail that travels across Lake Champlain to the Champlain Islands.
While you're staying at North Beach, you should check out Sunset Drive-in just 10 minutes down the road in Colchester. It's one of the few drive-in movie theatres left in New England, has four screens, and is open every night in the summer.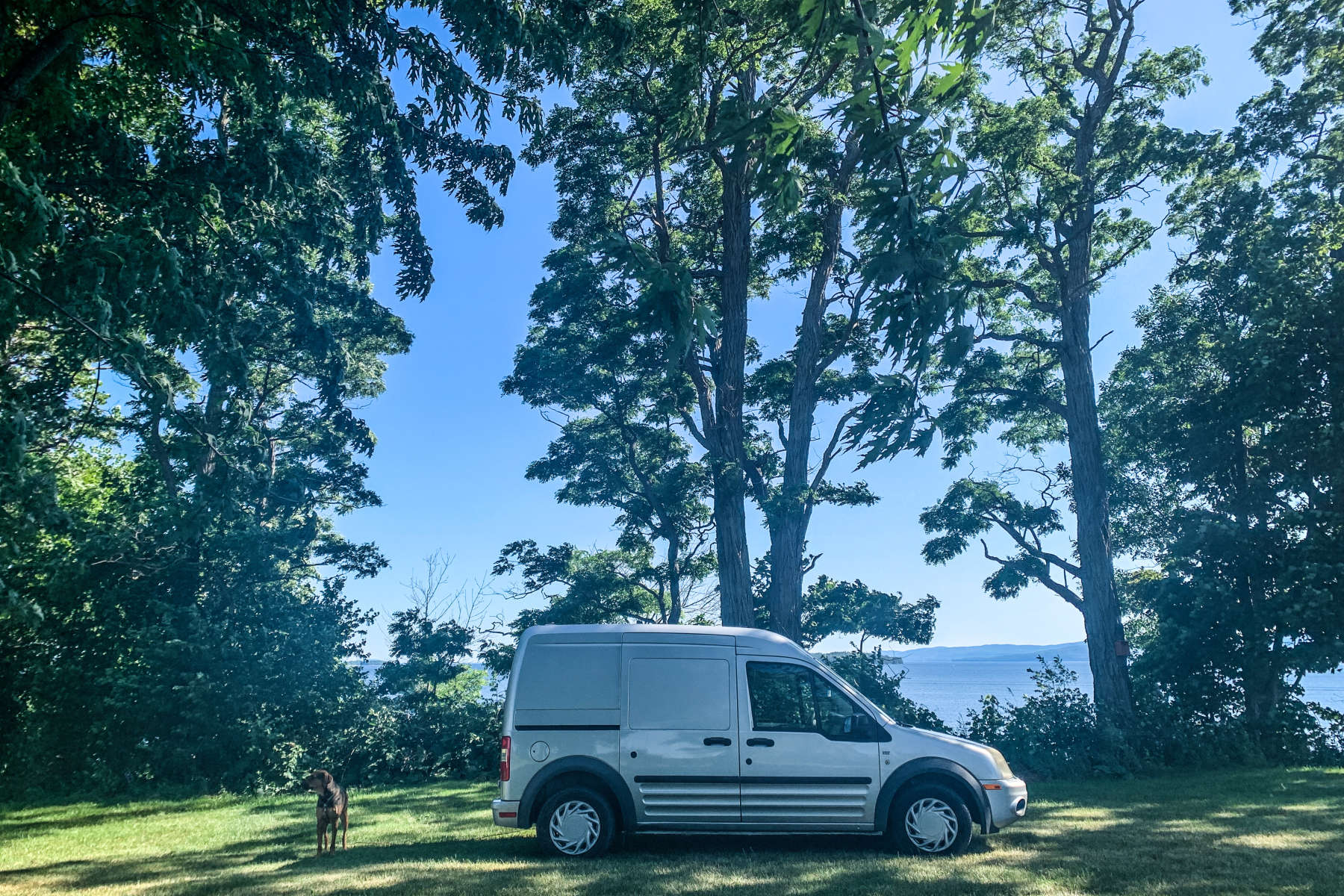 The camping spot in South Hero at Crescent Bay Farm, available to book on Hip Camp.
Find a Private Site Using Hip Camp
Hip Camp is like the Airbnb of camping. You can rent remote backyards or other pieces of land for camping from private owners. Some of the spots come with a tent, a yurt, an RV, or other structure, and some ask that you bring your own tent, camper, or RV. Not all of the locations include bathrooms so be sure to check the amenities at the spot you're interested in and what's available.
Crescent Bay Farm at Snow Farm Vineyard in South Hero has a private camping spot available located just 5 minutes from the vineyard on the shores of Lake Champlain. You bring your own camping set-up. There are bathrooms available. Just down the road is Health Hero Farm where you can buy local beef, eggs, cheeses, and caramels and visit their pasture-raised cows. Enjoy the Grand Isle Farmers market on Wednesday and Saturday, and visit the beach at the Sand Bar State Park.
These camping ideas were put together by Snow Farm Vineyard. Thank you for supporting tourism in the Burlington area. You're helping family businesses to thrive. In addition to visiting us, you can order our wines online and find them in stores across Vermont.