The Champlain Islands have a long history of farming and agriculture. Dairy farming, vegetable growing, apple orchards, grape vineyards, and more are sprinkled throughout the Islands. The soils and climate of the Islands all lend themselves well to vibrant growing seasons. With this depth of agriculture and an abundance of goods to sell, farmers together developed the inspiration for a unique storefront. The Champlain Island Farmers Market was established to bring these goods, including food and clothing, to a market setting for folks to buy.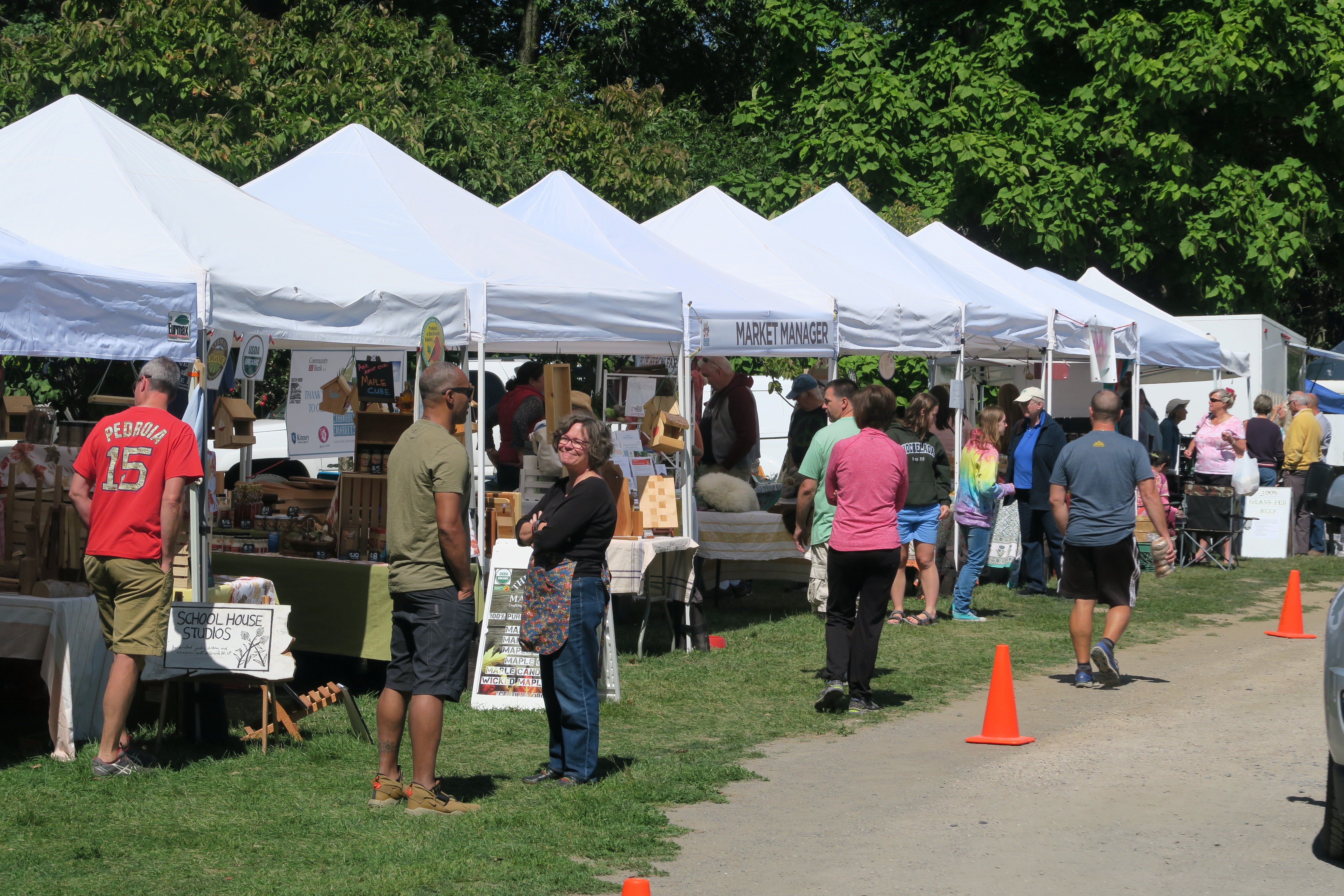 The Champlain Islands Farmers Market - Photo Credit: Snow Farm Vineyard
The farmers market truly is a farmers market with well over 50% of the vendors being agricultural vendors who cultivate the soils to grow crops or rear animals for meats, wool, and fibers.
Maple syrup is a favorite at the market and is primarily found from Crescent Bay Farm located in South Hero. Owner and sugarmaker Julie Lane is often quoted, "It's sweeter in the islands."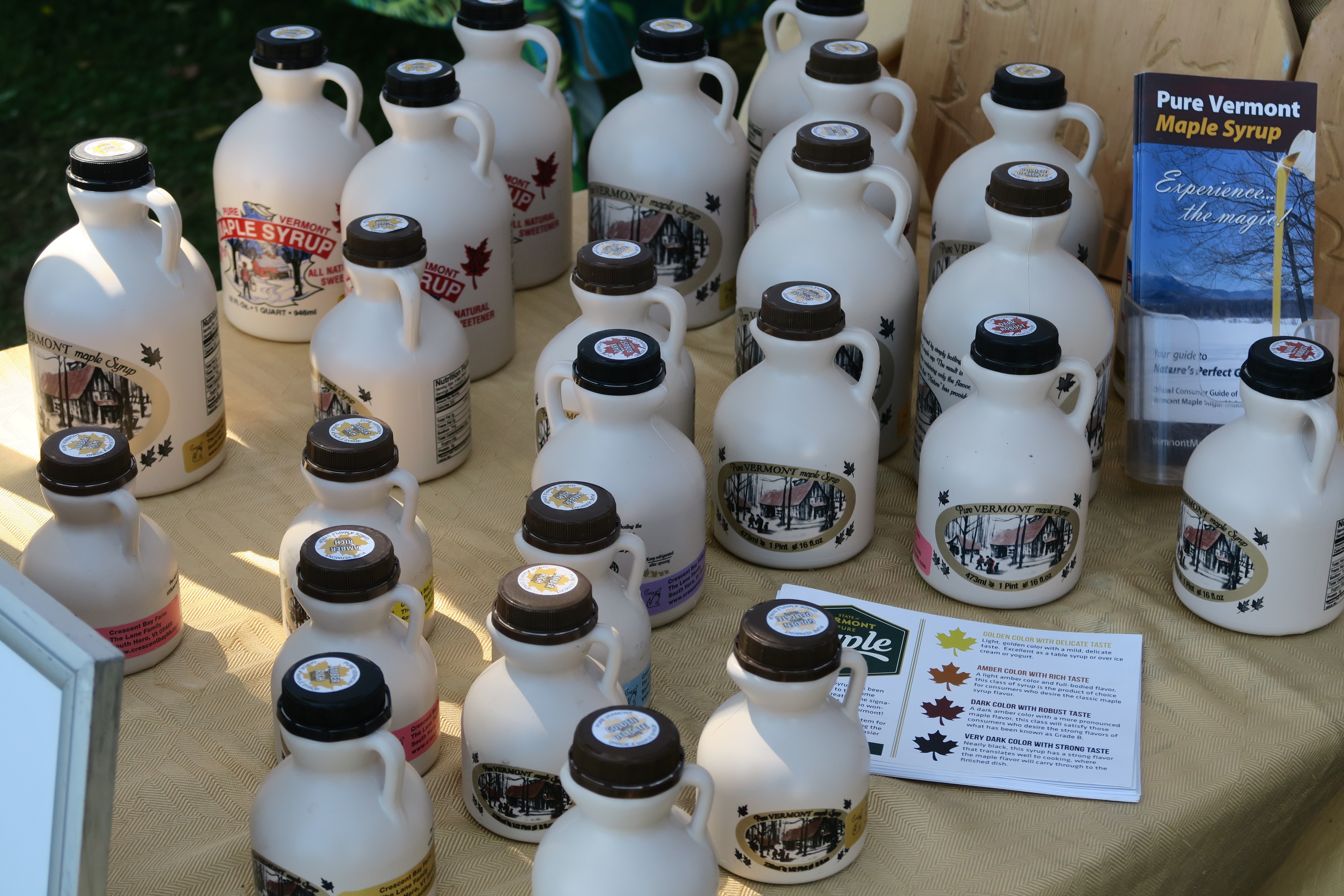 Crescent Bay Farm Maple Syrup for Sales at the Champlain Islands Farmers Market - Photo Credit: Crescent Bay Farm & Snow Farm Vineyard
The Champlain Islands Farmers Market is held every week: Saturdays from 10 am to 2 pm in Grand Isle and Wednesdays from 3 pm to 6 pm in South Hero. At the farmers market, you are going to see your Vermont mix of flannel shirts, straw hats, rubber boots, and sandals behind the booths.
In light of the worldwide pandemic, people with health vulnerabilities may arrive 30 minutes early to shop. Many of the vendors will also facilitate pre-ordering through their websites, over the phone, or by email to process orders to be picked up at the market.
For the 2020 season, there are some special state COVID-19 rules that apply for everyone. As of August 1, per Gov. Scott's executive order, all customers must wear face coverings, unless they have a medical condition or cognitive disability that precludes it. Vendors will be wearing face coverings and sanitizing their spaces frequently. We also offer sanitizing stations at the market entrance and exit. At this time we are unable to welcome dogs at the market unless they are certified service dogs. If we work together the Farmers Market can maintain its usual beat, Local as usual, safer than ever.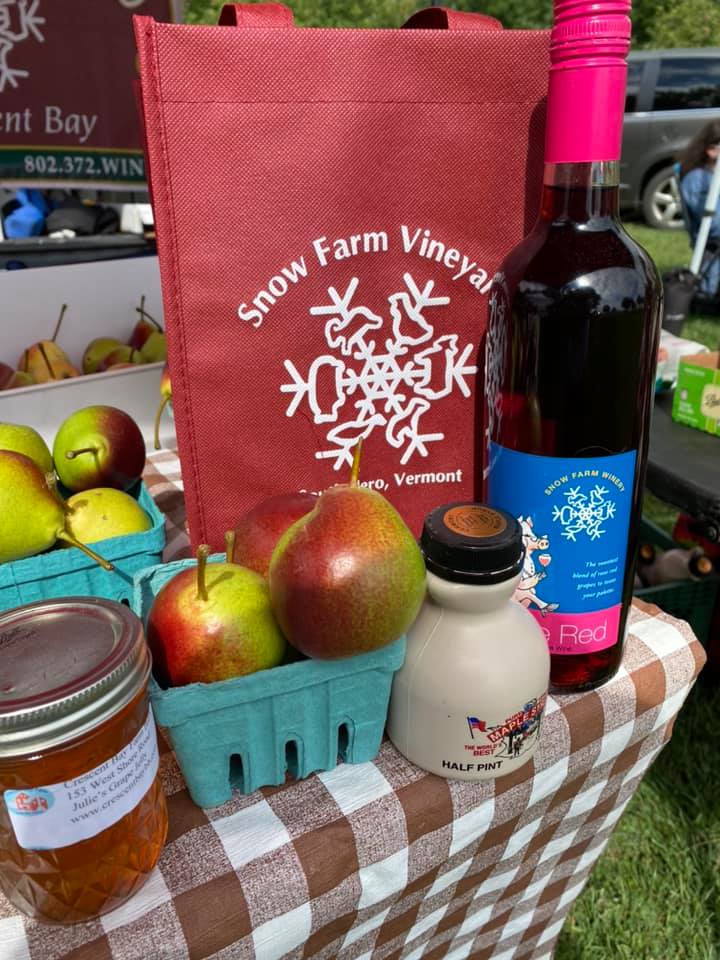 Champlain Islands Farmers Market Goods from Snow Farm Vineyard - Photo Credit: Julie lane - Snow Farm Vineyard
The islands are home to many people and, in the summer months, farmers thrive on providing high-quality products to visitors. This is a place for people to visit and reach outside the normal supermarket stores to find some sense of place with local foods, gifts, sweet treats, clothing, and more. The Champlain Island Farmers Market is where neighbors run into friends and children grow with healthy foods and local goods. If you are ever in the islands it is highly recommended you visit the Champlain Islands Farmers Market.