You May Be Wondering, What is a Creemee Anyway?
Possibly, the most common question in Vermont due to the obscured, and untraveled name: what is a Creemee? To put it in short, a Creemee is the Vermonters way of saying soft-serve ice cream
that has extra oomp
h.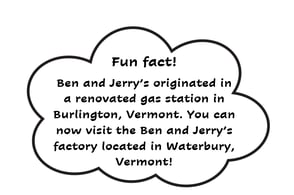 If Ben & Jerry's wasn't enough for Vermont to offer to the world, just wait until you have a Creemee! Originating in the 802, the Creemee, compared to the regular soft-serve ice cream, has a higher butterfat content and is creamier, denser, and richer in texture and flavor! You may find around New England the term Creemee tossed around in certain areas, but in Vermont, it is known state-wide. Around here, a true Vermonter will know that a Creemee is its own type of ice cream, and that soft-serve ice cream cannot be compared to such a delicacy.
The Discovery of the Creemee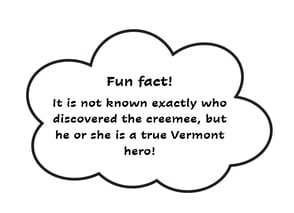 About six to seven decades ago, a Vermonter got hold of a state-of-the-art machine. This machine would produce a cold dairy treat that wasn't completely solid but rather, soft, smooth, and rich in texture. If a Creemee is made the right way, it will not contain any ice crystals. Without ice crystals, a Creemee doesn't melt as fast if it were to have them. After all the ingredients are mixed together, the machine will freeze portions of the mixture and whip extra air into the blend to produce a fluffier texture. From there, the true innovation started to happen!
We do understand the spelling confuses most but yes, it is spelled c-r-e-e-m-e-e and not creamy. There is no known origin to the name, we believe that perhaps someone tried out the spelling and it happened to stick.

The Making of a Creemee
Many locations may create their Creemees a special way and include their secret techniques, but generally, the base of a creemee is milk, cream, sugar, flavoring agents/stabilizers, and air!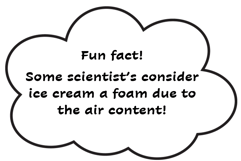 Air is a key aspect of a Creemee as it plays a role in creating the density of this treat. More air makes the ice cream melt faster so a balance must be found so the Creemee doesn't melt too quickly. Without any air, a Creemee would become a milky flavored popsicle! So, air is pumped through the machine into the Creemee to make it more airy and soft.
Stabilizers are another important factor when making a Creemee as they help create the creamy texture. They prevent large ice crystals from forming as well as absorbing and locking into place any liquids in the ice cream. Without the stabilizers, a Creemee wouldn't be able to stand in its swirling pattern with its signature soft ending peak and would be more like a milkshake.
Butterfat content is the major component in the difference between a soft-serve ice cream and a Creemee. Higher butterfat content leads to longer-lasting flavor and slows down the melting rate. Typically, a Creemee consists of a butterfat content of around 5 grams per serving which adds to the velvety, plush consistency. Depending on the location, some places may have a higher grams per serving content of butterfat in their Creemees. A higher content leads to a richer and creamier texture that takes longer for the flavor to be found but lingers more. A lower content leads to a lighter and cleaner texture with an immediate/punchy flavor that fades rather quickly. In this sense, a balance must be found to keep the creamy texture while also having great flavor. Certain flavors may have ingredients that contribute their own butterfat so not all Creemees are made the same way! It depends on the percentage of butterfat the location is hoping for and figuring it out with the percentage of butterfat from each ingredient to come up with a perfect combination.
A Creemee is served at a slightly higher temperature than regular ice cream which helps give it its softer characteristic. Soft-serve contains less fat and more air than regular ice cream while a Creemee contains less fat than regular ice cream but more fat and air than soft-serve.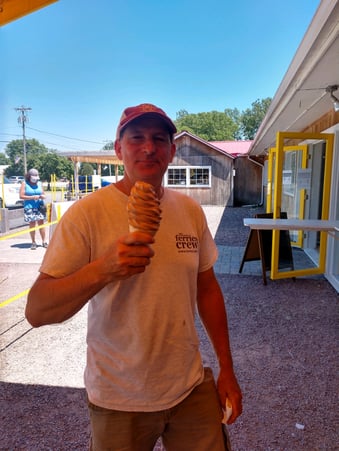 Help! My Creemee Gave Me a Brain Freeze!
What's Going On?
A brain freeze occurs when something cold (like a Creemee) touches the roof of your mouth. The coldness results in the narrowing of the blood vessels which then restricts blood flow. Nearby sensitive nerves send signals to the brain to rewarm the area. The brain then sends another signal to increase blood flow in the brain as well as to the area. As blood rushes through, blood vessels and arteries widen. These rapid changes cause what is known as a brain freeze. As soon as they expand back to normal, the brain freeze ends.
The cure you ask? The best way to cure a brain freeze is to drink some warm water, push your tongue or thumb to the roof of the mouth, or cover your mouth and nose with your hands then breathe rapidly. All these ways cause warmth to spread on the roof of the mouth, making the arteries expand back to normal faster.
This is a handy trick as you can definitely get a Brain Freeze trying to eat a large Creemee too fast!
The Delicate Production of a Maple Creemee
If Creemees are native to Vermont, and hard to find elsewhere, then nothing is more "Vermontee" than a delicious Maple Creemee!
When making a true maple Creemee, real maple syrup is used. (You can buy your very own maple syrup produced on our farm when you visit the winery!) It is very important to get the mixture right because a too-sweet maple Creemee will leave customers thirsty and questioning about getting another one at that location.
For some places, they add a very dark, strong maple syrup to a vanilla Creemee batch to overpower the vanilla flavor. Other places may use a Grade A maple syrup, which is a light amber color, with a mixture of other ingredients from scratch for a deep, rich Vermont flavor experience! Much like enjoying a fine wine, you can see that you can become a Maple Creemee Connoisseur!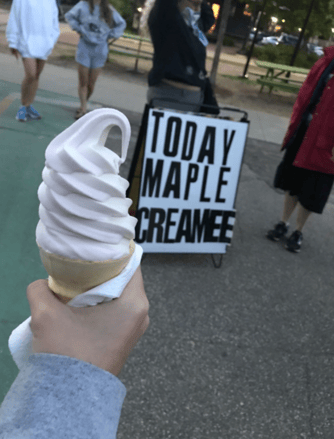 Why You Should be Enjoying a Creemee When Visiting Vermont
Why not get the full Vermont experience when visiting Vermont? It is our belief that everyone should have a Creemee while visiting here. You most likely will not find another authentic Creemee anywhere else in the world… so getting one now is almost like a once-in-a-lifetime experience!
Find Your Favorite Creemee Flavor!
The most popular Creemee flavor is classic Vanilla, followed by Chocolate. You may also find some unique flavors such as Black Raspberry, Coffee, Strawberry, and Orange. If you're interested in going all Vermonter, we recommend getting the classic ~Maple~ Creemee! Some places also offer swirls so you may experience two flavors at once! Personalize your perfect Creemee with any flavor plus any topping!

We took a survey of individual Creemee favorites at Snow Farm! Take a look down below!
Winemaker, Patrick: "Chocolate with more chocolate on top."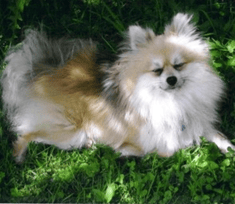 Assistant Winemaker, Cassandra: "Vanilla/Chocolate swirl with rainbow sprinkles, it's gotta have rainbow sprinkles."

Assistant Winemaker's Assistant, Woofie: "woof grr" - translating to: "Vanilla with rainbow sprinkles"*Note some places offer pup-creemees!
Tasting Room Extraordinaire, Kaity: "Black Raspberry and Maple Swirl with chocolate sprinkles if you can find it!"
Tasting Room Extraordinaire, Michelle: "I love Chocolate/Vanilla twist with sprinkles."
Tasting Room Extraordinaire, Connor: "The Vermont classic, Maple!"
Tasting Room Extraordinaire, Sophie: "Black Raspberry is definitely my favorite."
Marketing Consultant, Galen: "Chocolate/Vanilla swirl, old school."
Owner, Julie: "Vanilla for me!"
Owner, Dave: "Straight Vanilla".
Vineyard Manager, Alex: "Chocolate with chocolate sprinkles, it's gotta be a large in a cone. Every time, like right now. I want one right now."
Social Media Guru, Nick: "I can't really have creemees, but if they offer a dairy-free version, I'll get that flavor. *Note some places offer dairy-free flavors!
Special Events, Cara: "I really enjoy Maple Creemees."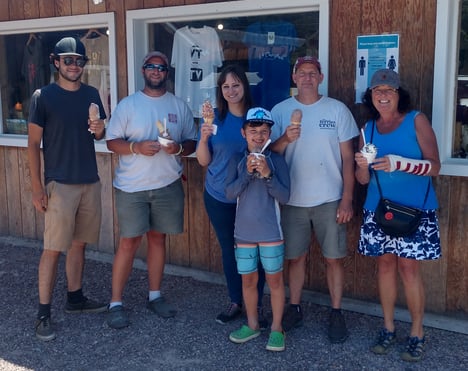 While you're traveling and enjoying Wineries in Vermont, why not stop and enjoy a few tasty Creemees along the way?
There are many Creemee shops and stands all over Vermont. It is like looking for grapes at Snow Farm Vineyard, they are everywhere!
Adventure off to find some of our favorite Creemee spots that are under an hour away from Snow Farm!

Allenholm Farm, South Hero (5 minutes)

Seb's Snack Bar, South Hero (5 minutes)

The Village Scoop, Colchester (21 minutes)

Duke's Creemees, Milton (24 minutes)

Georgia Farmhouse, Milton (25 minutes)

Al's French Fries, South Burlington (28 minutes)

Burlington Bay Market & Cafe, Burlington (32 minutes)

Creemees Ice Cream, Burlington (32 minutes)

Beanie's Bus, Burlington (33 minutes)

Palmer Lane Maple, Jericho (37 minutes)

Charlotte Berry Farm, Charlotte (46 minutes)

Vermont Cookie Love, North Ferrisburgh (48 minutes)
For other fun things to do in Vermont, read our Series Great Things to Do in South Hero, Vermont!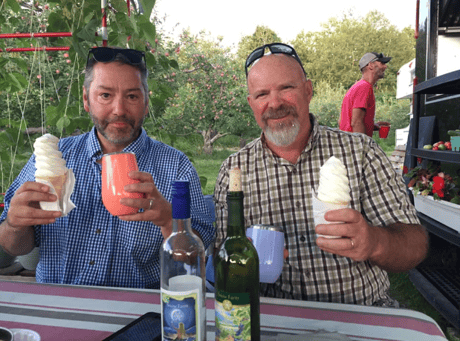 Written by: Kaity Groen
Kaity is one of our tasting room extraordinaire. She has been with us for four summer seasons, primarily working in the tasting room and at special events. She grew up in Vermont and is now attending Virginia Tech as a rising senior this upcoming school year. Although this is an unfortunate time, we are glad she came back to once again be a part of the Snow Farm Family.
References:
https://delishably.com/desserts/Creemee-VS-Soft-Serve
https://www.vermont.org/experience/what-is-a-creemee
https://www.vnews.com/Only-in-Vermont-is-soft-serve-called-a-creemee-4046561
http://www.travelikealocalvt.com/2016/07/09/best-creemees-vermont/
https://www.smithsonianmag.com/smart-news/science-soft-serve-180964516/
https://www.acs.org/content/acs/en/education/resources/highschool/chemmatters/past-issues/archive-2013-2014/ice-cream-chemistry.html#:~:text=A%20big%20reason%20why%20ice,fat%20must%20come%20from%20milk.
http://icecreamscience.com/role-fat-ice-cream/
https://www.dreamscoops.com/ice-cream-science/fat-in-ice-cream/
https://www.zagat.com/v/making-maple-creemees-vermonts-official-homegrown-treat
https://nypost.com/2015/06/06/the-vermont-maple-creemee-is-summers-new-sweet-treat/