Kayaking in Vermont is one of the best outdoor experiences you can have. The views from a kayak give you a new perspective on your surroundings. Kayaking in Vermont is made even better with friends and family. There's time for intentional conversations without any distractions.
Kayaking can be logistically challenging though; deciding where to put in and take out, and where you'll need to leave vehicles. Not to mention how to strap a kayak to your roof.
Keith Schuler, the owner of Burlington Outdoors, is here to solve those problems and help more people easily access not only kayaking in Vermont but also biking, hiking, and river tubing.
Schuler has a bachelor's degree in parks and recreation with an emphasis on adventure education. He says a lot of people want to enjoy the outdoors, especially tourists, but don't know where to start. It's his mission to help.
He creates custom outdoor adventures for his guests based on their interests and ability levels. A family might spend the morning doing a moderate bike ride and then go for an easy kayak in the afternoon. Schuler will recommend the route, provide the shuttle from one location to another, and provide the bikes and kayaks for a flat per-person fee.
"Say a family comes into Burlington and wants to experience the area through biking and tubing...I'll pick them up at the hotel, provide bikes, and take them to where they would start biking," Schuler said. "Then, I'll meet them where the biking trip ends, load up the bikes, and get them to the right spot to send them down the river on their tubes."
If you want to do the same activity all day, for example, an all-day biking excursion, there is still a benefit to using Burlington Outdoors. You'll get a recommended bike route based on your ability level and what you want to see. Plus, you'll see more because you'll only have to go one way.
"I'm logistics, equipment rental, support, transportation, and I know the best spots to go," Schuler said.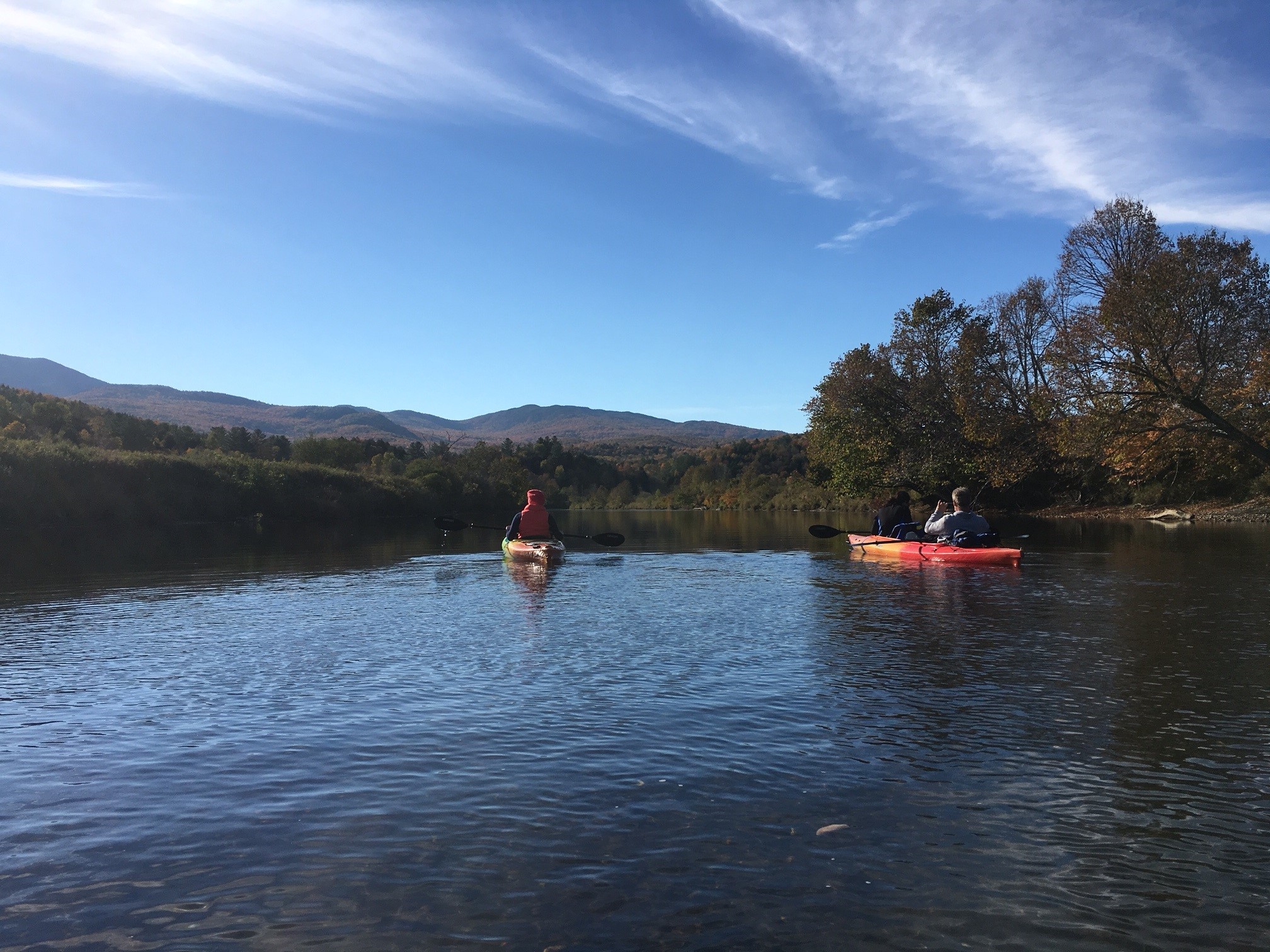 Kayaking in Northern Vermont to the Champlain Islands
The kayaking season in Vermont begins in June and runs through the second or third week of October. Kayaking in September and October is a glorious way to fully experience the leaf-peeping season and the incredible colors on the trees.
If you're looking for a peaceful place to kayak with scenic views, Schuler recommends a few tried and true spots below on the Lamoille River. You can even add in biking after your kayak trip to make it a full-day adventure.
The two and four-mile options below end at the Sand Bar State Park between South Hero Island and the town of Milton on the mainland. The Sand Bar is a rare sandy beach where you can relax and is also a great jumping-off point to bike to the Champlain Islands.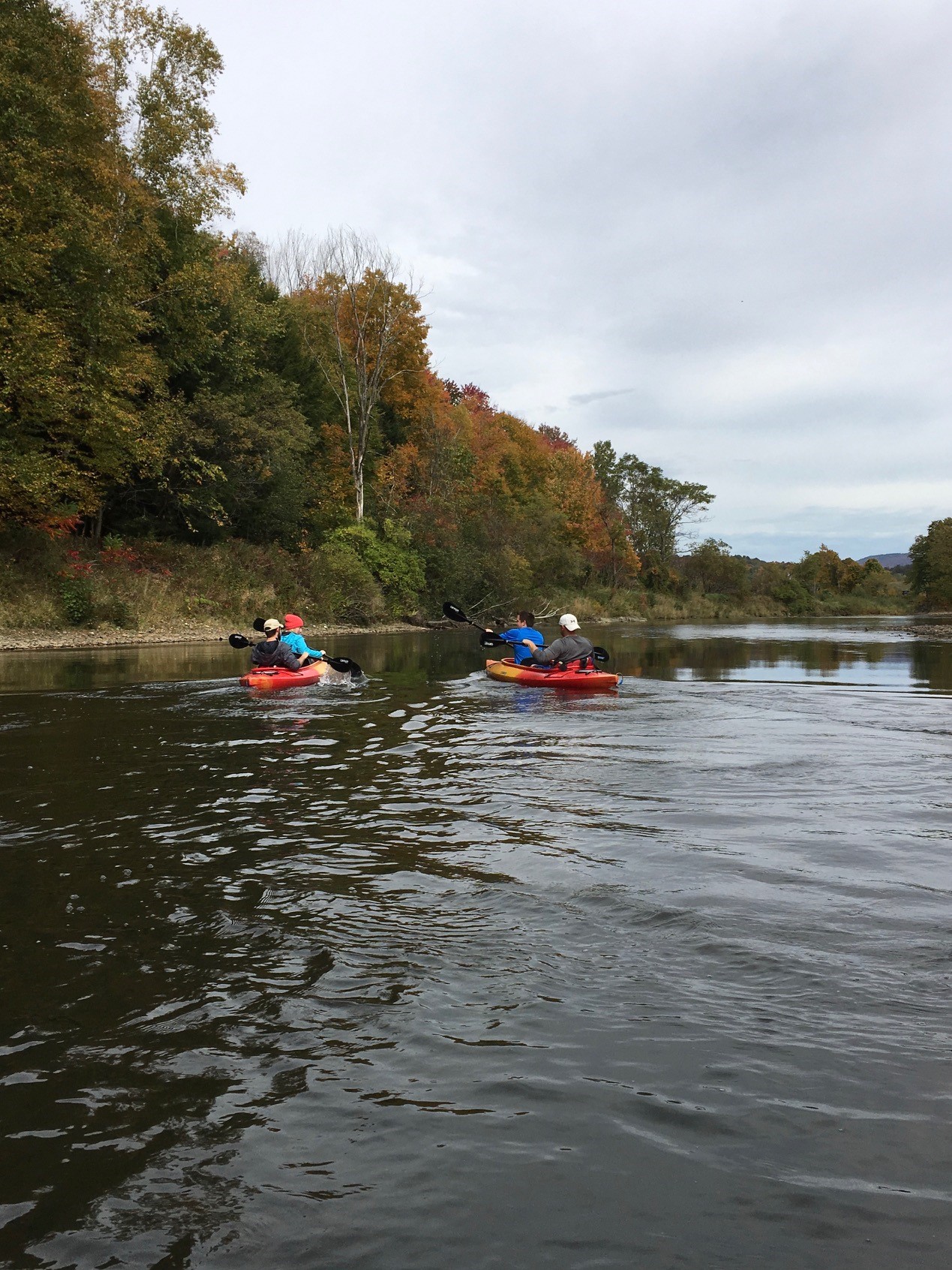 "When you come out of the Lamoille River onto the lake on your kayak, the mountains are spectacular and there is a bird preserve and tons of wildlife that you can kayak near," Schuler said.
Burlington Outdoors will meet you at the end of your kayak trip with bikes if you choose, so you can continue on to the Champlain Islands to explore the vineyards, breweries, and places to eat.
"If you already have kayaks and bikes, I can make your experience easier. It's complicated to take two cars and shuttle around. I can transport you and your equipment to make your day easier," Schuler said.
It isn't often that you can kayak on a river, a lake, and then bike to an island in one day! Below are the kayaking routes to the Sand Bar.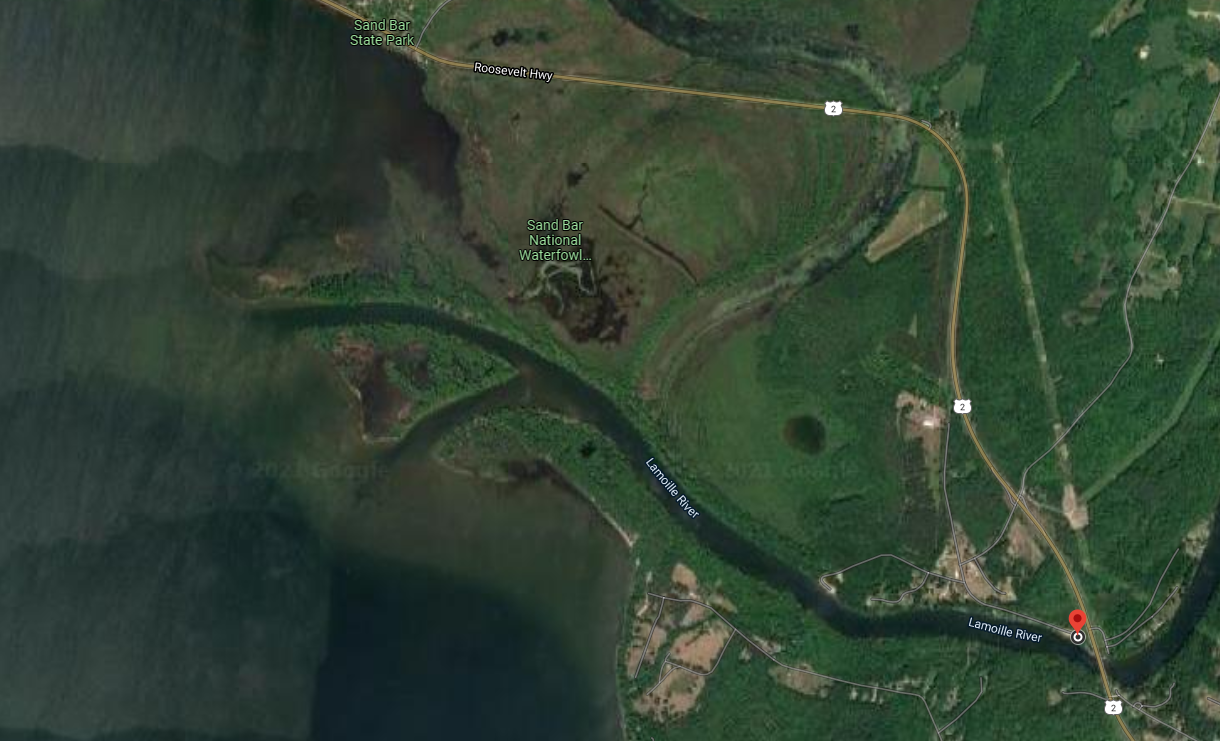 2-Mile Kayak from the Lamoille River to the Champlain Islands
Start at the Sears Fish and Wildlife Access Area in Milton (at the red pin above). To get there take I-89 to Exit 17 in Colchester and then take U.S. Route 2 west approximately 2.5 miles. Turn left onto Cub Road (you will need to first bear right to make a left turn). Take Cub Road until you come to a stop sign. At the stop sign turn left and continue on Gravelle Road until you get to the parking area.
Get directions via Google Maps: Sears Fish and Wildlife Access Area Access Area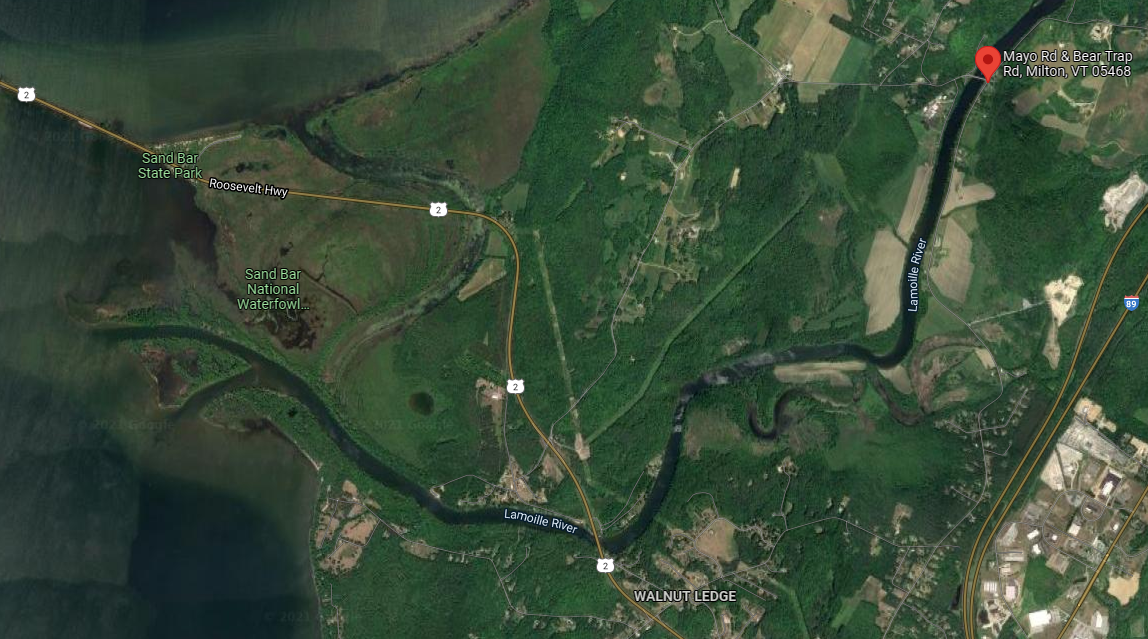 4-Mile Kayak on the Lamoille River to the Champlain Islands
Start at the intersection of Bear Trap Road and West Milton Road in Milton (the red dot on the map above). To get there take I-189 to Exit 17 and then Jasper Milne Road to Mayo Rd. which turns into West Milton Rd.
Get directions via Google Maps: the intersection of Bear Trap Road and West Milton Road
When you get to Lake Champlain, you'll turn right and head toward the Sand Bar State Park to finish your kayak at the Fish and Wildlife access at the Sand Bar.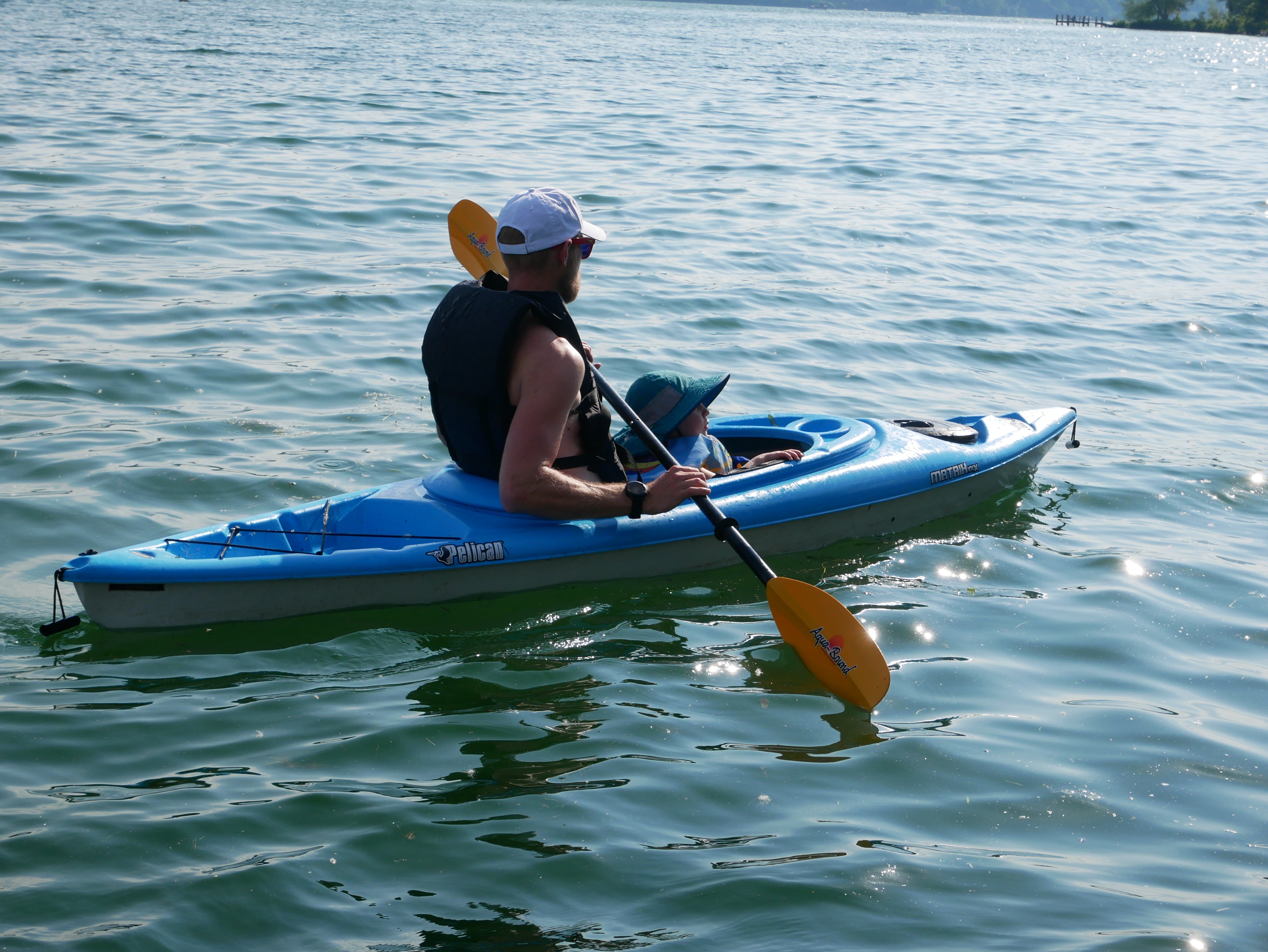 Kayaking in Burlington and Biking to the Champlain Islands
For another fantastic kayaking and biking day-long adventure, start by kayaking from Oakledge Park in Burlington to North Beach in Burlington (about 4 miles).
Burlington Outdoors can meet you at North Beach with bikes so you can continue your journey and ride on the Burlington Bike Path from North Beach to the Champlain Islands (about 10 miles).
You'll cross over Lake Champlain on the Island Line Trail, an old railroad track that was converted into a bike path. You'll need to take a bike ferry to cross the gap where boats cross (check the ferry schedule).
Once in South Hero, you can continue on to visit Hackett's Orchard, Allenholm Farm, Snow Farm Vineyard, and many other local farms and restaurants.
In the summer, Schuler says it's popular to bike to Snow Farm Vinyard on the Island Line Trail for the free concerts on Thursday nights at the vineyard. He offers a shuttle service after the concert is over so no one has to drive.
"I'm trying to give people a fun experience, if they can make memories they'll want to come back," Schuler said.
This post was provided by Snow Farm Vineyard. We hope you enjoy your outdoor adventures. Be sure to visit us on your next excursion!