Singer-songwriter Ryan Sweezey lets his music speak louder than his words.
"I'm a pretty shy, quiet person, normally. Music is my outlet to get a lot of things out, particularly through songwriting," Sweezey shared of his musical process.
Since moving to Vermont from Massachusetts in 2016, Sweezey has found his calling working and playing music part-time in the rugged and serene landscapes of the Green Mountain State.
"Before I moved to Vermont, life was getting to be a lot. I was doing music full-time," Sweezey shared. "It was super stressful living in the city, and I came up to Vermont to visit my sister. I biked on the causeway near Lake Champlin, and I was like, I feel a lot better now. A month later, I moved."

From Humble Music Roots to Five Albums
Sweezey grew up in Lynnfield, Massachusetts, just outside of Boston, and learned to play guitar at age 12. He soon became a band and choir kid in high school. Humble in nature, Sweezey didn't realize he had talent until others took notice.
"My high school did coffeehouse events once every few months for students to perform...I signed up and sang Bruce Springsteen's 'Growin' Up,' and after the reaction I got, I was like, oh, I can sing."
A child of the 90s, Sweezey says his musical taste has always been a few decades behind his generation.
"When I was really starting to listen to and play music, I was listening to a lot of music with my Dad. His favorite bands were the Rolling Stones, The Who, and Tom Petty," Sweezey recalled.
Ryan says his style has evolved over the years. He's been compared to John Mayer and describes his music as Matchbox Twenty meets the Counting Crows, with heavy influences of classic rock that get people up and dancing.
A journalism major and music minor at Northeastern University, Sweezey recorded his first two albums Fall and No Hollywood Star while in college. Immediately after he graduated, Ryan had a tough decision to make.
"I wanted to do sports writing, and I enjoyed that," Sweezey said. "The issue ended up being that I needed to go to games, and games happened at the same time as gigs, so I could either do that or do music."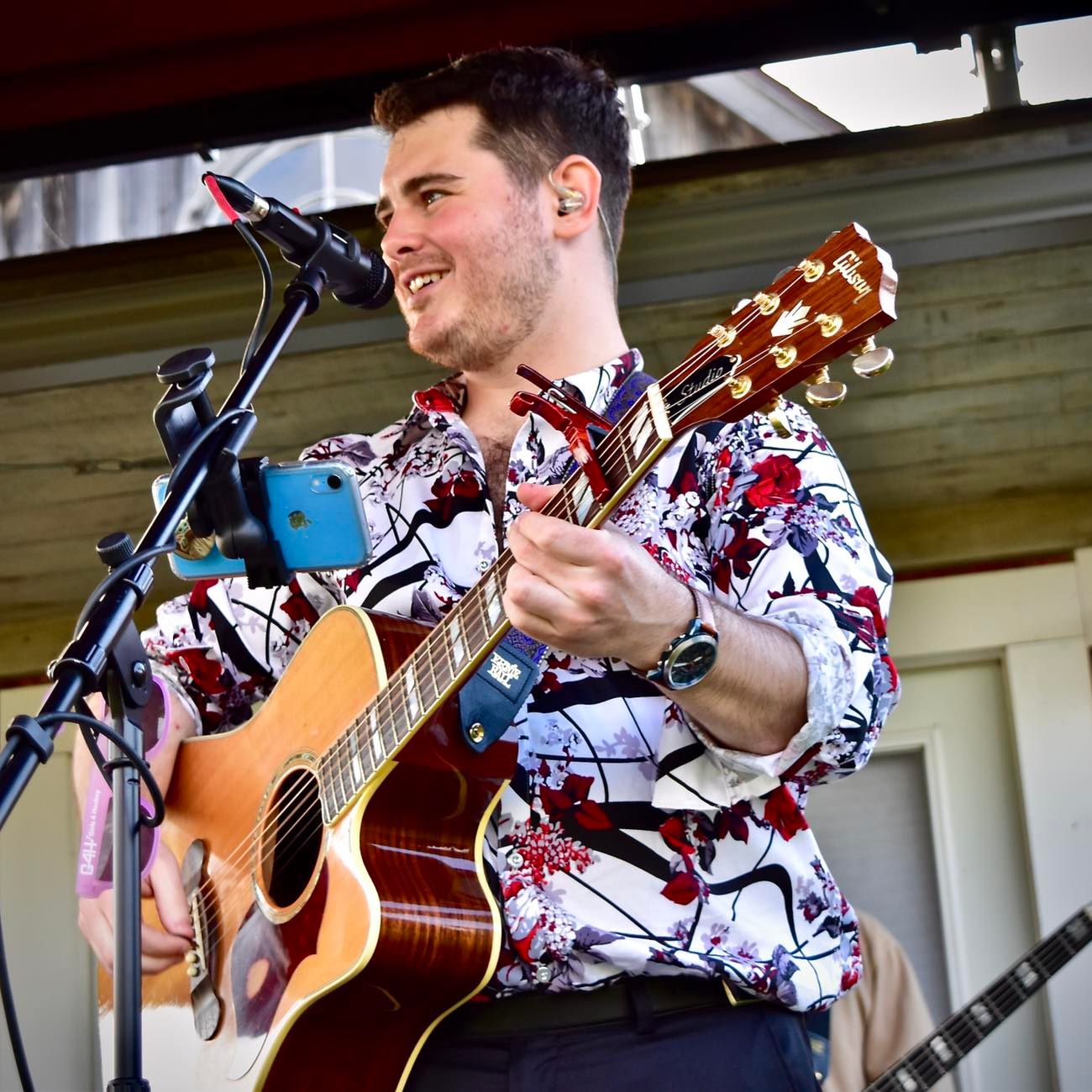 Sweezey chose music and found his first "real-world" gig in Wakefield, Massachusetts. He spent several years playing music full-time before making the move to Vermont, where he decided to get a full-time day job, first in banking and then in data analytics, while transitioning his music career to part-time.
"Music is the drive but also the side thing. I recognize that I need a little stability in my life that music doesn't always bring," Sweezey said.
Ryan's love for music is evident in his five recorded albums. Starting Over and Out Searching are his most recent and popular. All of his albums include a band except for Meadlowark Sessions, which he recorded acoustically in February 2020, just before the COVID pandemic.
"My family is always like, 'Why don't you do anything that is just you performing?' And I thought it was a good time to do that and also record some songs that wouldn't have normally made it onto one of the other albums," Sweezey said.
The acoustic album was a result of the free studio time he got after winning the 19th annual Advance Music Singer-Songwriter contest in the Fall of 2019. It was the last year Advance Music, the popular Burlington music gear store now known as Music & Arts, held the competition.
Meadowlark Sessions includes an acoustic version of his most popular song Bartender, about a relationship coming to an end. Sweezey sings, "Bartender serve me up a little hope on the rocks, might need a little help to drink it all down."
"I try to write so that it's universal enough that people can identify with it and see themselves in that situation," Sweezey said.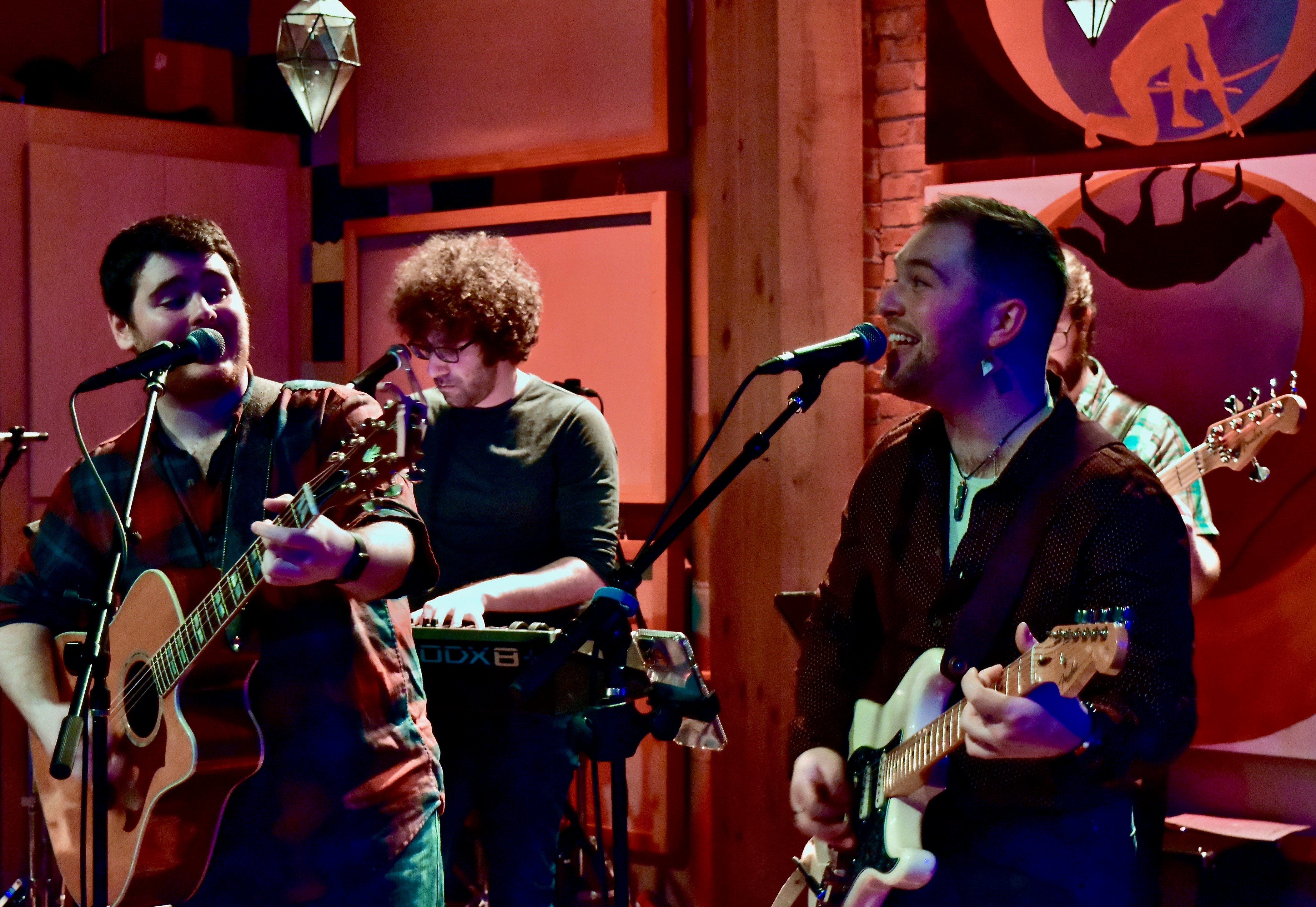 A New(ish) Band is Born
After Sweezey won the Advance Music Singer-Songwriter award, momentum stalled when COVID-19 hit.
"That was the start of the upward motion in my music career in Vermont, and then three months later, the world shut down," Sweezey shared.
He says he was grateful when the opportunity came to join the popular Vermont band Shake, where he played the guitar and provided harmonies as a backup vocalist. In 2022, Shake won a coveted Seven Daysies award for Best Pop Band in Vermont and has played gigs at popular Vermont venues like Higher Ground and Snow Farm Vineyard.
This year, Shake lead singer Jesse Agan is putting the band on hiatus as he creates original music for Shake and performs with his Queen tribute, Jesse Agan - The Music of Queen. In the meantime, the Ryan Sweezey Band will take the stage at many of Shake's gigs, with Sweezey as the lead singer and many Shake band members joining in.
"I've primarily played as a solo performer, but playing with the band is more fun. I feel like I can hit higher notes when I have the band behind me," Sweezey said. "Being able to look around the stage and interact with everyone else and share with the crowd the thing we're making is amazing."
Sweezey says the band of five is made up of most of the same people (with one new member, Chris Doncaster) and will bring a similar pop and folk/rock vibe. Band members include Sweezey on acoustic guitar and lead vocals, Jesse Agan on electric guitar, Joshua Glass on keys, Chris Doncaster on bass, and Eric Belrose on drums.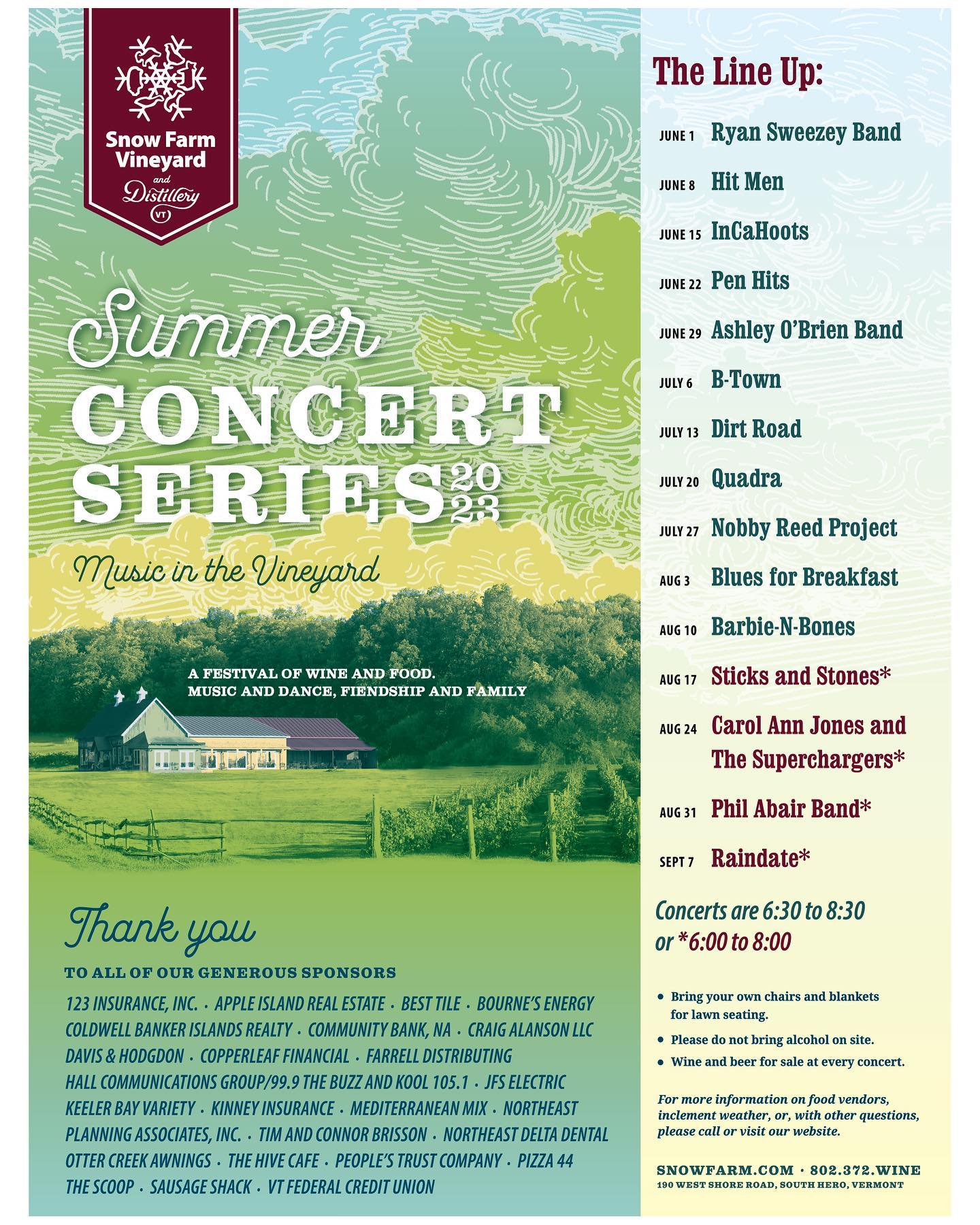 The Ryan Sweezey Band will kick off the well-loved Snow Farm Vineyard summer concert series on June 1, 2023.
They're kicking off the busy season as the first performer at the popular Summer Concert Series at Snow Farm Vineyard.
"It's going to be a fun way to start the summer. It's always a big crowd, and everyone is super into it. People are dancing, and it feels like a big party. I've always enjoyed performing there with Shake. The Ryan Sweezey band is similar to Shake with a mix of covers but different in that we'll be playing some of my music too," Sweezey said.
Sweezey says he plays roughly twice a week from May through the end of September across Northwestern Vermont at dozens of popular venues and that he's grateful to have found a way to make music that not only expresses his love of rock but also the softer, serene beauty of Vermont.