Mulled cider is delightfully comforting as fall arrives. The spiced flavors in a warm glass are good for the soul. Mulled cider is made even better with a semi-dry white wine added to the pot.
This mulled cider can be made on the stove in just 15 minutes. The recipe serves four and can easily be doubled. If making a larger batch, transfer it to a crockpot on warm to keep it warm and ready for your guests.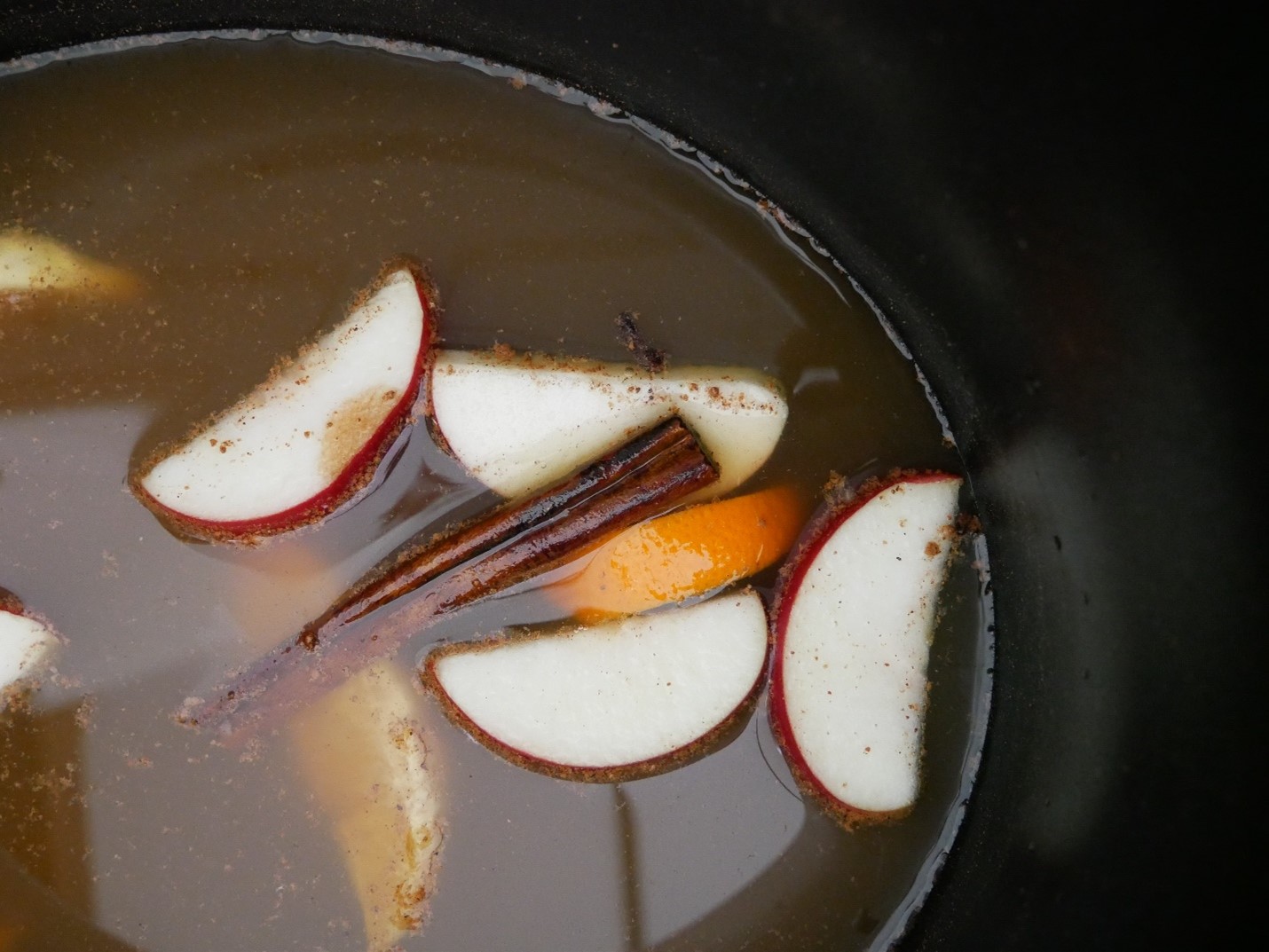 Mulled Cider Tips
If you're a strict recipe follower, you can relax a little with mulled cider. It's flexible enough so you can make it with whatever fall spices you have in your cupboard.
Sweetener: We used maple syrup, you could also use honey or brown sugar instead.
Spices: We used cinnamon, nutmeg, and cloves. You could also add star anise or allspice. If you don't have whole cinnamon sticks, you can substitute ground cinnamon.
Wine: A semi-dry white wine like a Pinot Grigio or our Snow White works best. Snow White is mild and smooth with delicate flavors and aromas made from a blend of Cayuga and Seyval Blanc grapes.
You'll want to be sure to add the wine at the end so as not to cook off too much of the alcohol. One cup of wine will give you a nice balance of apple and wine flavors. If you prefer a more wine-forward drink, add two cups of wine.


Mulled Cider with White Wine
Serves 4
Ingredients:
1 quart apple cider (4 cups)
1 cinnamon stick
3 whole cloves
1 Tbsp. maple syrup
1/2 tsp. vanilla extract
1/2 tsp. nutmeg
1 orange, unpeeled, thinly sliced
1 apple, unpeeled, sliced (half for mulling, half for garnish)
1 cup white wine (like our Snow White)

Directions:
Combine all of the ingredients except the wine in a medium pot and bring to a boil. Turn down the heat and simmer for 10 minutes. Add the wine and return to desired temperature for drinking. Strain through a fine-mesh strainer, pour into glasses, and garnish with sliced apples.
For more delicious autumn-inspired drinks, see our favorite fall cocktails made with hard cider.
We hope to see you soon at our tasting room in South Hero, Vermont!