South Hero, Vermont began as an agricultural town and it's a tradition that is still honored today.
At Snow Farm Vineyard at Crescent Bay in South Hero, the Lane family has cared for the land for three generations as dairy and beef farmers, maple syrup producers, and finally winemakers. The farmland surrounding what is now Snow Farm Vineyard got its start in agriculture over 200 years ago.
Here's a bit of what we know and love about South Hero!
Where is South Hero?
South Hero, Vermont is one of the five towns that make up the Lake Champlain Islands located just north of Burlington. The towns are known just as "the Islands" and are about 30 miles in length from north to south. The widest point is about 8 miles across. The first town you'll come to as you enter the Islands from I-89 is South Hero. As you head north you'll enter Grand Isle, North Hero, Isle La Motte, and lastly Alburgh.
South Hero is the second most populated town in the Islands, with 1,600 people recorded in the 2010 census. If you're looking for a friendly small town, you've found it. The population of all five towns combined is only about 5,500.

What is There to Do in South Hero?
It wouldn't be a visit to South Hero without a stop at one of the many farms. Whether you're after fresh blueberries, apples, craft wines, or local meats, you'll find something to enjoy in South Hero. Here's a listing of some of the farms you can visit. Call ahead for hours.
Allenholm Farm - apple orchard, farm stand, farm animals
Hackett's Orchard - apple orchard, farm stand, tours & wagon rides
Health Hero Farm - grass-fed beef
Pigasus Meats - pastured pork and eggs
Snow Farm Vineyard - grape vineyard & tasting room
For more things to do in South Hero:
Find the miniature fairy castles hidden throughout the town
Throughout South Hero are magical fairy castles built by South Hero local, Harry Barber, during the first half of the 20th century.

Go for a bike ride on the many trails including the Island Line Trail
The Island Line Trail connects South Hero all the way to Burlington across the lake via an old railroad causeway (see photo below).
Hike Fox Hill for expansive views of Lake Champlain and the mountains
The short hike up Fox Hill above Snow Farm Vineyard offers breathtaking views of Lake Champlain. It's one of the few hikes in the Champlain Islands.
Other trails to explore include Round Pond Natural Area, the Landon Community Trail, and the Roy Marsh Trail.
Visit and explore the beaches at Grand Isle State Park
With over 4,000 feet of beautiful natural shoreline, Grand Isle State Park has some shoreline areas that are nice beaches and others that are nice secluded more rugged areas to explore.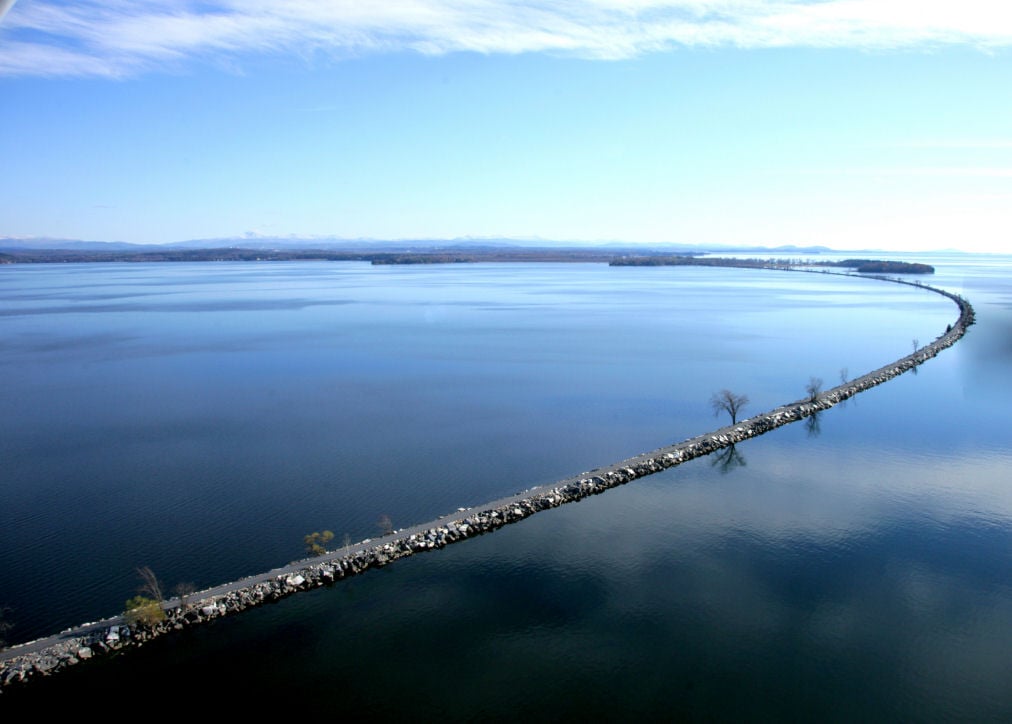 What Else Makes South Hero Unique?
South Hero is a place where you'll meet lots of people who believe in civic duty and giving back to their community. It's what draws families to South Hero and makes them want to stay. Erin Morse, the South Hero Town Clerk, is one of those people. We chatted with Erin about why she loves South Hero.
Erin and her family moved to South Hero seven years ago because it's easy to get to and close to Burlington and other more populated towns. Since then she's served in many volunteer and community-based roles, including the school board and recreation commission. It's how she's gotten to know a lot of people.
"I like how there's a lot of older farming families here, so people have been here for a lot of generations – I particularly find those people interesting," Erin said. "What's also great about South Hero is the landscape makes it difficult to build homes. So, it's never going to be a place with huge developments and it's nice that it has those limitations."
What Do You Need to Know if You're Moving to South Hero?
"Get involved in something within the town – whether it's the recreation commission, the select board, the school board, or the development review board – there's a lot of ways to get involved in the community," Erin said. "When I moved here, I didn't know how to meet people and I started going to church and volunteering and I developed a lot of relationships that way and things to do with my family."
Before you know it, you'll be a local and walking the trails, enjoying the beaches, and attending community events!
To stay up to date on Snow Farm Vineyard events, you can join our newsletter by clicking the image below. You'll also get a discount on wine! We hope to see you soon!