Wine makes a lot of things better and that includes summer cocktails.
It's not that we don't appreciate a tasty glass of wine by itself, but hot days call for mixing things up for maximum refreshment.
Summer cocktails do the trick. They're light, fruity, refreshing, and easy to make.
We love summer cocktails in the spritzer category. Their fizziness is fun and they have a lower alcohol content than a straight glass of wine. The perfect summer cocktail for a long day in the sun when you want to slow your roll and enjoy your beverage longer.
These three summer cocktail recipes are made with some of our favorite white wines from Snow Farm Vineyard. All of our white wines are light and easy. You can't go wrong with whichever one you choose for your summer cocktails!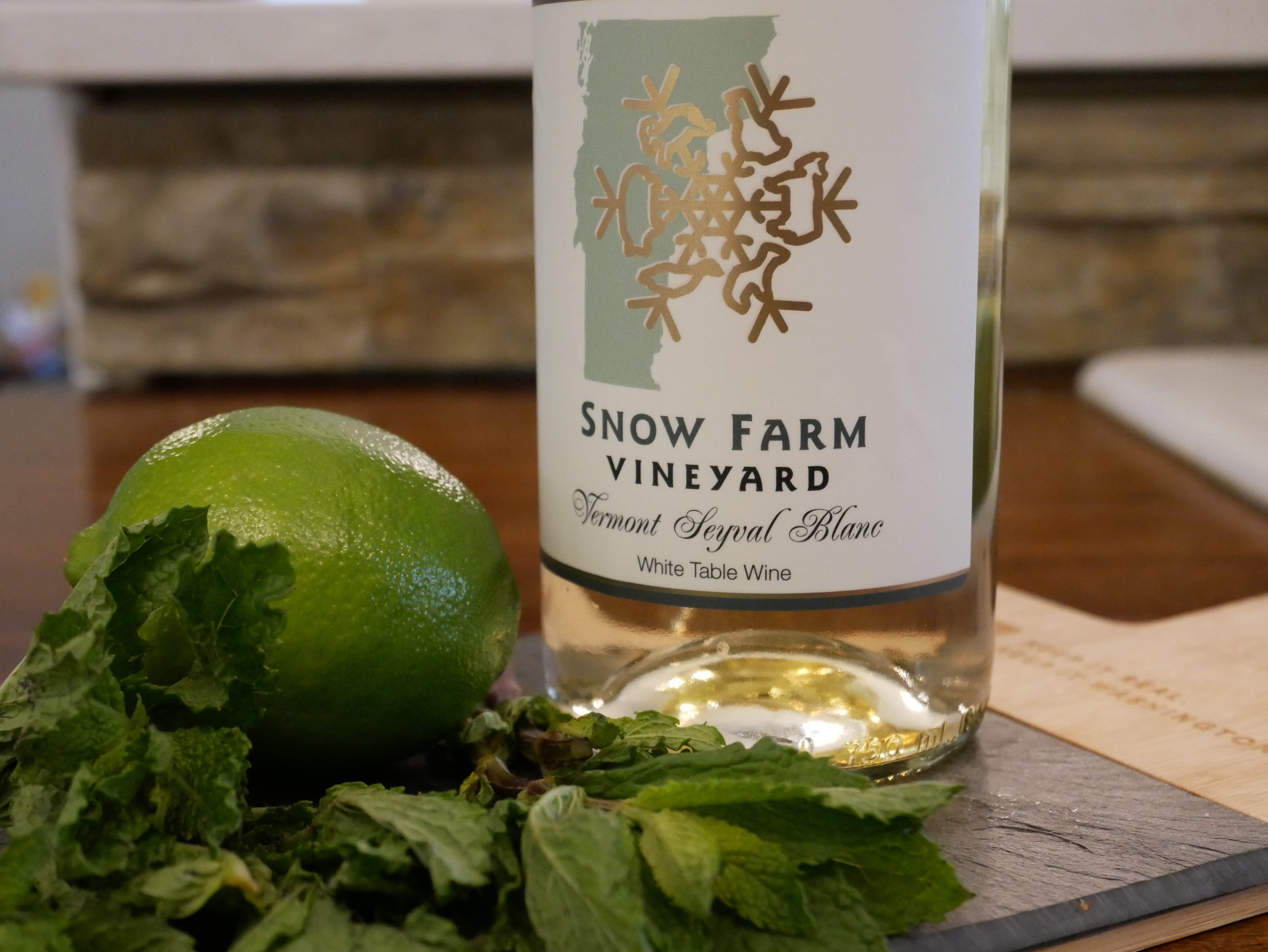 Our Seyval Blanc is full of fruit aromas with melon and lime flavors. We concocted the perfect recipe for it to star in - a white wine mojito.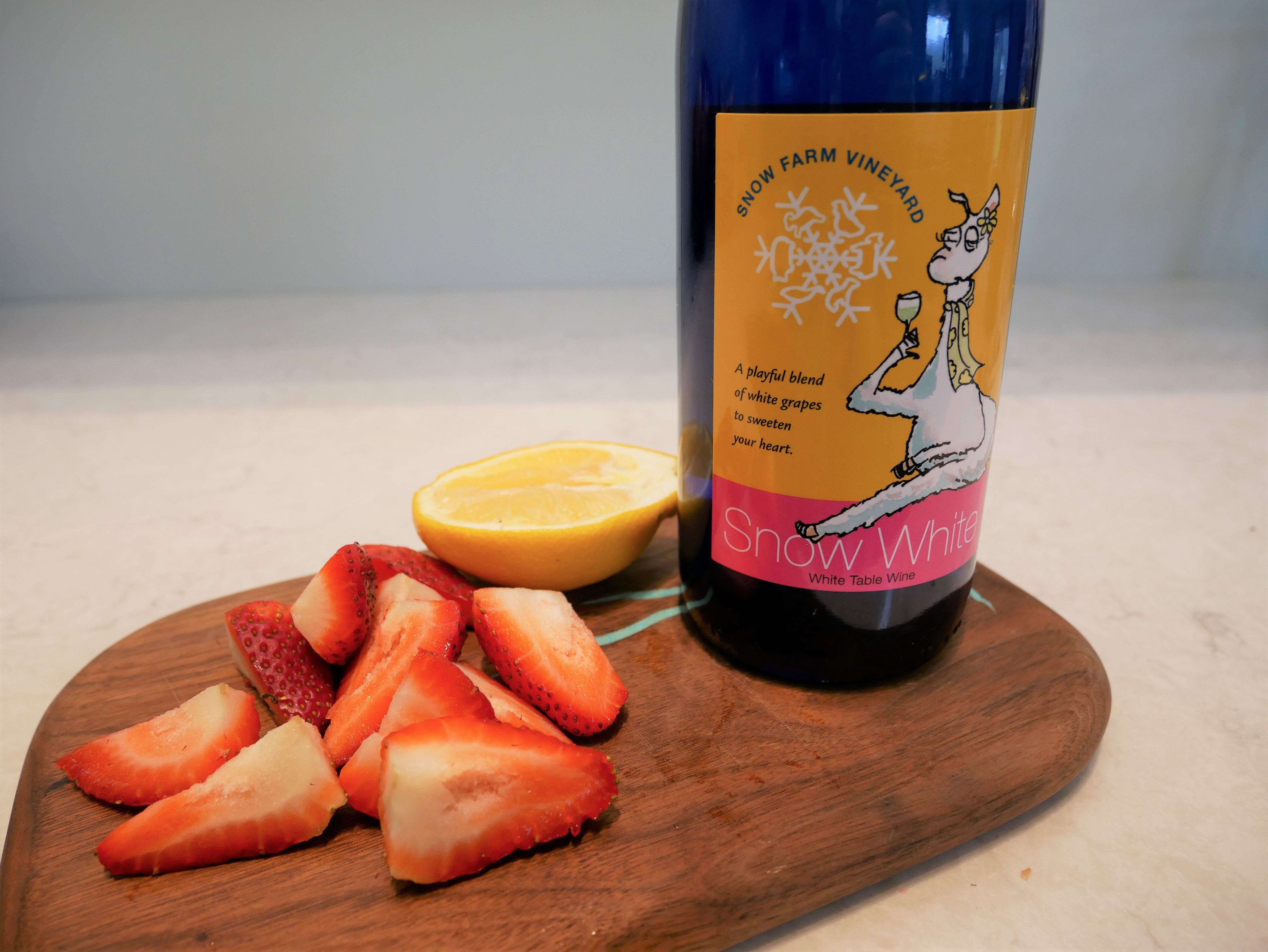 Our Snow White makes a beautiful strawberry spritzer because it's similar to a fruity pinot grigio. The strawberry and lemon flavors shine through.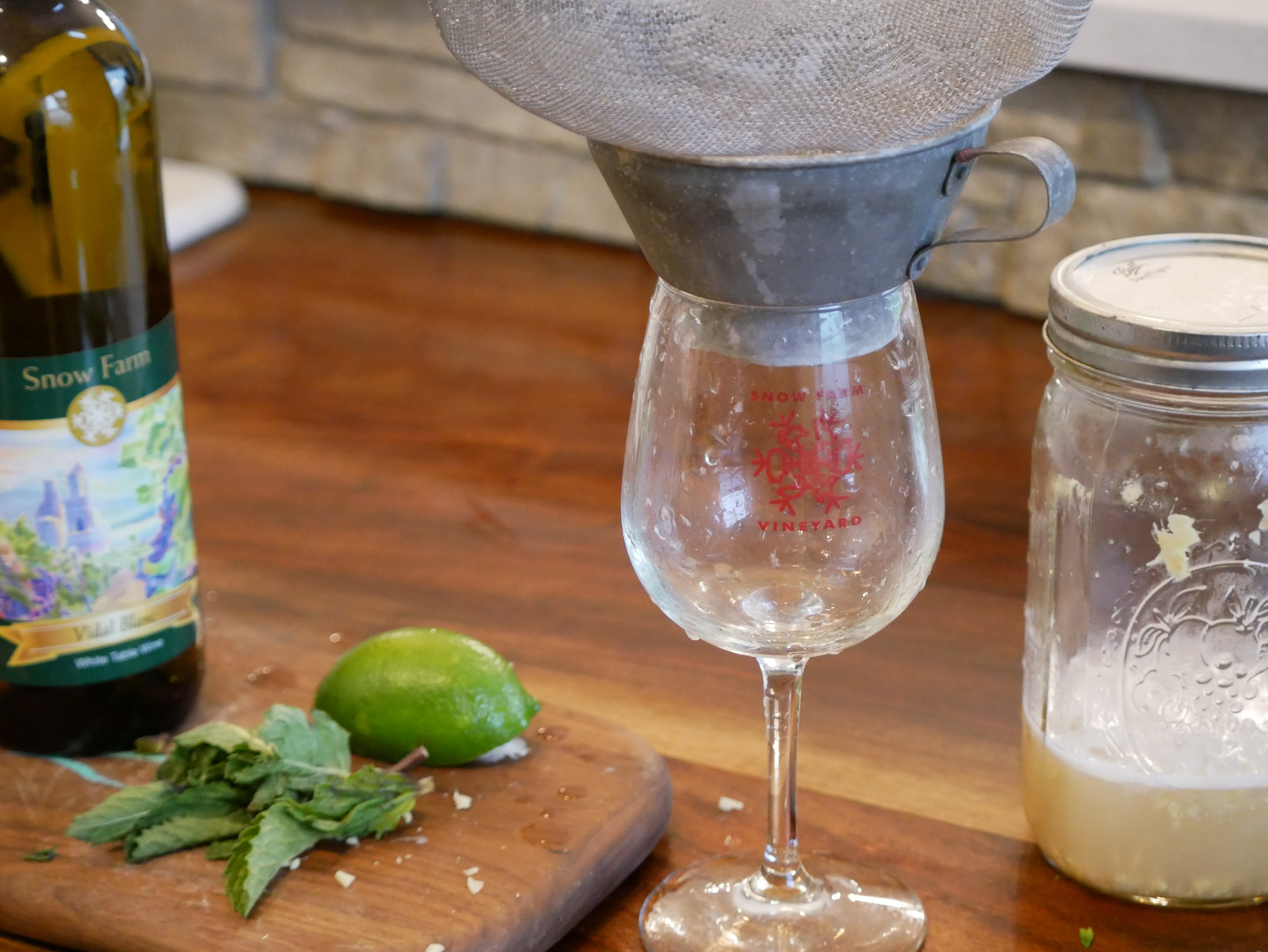 We mixed up a ginger spritz with our Vidal Blanc. Our Vidal is an off-dry white wine with notes of pear, green apple, and cantaloupe with a floral and subtle almond nose.
Some of these recipes call for a cocktail shaker to mix/strain the drink, and a muddle to mash the fruit. If you don't have a muddle you can use a wooden spoon and a bowl. If you don't have a cocktail shaker, a mason jar with a lid works fine. For straining, you can use a small mesh strainer over a glass with a funnel, or strain with the lid of a jar.
The quantity of the recipes can easily be adjusted depending on what your game plan is for the day.
Cheers to summer!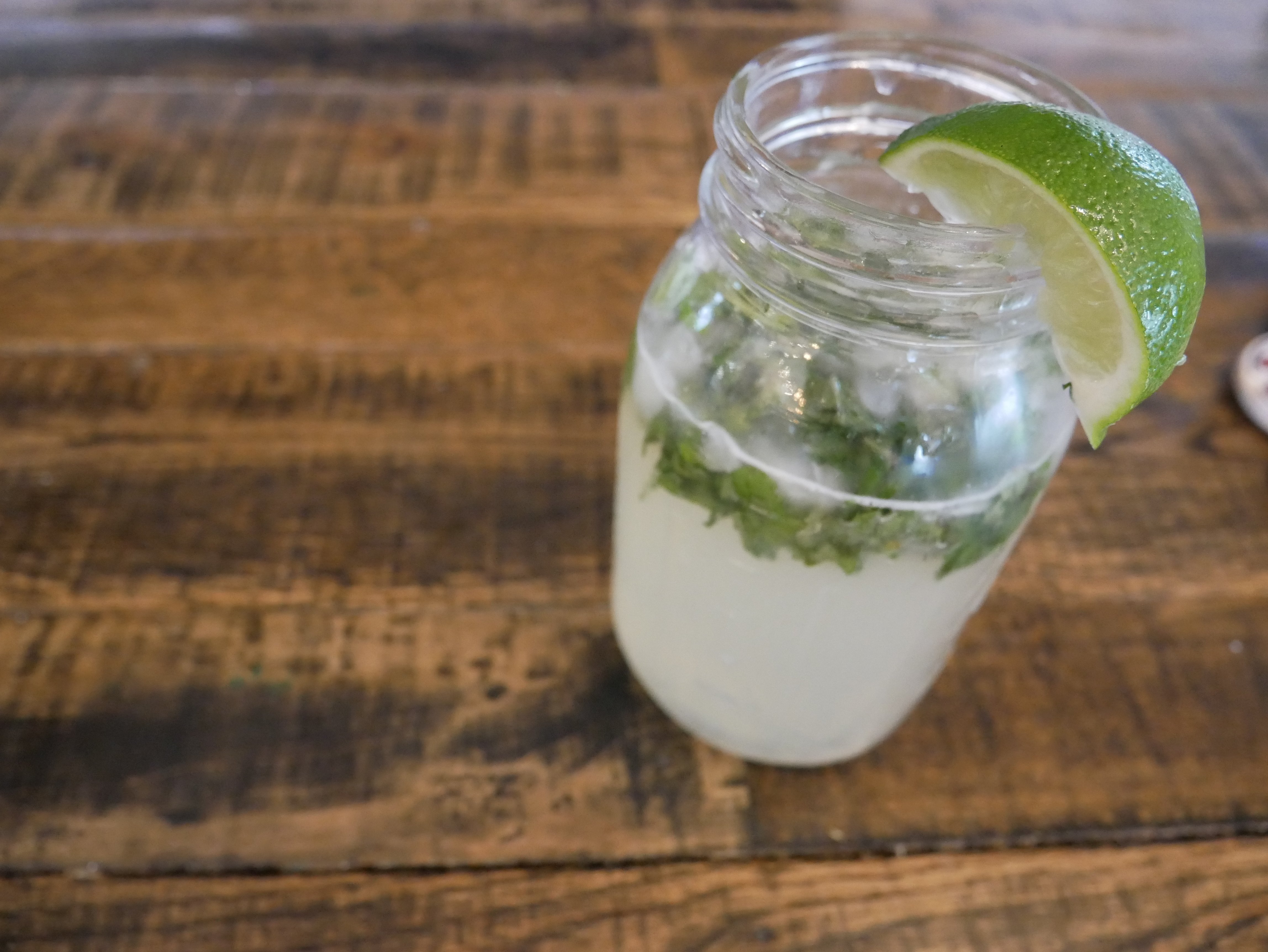 White Wine Mojito
Serves 4

Ingredients:
1 750 mL bottle of white wine (use Snow White, Riesling, or Vidal Blanc)
2 cups Italian sparkling lemonade
3 limes (2 juiced, one for garnish)
1 cup of fresh mint
Directions:
Chill the white wine and Italian sparkling lemonade.

Once well-chilled, mix the wine and sparkling lemonade in a large pitcher. If you want to half the recipe, it fits well into a quart mason jar. Juice two limes and add to the wine and lemonade.

Mince 3/4 cups of fresh mint and add to the pitcher (add mint right before serving, otherwise the leaves begin to brown).

Add optional sugar to taste, especially if the sparkling lemonade is not very sweet. Mix well.

Thinly slice the remaining lime to garnish glass rims and add a sprig of mint leaves to liven things up even more. Serve over ice.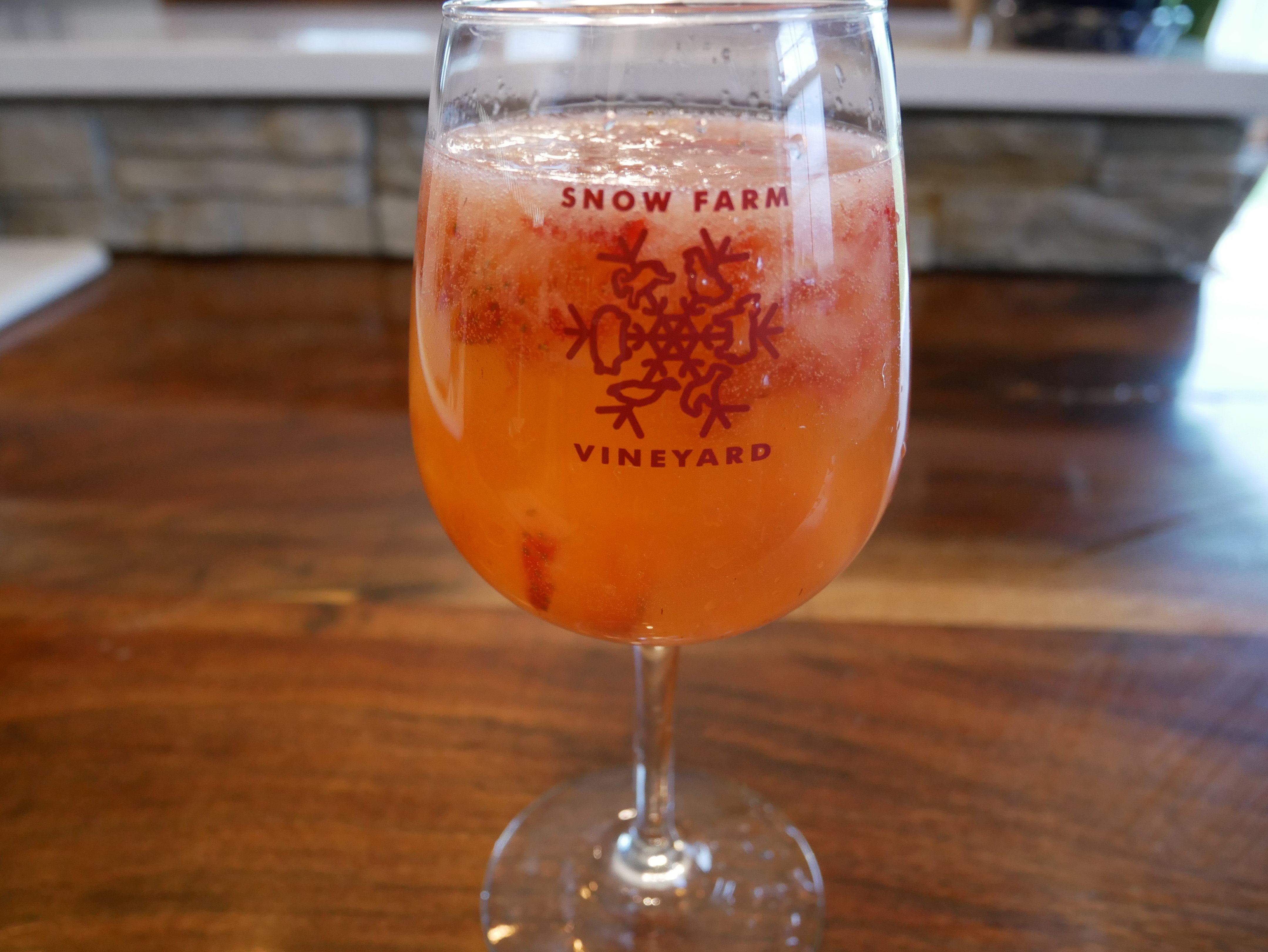 Strawberry Spritzer
Single serving

Ingredients:
3 ounces white wine (Snow White)
1.5 ounces vodka
3 fresh strawberries (stems removed)
1 tablespoon maple syrup
Juice of 1/4 lemon
3-4 ounces soda water
Directions:
In the bottom of a mixing glass (or a bowl), muddle the strawberries. Add the Snow White wine and a handful of ice. Mix it well, and then strain into a wine glass. Top with soda water. Add some of the chunks of strawberry back into the drink for a tasty treat!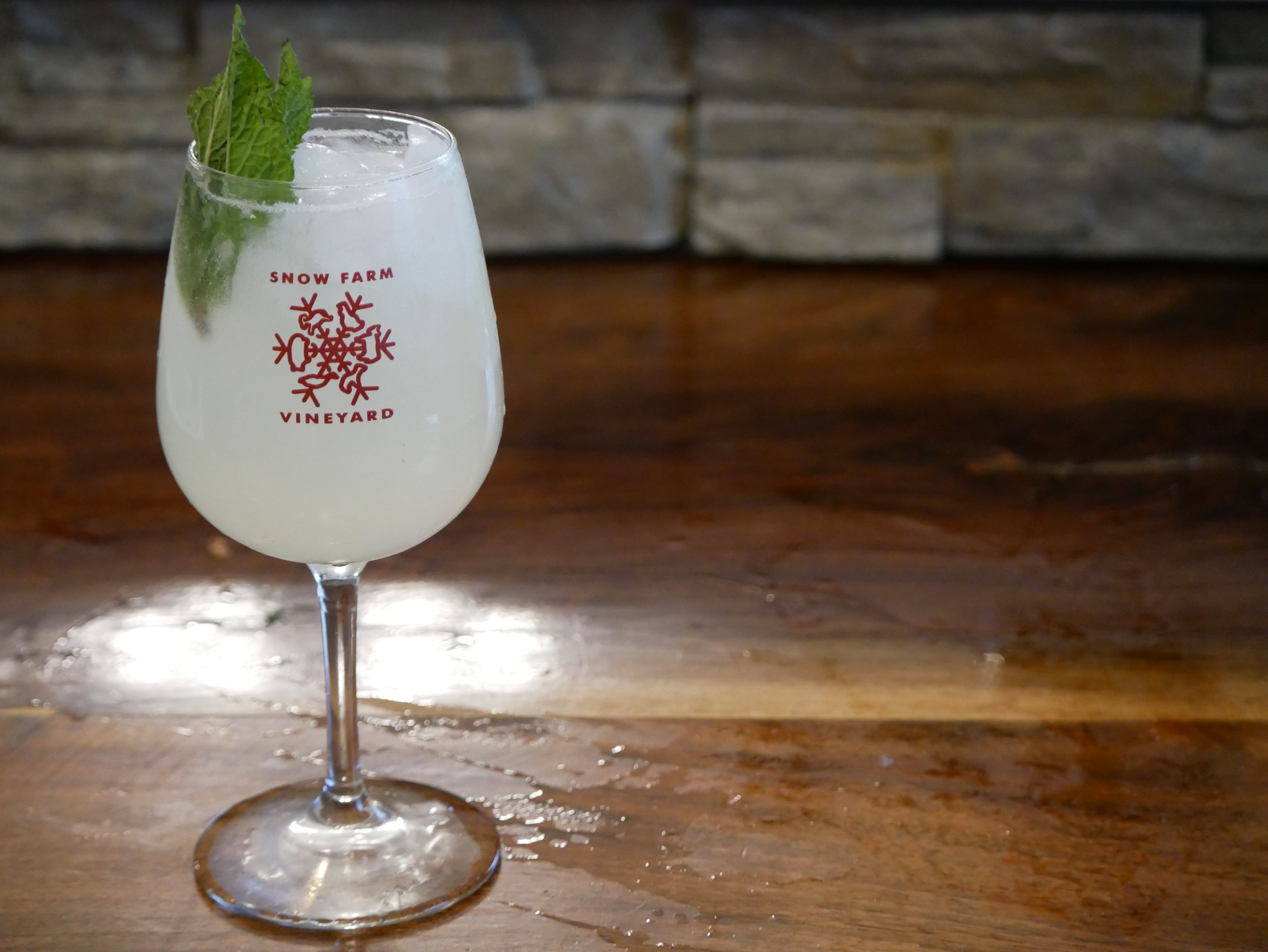 Ginger Spritz
4 servings

Ingredients:
2-inch piece peeled coarsely chopped fresh ginger
2 ounces fresh lime juice
2 ounces simple syrup
16 ounces of Snow White, Vidal Blanc, or Seyval Blanc
Sprig of mint
Directions:
Muddle ginger in a cocktail shaker or in a bowl with a spoon. Add lime juice and simple syrup. To make simple syrup at home, boil a 1/2 cup of water and stir in a 1/2 cup of sugar until it is dissolved.

Add a handful of ice, cover, and shake vigorously until outside of shaker is frosty, about 30 seconds. If you don't have a shaker, you can transfer it to a quart mason jar with a lid, or any glass jar with a lid, before adding ice.

Strain into four ice-filled rocks glasses or large wine glasses. Add white wine to each and top off with club soda.

Stir and garnish with a sprig of mint.
Recipes courtesy of Connor Decker of Snow Farm Vineyard.