Terroir is the natural environment that we grow our grapes in. The soil, elevation, latitude, sun exposure, and climate of a vineyard all come together to create the terroir, a French term for a taste of place in your glass.
Some go beyond the natural elements to say that the terroir of a wine also includes the style of the winemaker. For example, decisions like how the vines are pruned, when the grapes are picked, how much they are crushed, how long the wine is fermented, and the type of barrel the wine is aged in, all change the wine. Most agree, though, that the word terroir should only refer to the expressions of nature, not of the winemaker.
The Champlain Islands of Vermont are home to a special terroir that is perfect for grape-growing. The clay soils of the Champlain Valley make up some of the best farmland in Vermont. Snow Farm is situated on an island, which means we enjoy a micro-climate created by the lake. The severe Vermont winters are made milder by the lake, which helps protect the grape vines. We have been taking advantage of this rich farmland and unique terroir to grow grapes since 1997.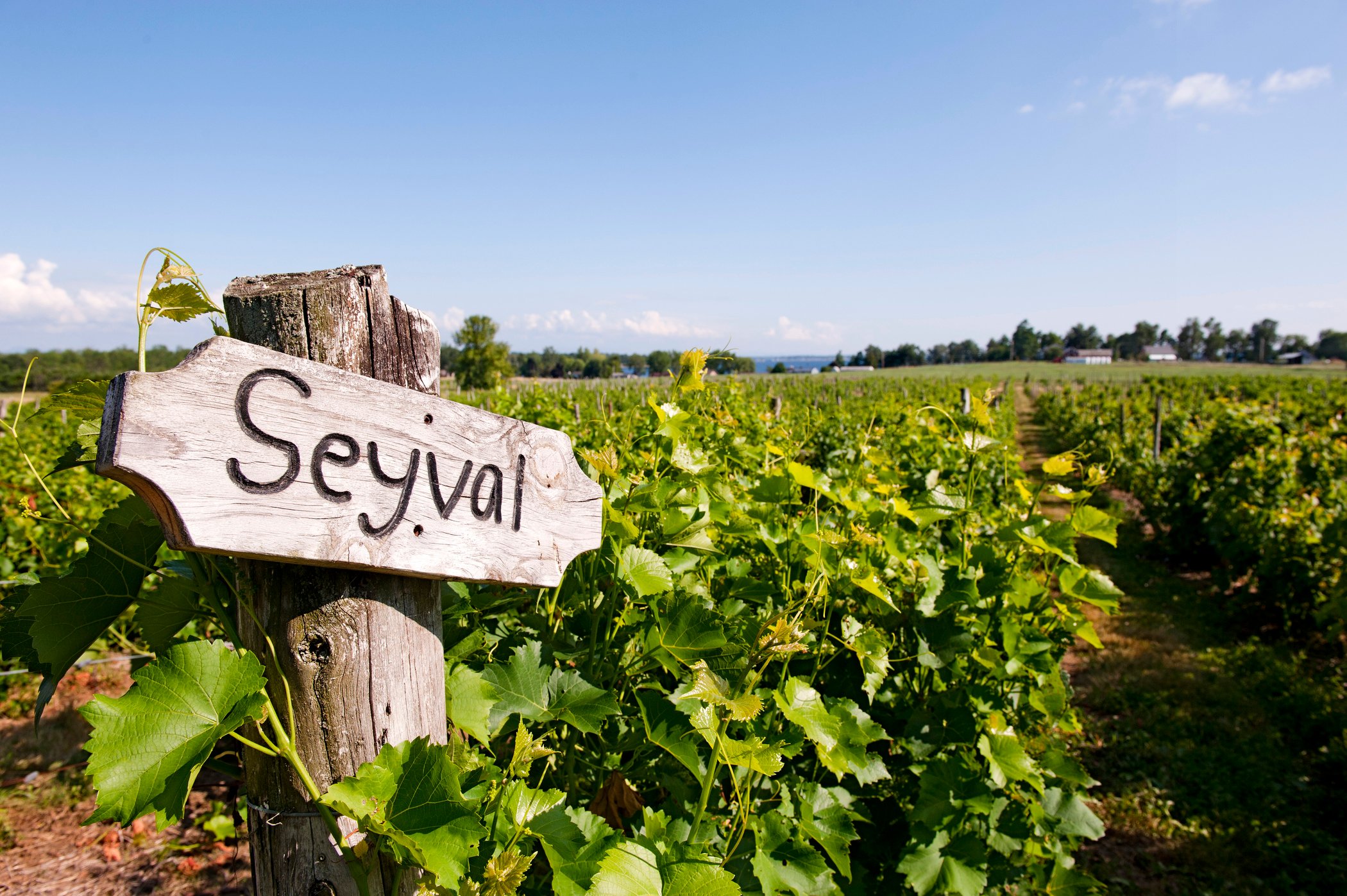 Why Terroir is Important When it Comes to Wine
Our quarter-century-old vineyard originally included grapevines such as Pinot Noir. Pinot Noir was born in the Burgundy region of France. Eventually, this revered vine didn't like the frigid Vermont winters and slowly died off. Head winemaker Patrick Barrelet transitioned the vines to varieties that were best suited for the terroir in South Hero.
Terroir is important when it comes to wine production because when you support locally grown and produced wine, you're supporting the long-term sustainability of agricultural land in your state.
There is something to be said for drinking a glass of Vermont wine, like a Seyval Blanc. Though it's not a super well-known wine, it's arguably more special than drinking a Pinot Noir in Vermont, because Seyval Blanc is better suited for the land and the climate. Unlike a wine like Pinot Noir that is most likely made 3,000 miles away and has a much bigger impact on the environment when it travels to Vermont. Not to mention, supporting your local winemakers is a special act in itself!
"We chose this location for the vineyard because of the high-quality soil, good sun exposure and great growing season. Then, we chose the variety of grapes that would make the highest possible quality wine in our environment," Patrick said.
Another reason why terroir is important to consider when choosing your wine is because food and drink made in the same region complement each other unlike anything else.
"If you pair wine with things that are grown in the same area they go together. Things that grow together go together," Patrick said.
Vermont-grown pasture-raised beef, pasture-raised chickens, and local fruits and vegetables all compliment Vermont-grown wine best.
"Drink your local wine with your local food," Patrick said. "Terroir is local and gives an identity to your food. It isn't that one terroir is better than another, it's that you appreciate the terroir you have, and you enhance your food and drink when you choose locally made products from a similar region."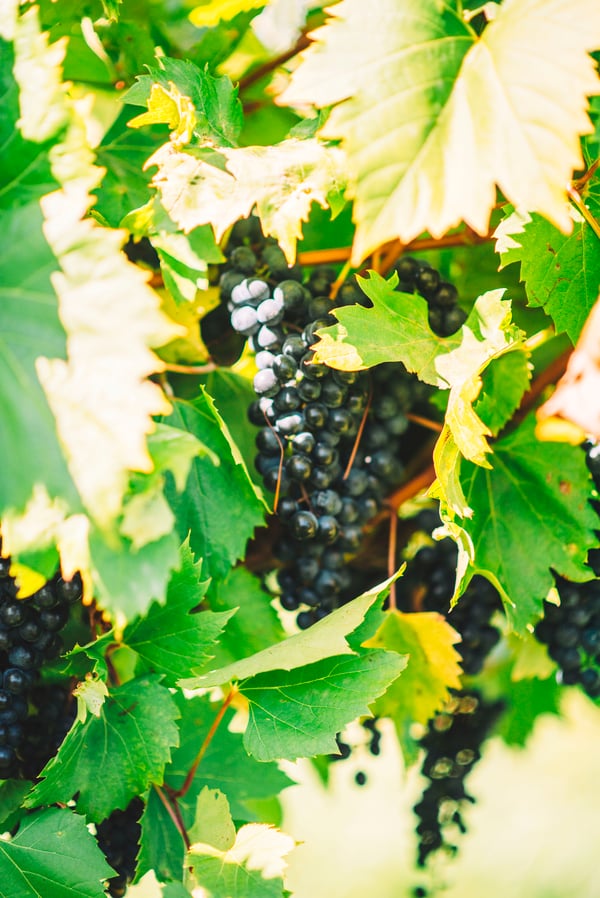 Grapes Suited for the Terroir of the Lake Champlain Islands
Snow Farm Vineyard has a gradual slope topography good for drainage and rarely needs irrigation. The clay soils serve the vines well allowing for crisp canes on the trellis system. A strong trellis system promotes healthy vine growth and grape production.
Pruning starts late in the winter and goes into the warming months of April and May. The branches are cleaned up and the vines are tied to the trellis system to support vigorous growth. Buds turn into flowerettes and flowerettes turn into clusters and clusters are harvested and turned into wine. It all comes together to make Vermont wine from the Champlain Islands.
"You might see a difference in the same wine made from the same varietal in one area versus another. It's not better or worse - it's a subtle regional difference," Patrick said. "Our land is our pride because it makes our Champlain Valley grapes."
Some other artisanal crops that terroir is referred to and studied include; coffee, tobacco, chocolate, chili peppers, hops, agave (for making tequila and mezcal), tomatoes, heritage wheat, maple syrup, tea, and cannabis.
Here is a list of the grapes we grow that are best suited for our terroir.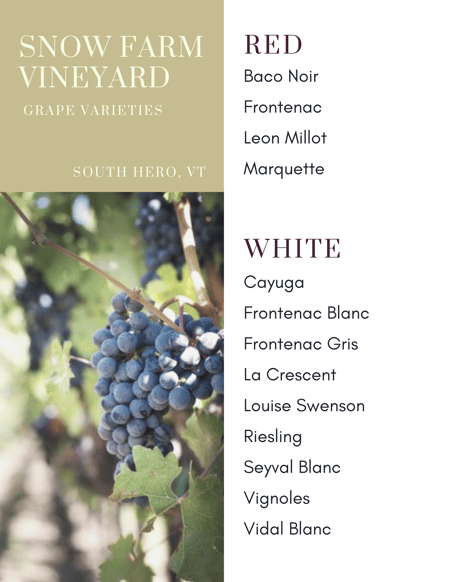 The makeup of our terroir is important but it takes a strong team to keep up with the maintenance and care of the vineyard. The foundation of the vineyard was built by its original owners, Harrison and Molly Lebowitz, and winemaker Patrick Barrelet over 20 years ago. The Lane Family purchased the vineyard in 2012 and became co-owners with Patrick. Together they developed Snow Farm Vineyard into what it is today.
We welcome you to experience our vineyard and winery so you can see and taste the magical terroir that creates our high-quality wines. We truly believe our terroir is the secret sauce in all of our wines. From dry to sweet, fruity to oaky, we have a wine for every taste that is uniquely made on the shores of Lake Champlain. After you grab a glass of wine from our tasting room, we invite you to take a stroll through the vineyard and appreciate the gifts of nature that are inside every glass of wine we make.
Posted by Nick Lane