A stay at a Vermont Inn is much more than a place to lay your head at night. Many Vermont Inns are farmhouses built hundreds of years ago that have been remodeled to accommodate guests. If you're looking for a quintessential Vermont experience that is charming and historical, stay at a Vermont Inn.
Many Inns are also working farms with the innkeepers living on-site. You'll have the opportunity to learn about agriculture from your hosts and maybe even do a few farm chores if you're interested.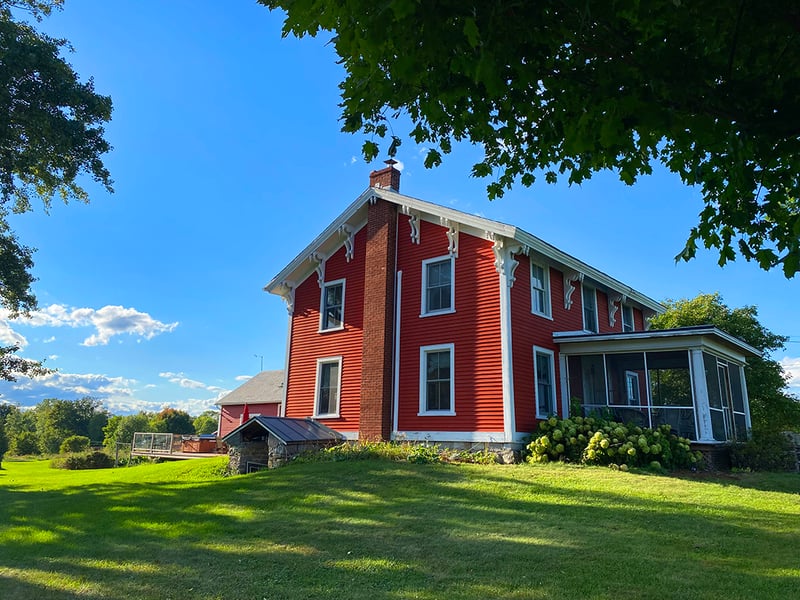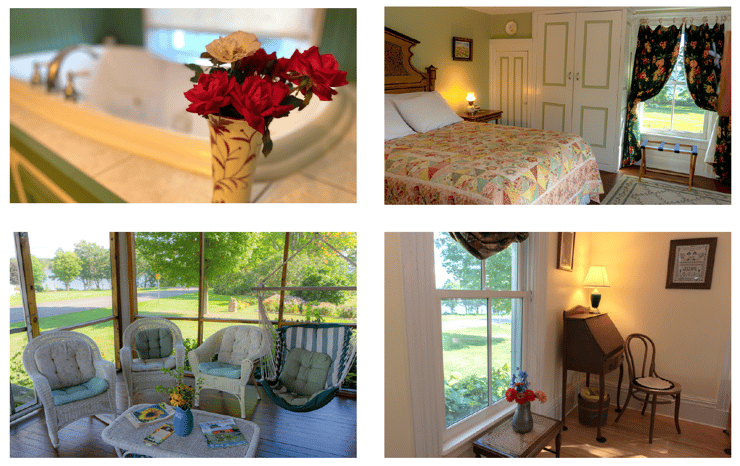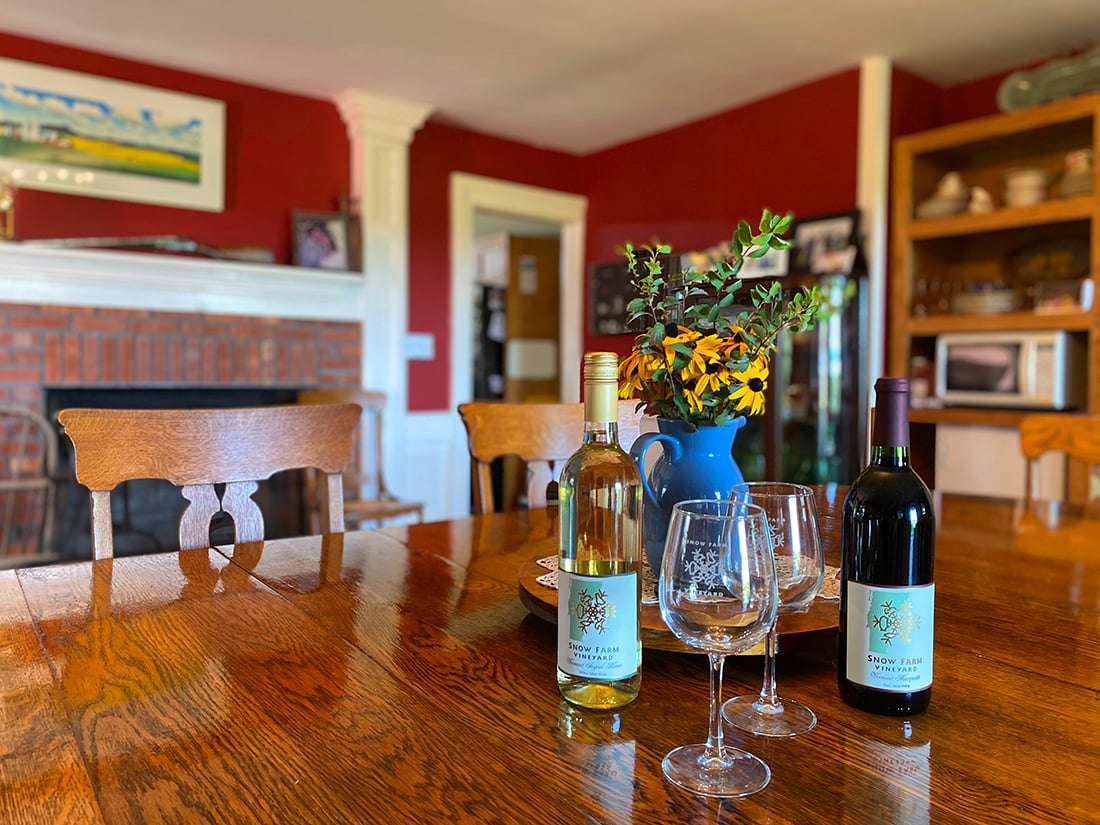 At our very own Snow Farm Inn in South Hero, Vermont, built in the 1820s, the allure is not only our vineyard and maple sugaring operation but also the proximity to the beach and bicycling trails.
Step out the back door and you'll be on Lake Champlain on your own private beach. Or, leave from the Inn on your bicycle to ride on paved roads that connect to the Champlain Bikeway, a series of bike trails through the Champlain Islands that also connect to the city of Burlington.
We've hosted thousands of guests over the years. Here's a peek into the guest experience and why a stay at our Vermont Inn is a bicycler's dream.
A Getaway for Bicyclers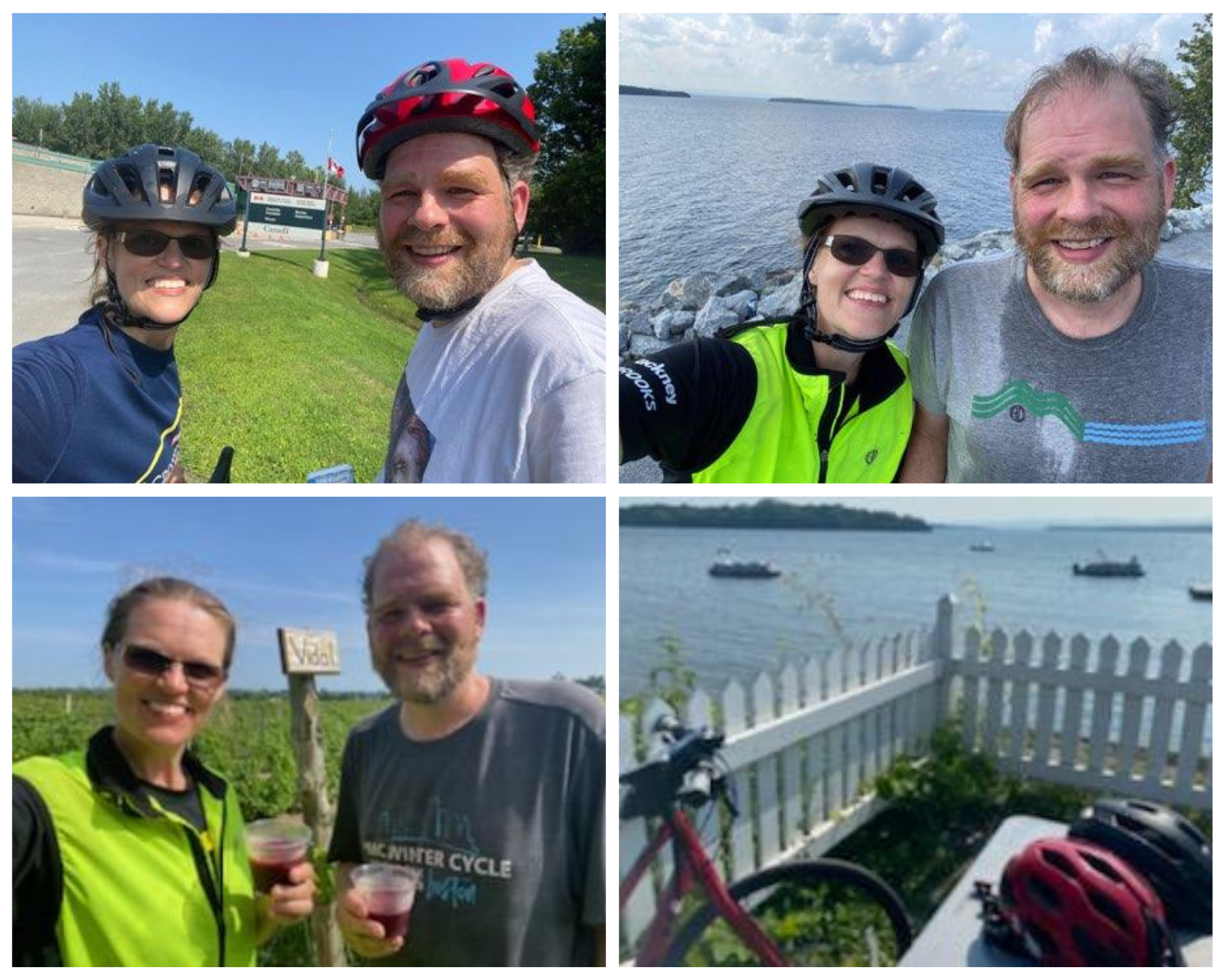 Past guests Jon and Laura from Cambridge, MA came to Vermont in search of some quality time together in early Summer 2021. We chatted with Laura about what made their stay unique.
What were you looking for in your getaway?
My husband and I were looking for a kid-free vacation and a break from the lockdown and homeschooling because of COVID-19. We have a five-year-old son. We're both avid cyclists and one thing that is hard to do with a little guy is to go on epic cycling trips. The Champlain Islands is one the best places to cycle.
Why did you choose Snow Farm Inn?
I found them through the Lake Champlain Bikeways which offers over 1,600 miles of biking. I had looked at their website and they had accommodations along the bike route. What I liked the most was that it was close enough to bike to Burlington, it was near the winery, it was on the lake with a private beach, and had a king bed. Plus, breakfast is available in the morning which is always good for cyclists!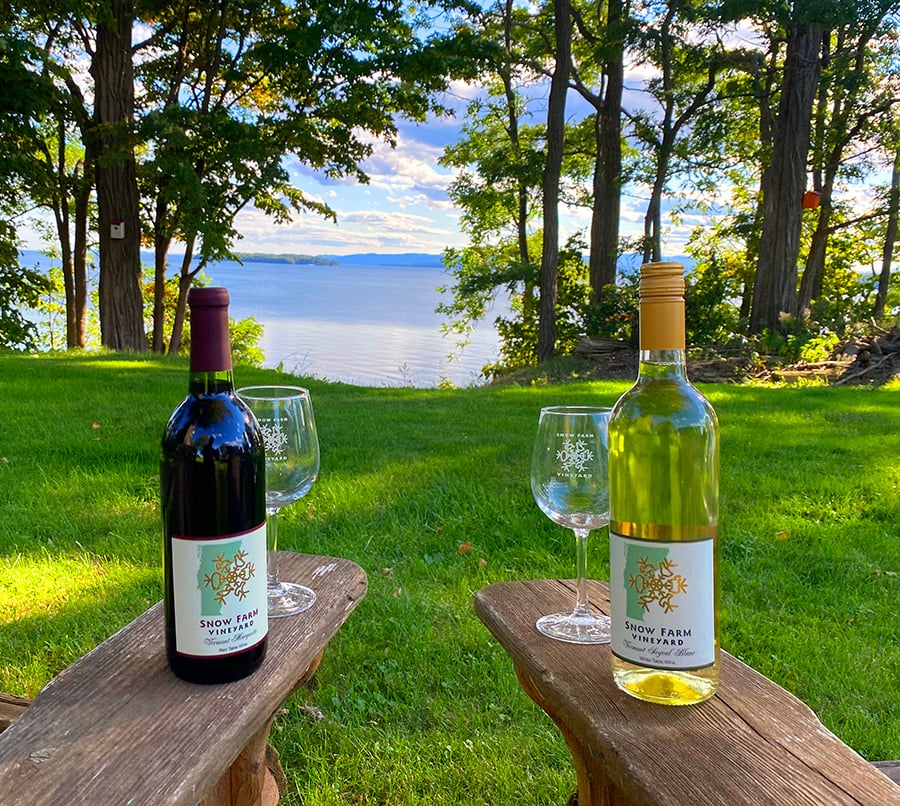 What special touches were the most memorable for you?
One thing cyclists need is a dry, secure place to store bikes. The owners went out of their way to put our bikes in a secure place to lock up. For them to understand how much we loved our bikes was really nice.
It was also really nice that breakfast wasn't at a certain time. We loved the grab-and-go option because we like to get out early to ride. Things were left out on the table for us like juice, fruit, granola bars, and things we could take on our ride. It wasn't a huge home-cooked breakfast. Some places have breakfast at a set time, but we wanted to leave early so grab-and-go worked great for us.
We stayed in the Vermont room which had a fridge and freezer…having a place to store things we bought was helpful too. We also forgot beach towels, so it was nice that they provided them.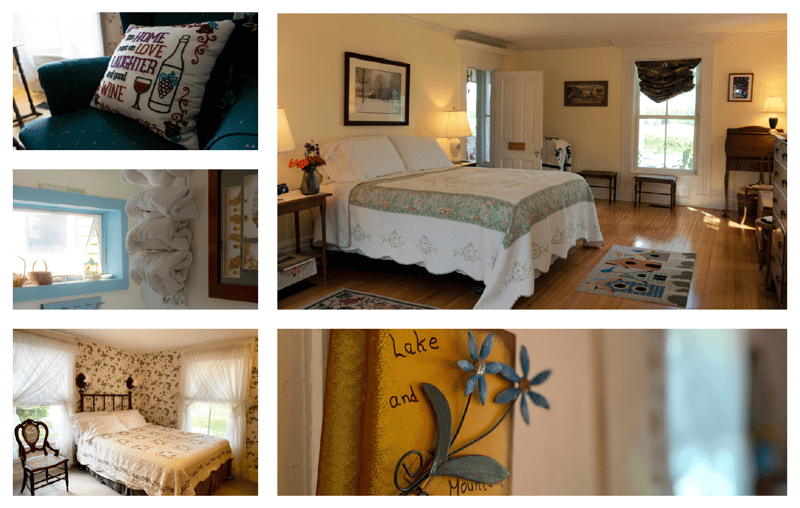 How did you spend your days while at Snow Farm Inn?
One day we biked from 8 a.m. to 7 p.m.! But we stopped for ice cream, swimming, wine tasting, crackers and cheese, chocolate, and cider donuts along the way. We followed a bike map of the Champlain Islands. We went up to the Canadian border and back in a huge loop.
Another day we did a more relaxed ride to look at the old stone castles in South Hero. We also biked the Causeway across the Lake and went to the Burlington beaches.
I love wineries and wine tasting so it was nice you could walk down the road and visit their vineyard.
Also, the gardens were so well-tended and beautiful. We sat and read in the gardens and being close to the lake was so wonderful.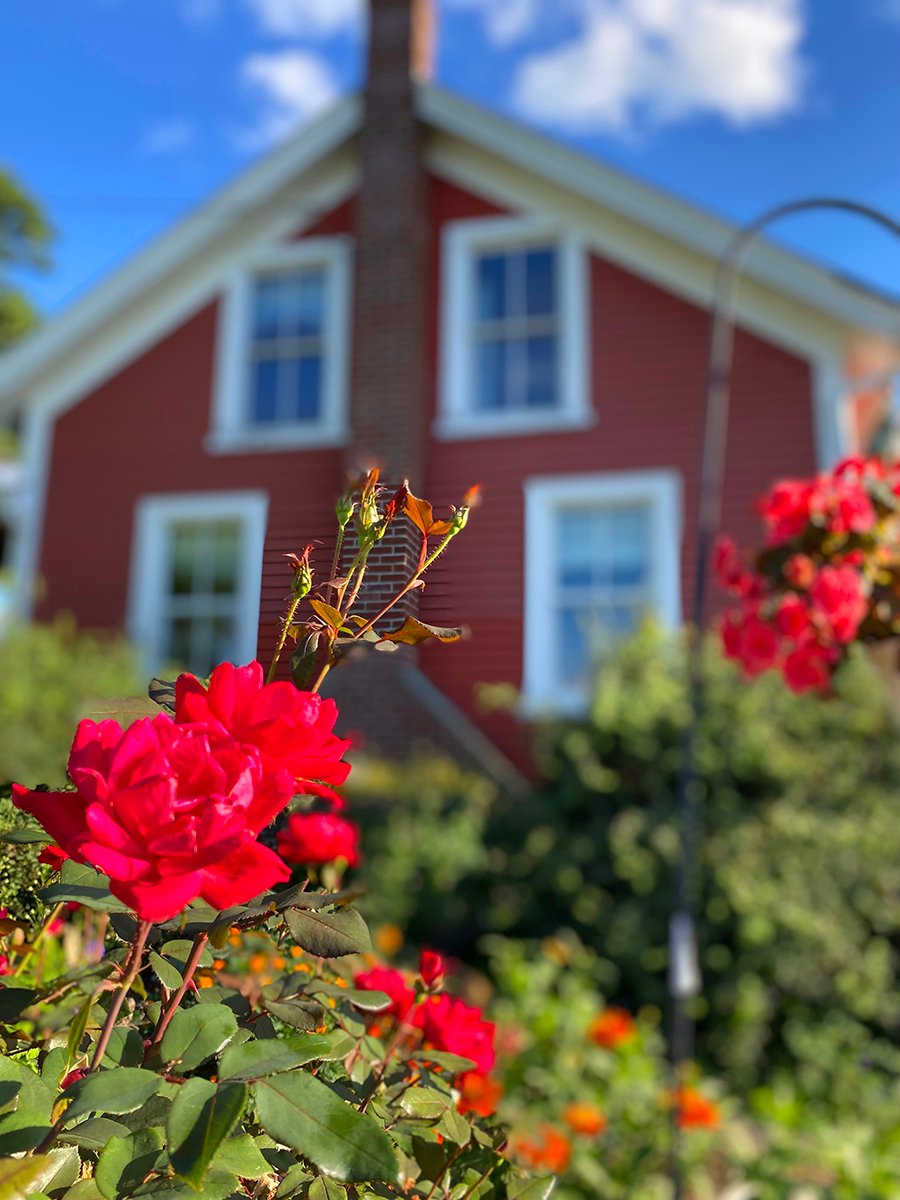 What would you say to other people thinking about staying at Snow Farm Inn? Would you recommend it?
We recommended it so highly that both of our parents booked stays after we told them about our trip. We also went back to the Champlain Islands later in the summer because it was such an amazing place to be.
A must-do is to walk up to Fox Hill behind the vineyard, sit in the Adirondack chairs, and sip wine while taking in the views of Lake Champlain and the mountains.
The fact that you can see the Green Mountains and the Adirondacks was incredible. In a lot of places, you see one side or the other but in South Hero you see both which is one of the coolest parts.
It's an adventure getaway but you could chill and relax if you want to. It was a romantic, relaxing, and active getaway for us.
Learn more about

Snow Farm Inn

, check availability, and book your stay. Open May through October.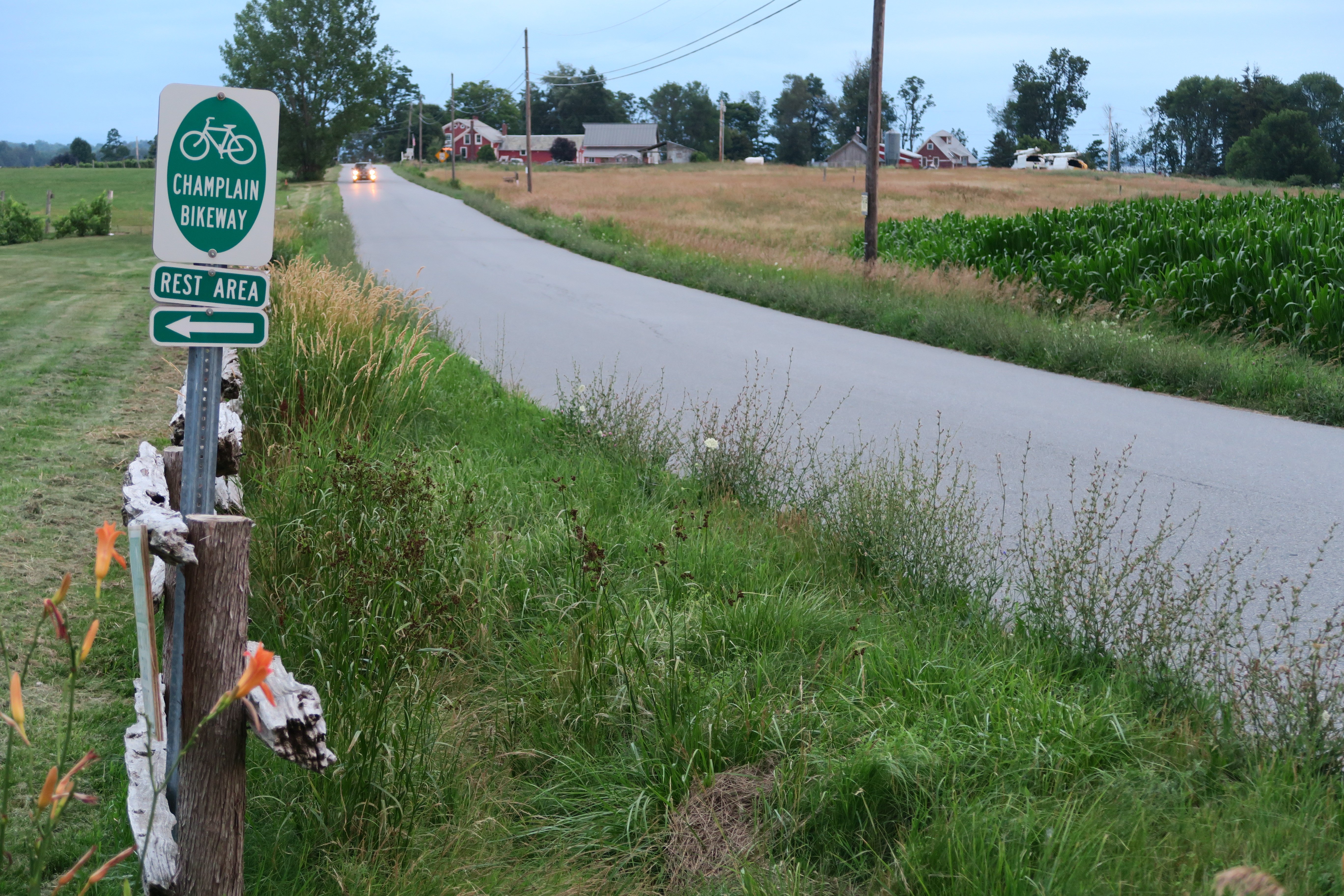 Posted by Nick Lane