There are a number of great places in Vermont where you can ride along or around Lake Champlain. Lake Champlain is about 120 miles long with about 435 square miles of surface water. It's 12 miles wide at its widest point and there are 587 miles of shoreline to discover. All of this shoreline creates fantastic opportunities for Vermont bike tours!
There are 71 discrete islands in Lake Champlain and the largest are known as the Lake Champlain Islands. The Lake Champlain Islands run up the center of the northern part of Lake Champlain and consist of South Hero, Grand Isle, and North Hero Islands. These islands are known in Vermont as great bike tour destinations. In fact, the New York Times named the Lake Champlain Islands area as one of their top 3 favorite bike tour destinations!
If you're planning a Vermont bike tour, here are some helpful resources:
If you're interested in finding some great Vermont bike tours for yourself, you can get the Vermont State Bike Tours Map here. You can also find the Lake Champlain Bike Tours resource here.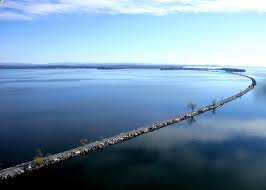 A Great Vermont Bike Tour Destination - Photo Credit: Pinterest.com
To kick off your Vermont bike tour adventure, there's no better place to start than Snow Farm Winery!
We have plenty of parking and easy access to one of the best places in Vermont to tour with your bike, the Island Line Trail. The Island Line Trail trailhead is just a short ride from the Winery, and you can ride from the Islands all the way to the Burlington Bike Path if you want to!
The Island Line Trail is a Great Vermont Bike Tour!