We all deserve and need time to treat ourselves in ways that will lift our spirits. To reward ourselves for all our daily accomplishments, big and small. No need for a special occasion!
I invite you to try these combinations of Vermont cheese, chocolate and wine.
Whether it's before dinner or as your afternoon treat…indulge and enjoy the simple things in life!
How to Pair Vermont Cheese, Chocolate and Wine

Cheese connoisseurs, Lisa Griffin and Steve Jones, of Spring Brook Farm Cheese, gave us their tips on how to best enjoy Vermont cheese with wine and chocolate.
Lisa and Steve are the real deal when it comes to cheese. Before joining Spring Brook Farm Cheese, Lisa had her own cheese shop in New York City and taught hundreds of cheese classes.
Steve has been in the cheese business for over 20 years. He owns his own cheese shop in Portland, Oregon, and wrote a book called A Field Guide to 75 Perfect Pairings: Cheese, Beer, Wine and Cider.
They shared their basic rules to follow when pairing foods together. Plus, some great suggestions for how to pair some of our Snow Farm Vineyard wines with cheese and chocolate!
Rules(ish) of Pairing
These rules work well but rules are meant to be broken, so experiment!
Like with Like. Pair two things that are similar together. For example, a sweet wine with a sweet cheese. Or a nutty cheese with a piece of chocolate/beverage that is also nutty.

Opposites Attract. Take two flavors and match them together to make a third totally different flavor. Like the tried and true mixture of salty and sweet. Try a blue cheese with a sweet wine.
Things that grow together go together. Lisa says when it comes to Vermont cheese and wine they're a natural fit because, "the cows are eating the same grass that grows in the same soil as the grapes. The end products are going to have the subtle nuances that complement each other." Try Spring Brook Farm's Tarentaise cheese with a dry Vermont cider.
Dark chocolate is best for pairing with cheese. The butterfat in cheese and the bitterness of dark chocolate counterbalance each other. It's like a cream in your coffee moment when you're combining them Lisa says. Why not milk chocolate? The milky taste of milk chocolate and higher sugar can be too much with cheese.
Bubbles go with everything. Bubbly wines like Prosecco are the most forgiving. Steve & Lisa agree, that anything with bubbles will pretty much go with any cheese and chocolate. Try Spring Brook Farm's sweet Ashbrook cheese with Lambrusco bubbly wine and dark chocolate.
Here is a list of Vermont cheese, chocolate, and wine pairings. Support local Vermont food and beverage producers while enjoying yourself too!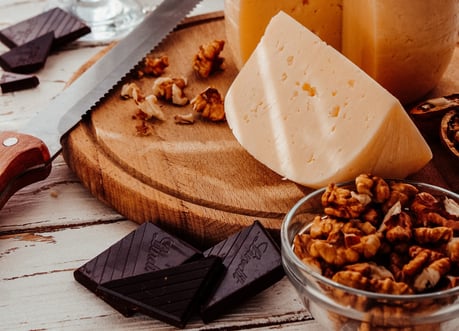 5 Vermont Cheese & Snow Farm Vineyard Wine Pairings
Snow Farm Vineyard Marquette + Cabot Seriously Sharp Cheddar or Vermont Farmstead Cheddy Topper.

Tangy/acidic and more aged, full-flavored cheddars stand up well to full-bodied and oaked reds.
Snow Farm Vineyard Rose Red + Spring Brook Farm's Ashbrook Cheese.

The sour-creamy paste of the cheese contrasts nicely with the fruitiness of the wine. A great "opposites attract" pairing.
Snow Farm Vineyard Fortress Red Port Style Wine + Jasper Hill's Bayley Hazen blue.

The bold, funky, earthy blue cheese like Bayley Hazen is wonderful with sweet or fortified wines. Throw in dark chocolate with sweet wine and blue cheese. Better yet, a salted dark chocolate.
Snow Farm Vineyard Vermont Baco Noir

+

Vermont Farmstead Cheddar

and

Alehouse Cheddar.

The tender cheddar bite and creamy smooth tastes of these Vermont cheeses can make anyone's taste buds dance with joy.
Snow Farm Vineyard Vermont Seyval Blanc or Vermont Vidal Blanc

+ a brie-style cheese like

Von Trapp Farmstead's Mt. Alice.

The roasty vegetal notes of the cheese and the creamy fudginess of the paste contrast nicely with a crisp, light, and fruity white wine.




Then, add some chocolate to your cheese board with these perfect pairings and tasty treats!
5 Vermont Cheese & Chocolate Pairings
Cheese S'mores! Melt a

triple crème cheese

or a gooey brie cheese on a graham cracker (instead of the marshmallow) and add a

dark chocolate coin

from Vermont Nut-Free Chocolates.




Pair blue cheese with dark chocolate and an aged tawny port wine for a delicious dessert. Make it fun with these cute

dark chocolate cows

from Vermont Nut-Free Chocolates.

Mix blue cheese crumbles with Cacao nibs (small pieces of crushed cocoa beans).




Dark chocolate & stuffed gouda cookies?! Yes, it's a thing and lots of people are raving about it.

Here's a recipe.



Make chocolate grilled cheese and cut into small triangles to add to a cheese board. When you add a little

bit of dark chocolate to your grilled cheese sandwich, you'll wonder why you never thought of it before!

The

dark chocolate coins

from Vermont-Nut Free chocolate work perfectly.
We hope you enjoyed our tips on how to pair things you already love to make them better together!
If you don't want to worry about how to perfectly pair your Vermont wine, cheese and chocolate we'd be happy to do it for you. Visit our tasting room to try all of our award winning wines!
In addition to our wines, we offer Cabot Cheese, Grafton Village Cheese, Vermont Farmstead Cheese as well as Vermont Nut-Free Chocolates.
Come see us and we'll help you put together a perfect plate of wine, cheese and chocolate for you to enjoy!
Posted by Cassandra Martin