If you want to savor authentic Vermont foods or take home a thoughtful gift for friends and family, Snow Farm Vineyard & Distillery in South Hero, Vermont, has you covered.
Snow Farm carefully curates our Vermont food options from local businesses to complement our estate wines and spirits. While Snow Farm does not prepare food, our selection of packaged foods from local businesses is a one-stop shop for tried-and-true Vermont goodness and the base ingredients for many Vermont recipes!
You can create a charcuterie board to enjoy with a glass of wine or create a customized gift box with your favorite items.
"Here, you'll experience the terroir or taste of the land in our wines and spirits. It creates a true sense of place and will bring you back to Snow Farm each time you enjoy our products," Tasting Room Manager Cassandra Martin said. "The Vermont foods available in our tasting room come from a similar terroir and accentuate our wines and spirits in a way that products from elsewhere couldn't."
Here's a look at some of the Vermont foods you can enjoy at Snow Farm or take with you when you go! We've included some of our favorite recipe ideas that are classic Vermont.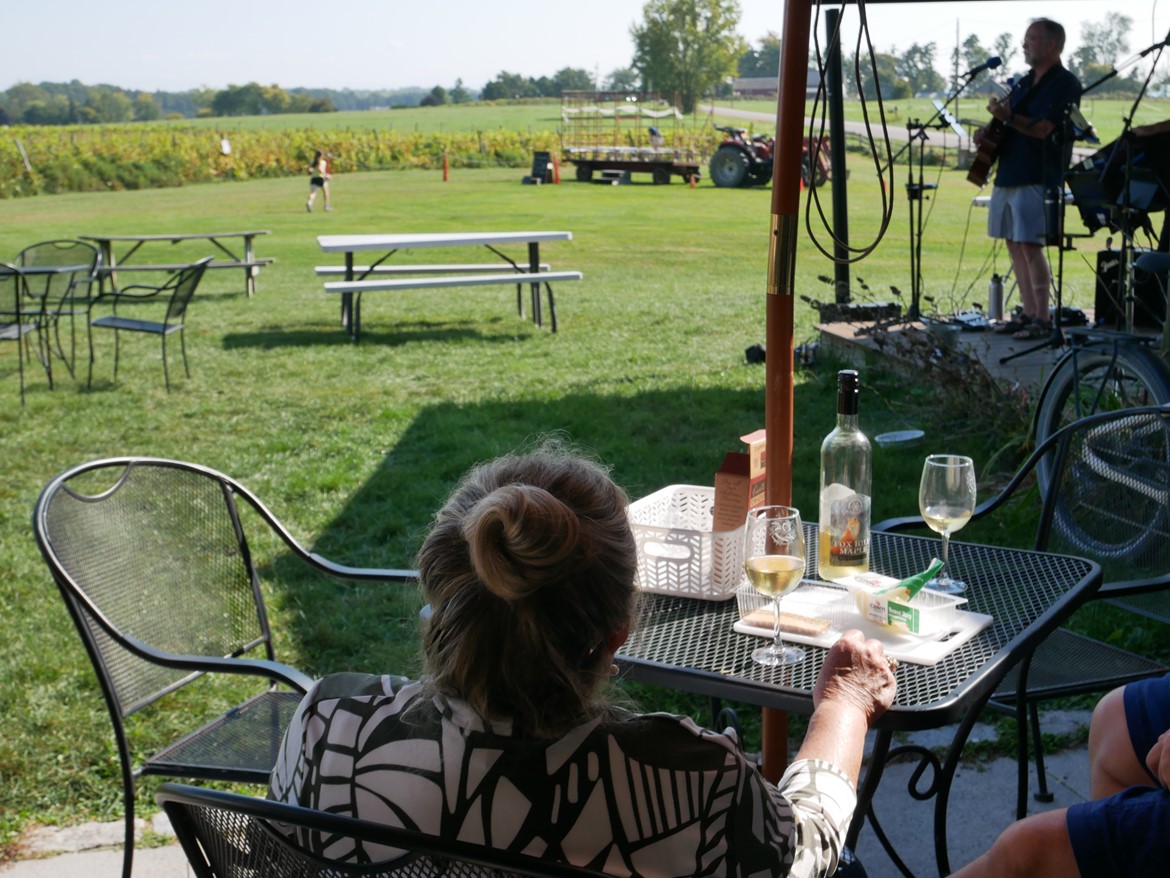 Artisan Cheese
Vermont is known for the quality of the milk produced from its 500+ dairy farms. Because Vermont milk is the cream of the crop, Vermont farmers crank out some of the best artisan cheese in the world (with the awards to prove it).
Snow Farm offers a variety of cheese crafted by local brands, including Cabot and Vermont Farmstead Cheese Co. You can indulge in artisanal cheddar, brie, and other unique blends. At the Snow Farm tasting room, wine connoisseurs will help you pair your cheese with just the right bottle of wine. Or, take it home and enjoy it with apple pie - a true Vermont tradition.
Vermont Governor Howard Dean signed a bill into law on May 10, 1999, that read, "When serving apple pie in Vermont, a 'good faith' effort shall be made to meet one or more of the following conditions: (a) with a glass of cold milk, (b) with a slice of cheddar cheese weighing a minimum of 1/2 ounce, (c) with a large scoop of vanilla ice cream."
Vermonter Recipe: Cheddar with Caramelized Apples (Hackett's Apple Orchard)
Charcuterie & Artisan Meats
Recently, Vermont has seen many new charcuterie and artisan meat businesses join long-running farms like Health Hero Farm in South Hero, including Pigasus Meats in South Hero and Babette's Table in Waitsfield. At Snow Farm, you can find charcuterie options made by Vermont meat producers, including from Dakin Farms. You can indulge in Vermont's smoked artisanal pork, beef, and other locally sourced meats. Pair the charcuterie with a glass of Snow Farm red wines like Marquette or Petite Pearl for an excellent food and wine pairing experience.
Round out your charcuterie board with Vermont-made options from Castleton Crackers, Green Mountain Gringo Tortilla Chips, Fox Meadow Farm Bruschetta, and Granny Blossoms Salsa. If you're looking for a gift idea for the foodie on your list, try a hand-curated box of items that can be used to make a charcuterie board.
Vermonter Recipe: Baked Beans with Maple Syrup and Bacon (Yankee Magazine)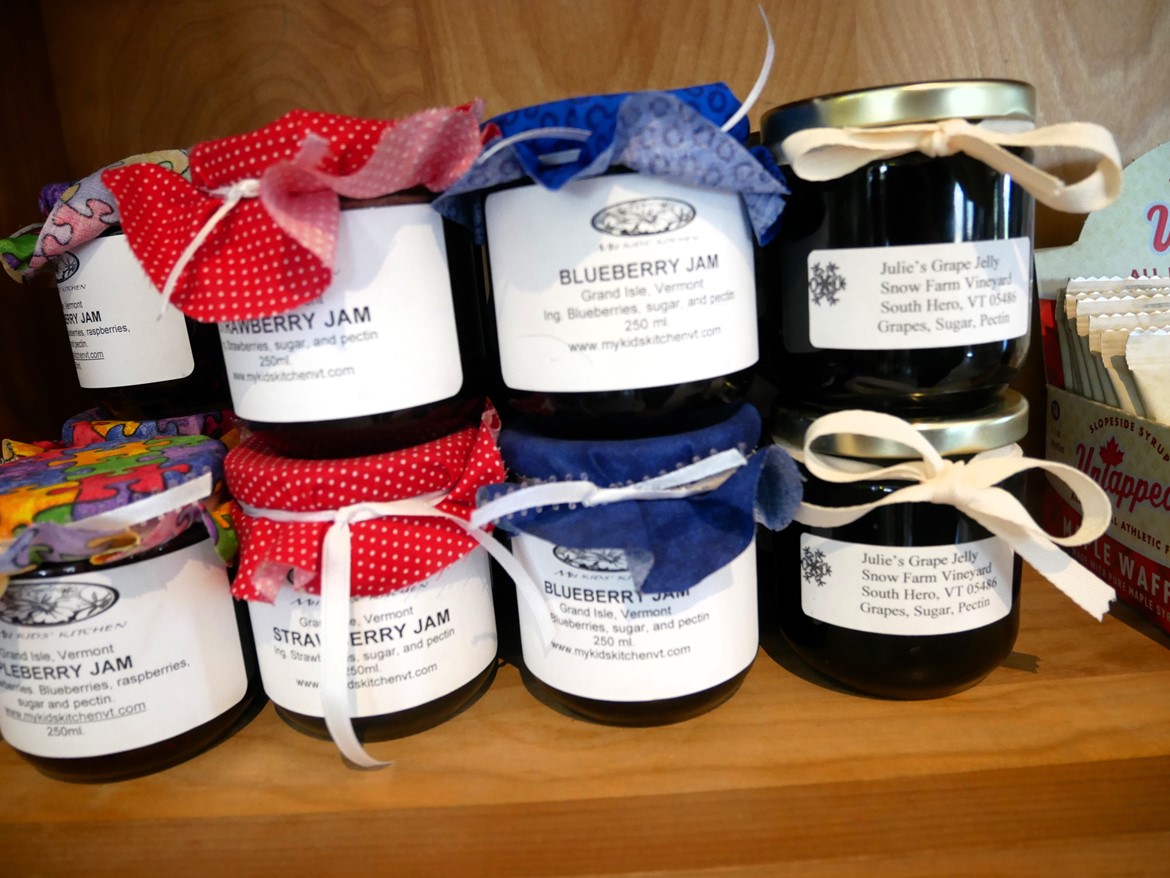 Jams & Jellies
Vermont-made jams and jellies are undoubtedly some of the best you will ever taste. The state's fertile farmland makes it ideal for growing fruits and berries. At Snow Farm, jelly is made from cold-hardy grapes harvested at their peak sweetness in the fall. When you visit Snow Farm, you can take home Julie's grape jelly, made from grapes from the 12+ acre vineyard, or strawberry, raspberry, and blueberry jams made from fruits grown in South Hero by My Kids' Kitchen.
Vermonter Recipe: Warren's Oatmeal Jam Squares (Taste of Home, recipe by a Vermont centenarian!)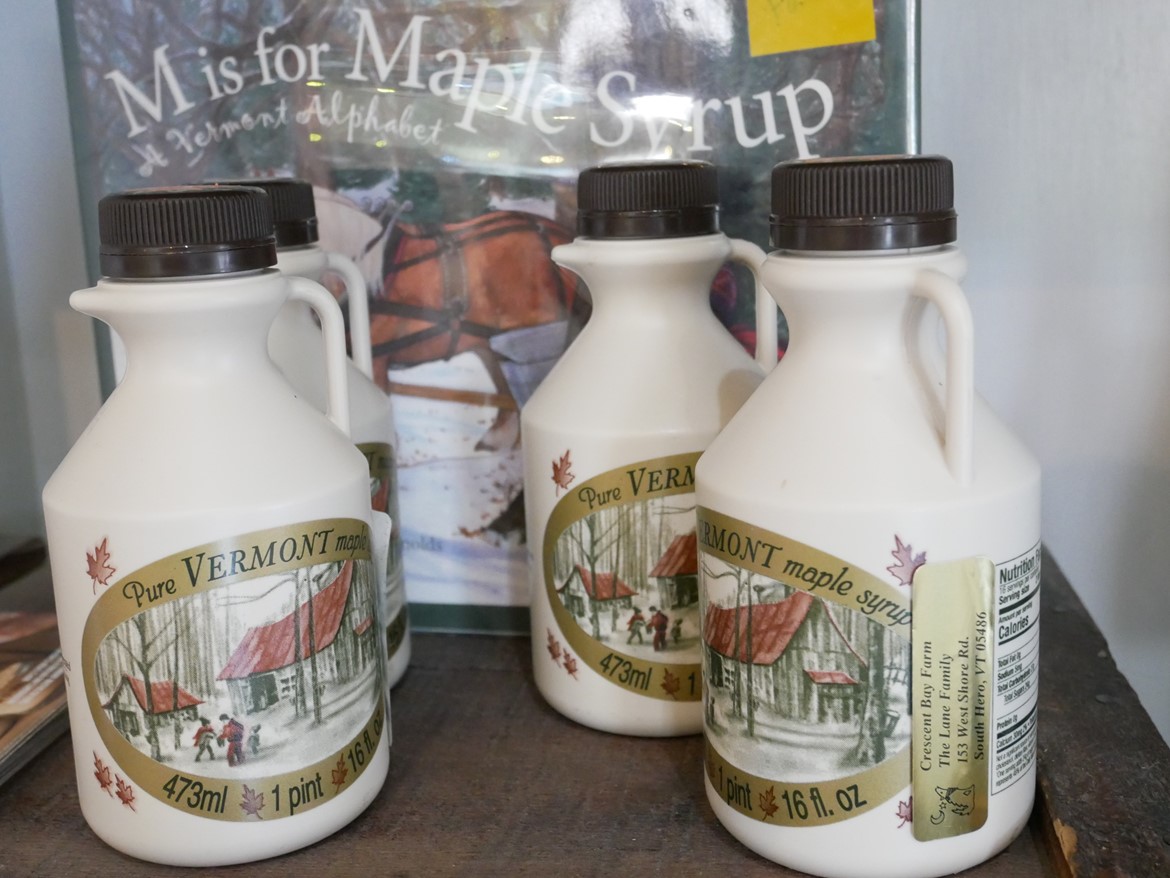 Maple Syrup
You can't experience Vermont without enjoying maple syrup. At Snow Farm, you'll find Fox Hill Maple, Snow Farm's authentic, 100-percent pure Vermont maple syrup harvested from the sugarbush at the farm. You can add some to your cheeseboard, desserts, or even to your wine for an extra dash of Vermont. The syrup pairs beautifully with Snow Farm's white wines, especially their Seyval Blanc or Snow White.
Maple lovers will also want to stock up on Fox Hill Maple, Snow Farm's blend of Seyval Blanc grape wine and maple syrup. Or if you're looking for something stronger, take home a bottle of Snow Farm Maple Liqueur, distilled from grapes and infused with maple syrup.
If you plan to bake with maple, substituting maple syrup for white sugar in any recipe is a tried and true trick that makes any recipe taste better.
Vermonter Recipe: Vermont Maple Pie (Vermont Sugarmakers) and Vermont Maple Scones (Edible Vermont)

Farm-Fresh Pasta
Mac and cheese is a beloved comfort food that can be found in kitchens across America. But for the ultimate mac and cheese experience, look no further than mac and cheese made with Vermont-made pasta and cheese. Grand Isle Pasta's vegetable pastas are made with local seasonal vegetables, herbs, and fruits blended with semolina and durum flour. Ingredients are sourced from nearby farms, including Darby Farm, Pomykala Farm, and Savage Gardens. Combine it with award-winning Cabot cheese, made from milk from a cooperative of dairy farmers across the Northeast, and you can't beat it.
Vermonter Recipe: Baked Macaroni & Cheese (Cabot Creamery Cooperative)

Sweets & Treats
For Vermont-made sweets, Snow Farm is proud to support My Kids' Kitchen and Vermont Nut-Free Chocolates.
Started by the mother of a boy with a life-threatening peanut allergy, Vermont Nut-Free Chocolates of Colchester, Vermont, has been making handmade gourmet treats for those with nut allergies for over 20 years.
Our neighbors at My Kids' Kitchen of Grand Isle, Vermont, began growing food to help their kids learn about gardening and food production at their home and farm in Grand Isle County, Vermont. They offer farm fresh eggs, honey, maple syrup, and veggies and have a small fruit orchard, a sugar house, and bees. You'll find their chocolate chip and oatmeal cookies at Snow Farm.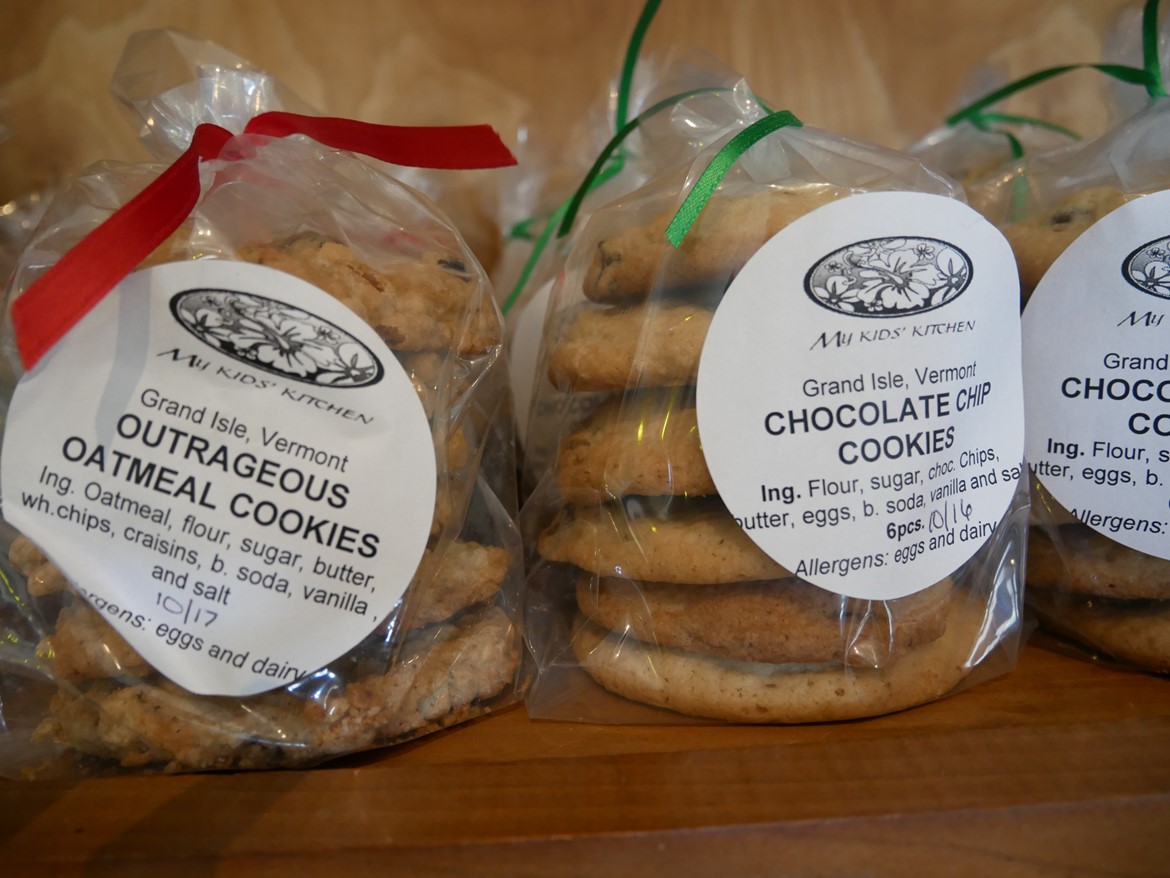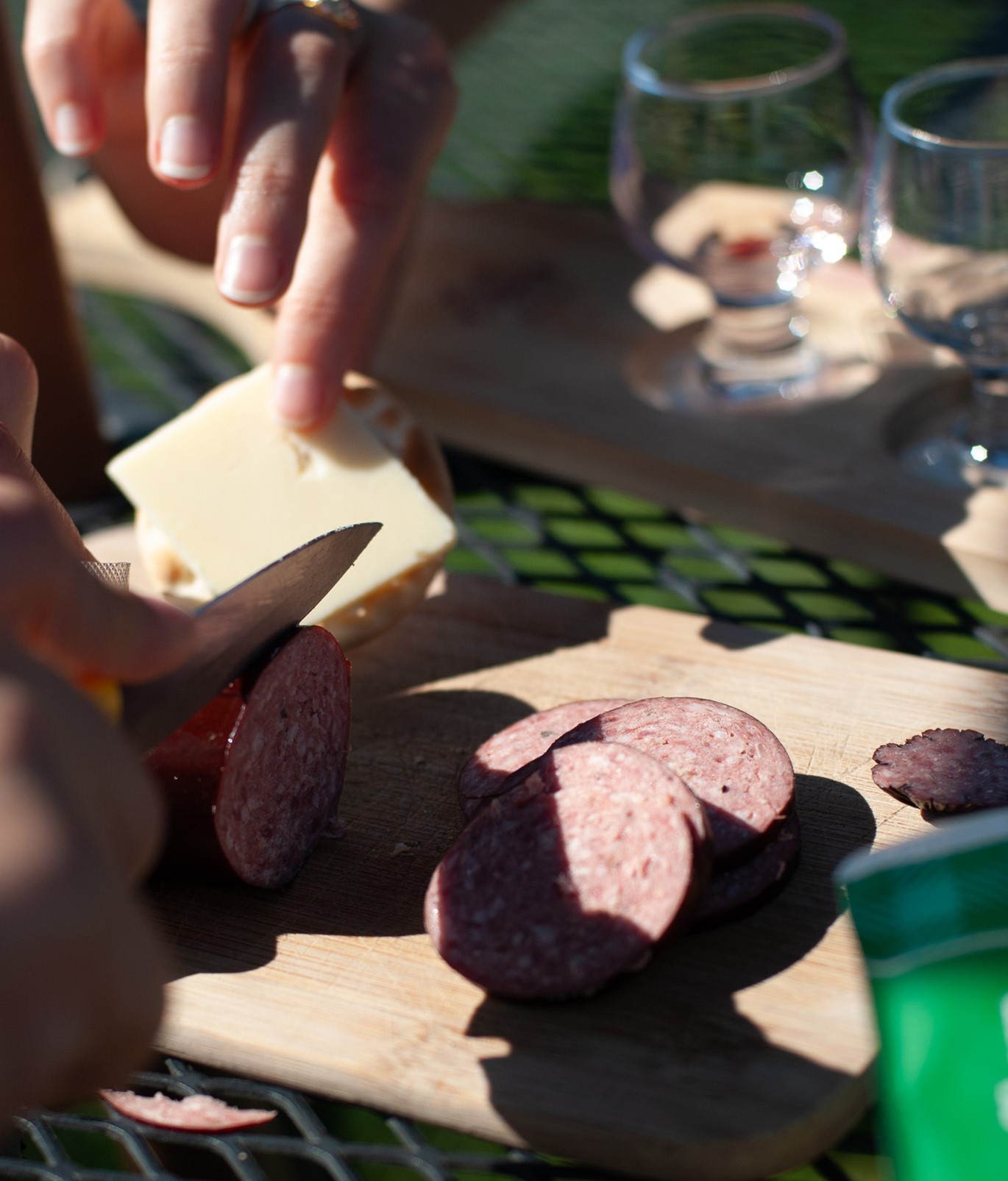 Take home any of these artisan Vermont foods or try your hand at our favorite recipes, and you'll have everyone around your table asking, "How is this so good!?"
So what are you waiting for? Visit Snow Farm Vineyard & Distillery and explore a taste of Vermont.