The experience of running in Vermont is so freeing. Today, we're constantly checking our phones for social media notifications or text messages, and we make ourselves available all hours of the day for people to contact us.
Running, especially in Vermont, gives you a much-needed mental break. If you bring your phone, be sure to turn off your notifications!
The mountains, the lake, and the forests all come together to amplify the endorphins you get from exercise. You'll feel happily connected to nature and disconnected from the constant pull of your phone and your to-do list.
It's an opportunity to discover and think about what really matters to you, without all the distractions.
South Hero, located within the Champlain Islands, is one of the best places in Vermont to run. You'll find trails and races with incredible views of Lake Champlain, the mountains, and farmland with challenging yet manageable terrain for all levels of runners. Located just outside of Burlington, there are lots of things to do before and after your run.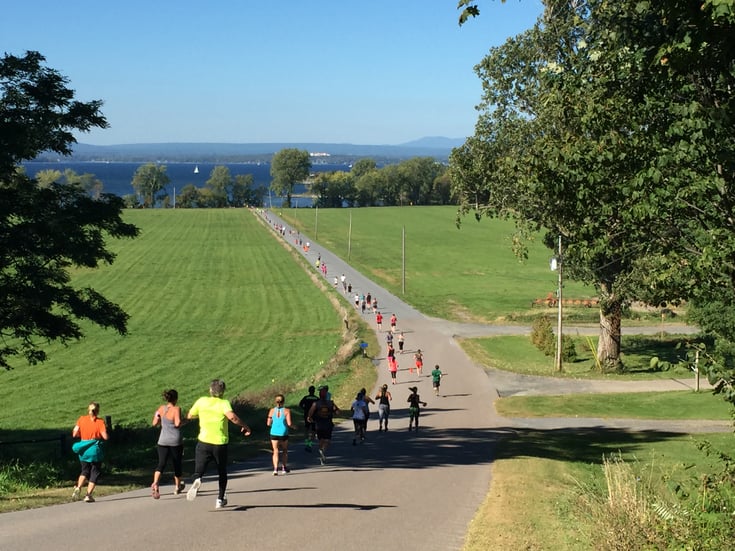 Annual Races in the Champlain Islands
1. Clarence DeMar 5K: Sunday, July 4, 2021
This annual race benefits the South Hero Rescue squad in honor of Clarence DeMar, a former South Hero resident and winner of the Boston Marathon (seven times!) plus an Olympic Bronze Medalist in the event. DeMar loved running the back roads of Grand Isle and South Hero. A free 1/4-mile kids' race is held in the schoolyard before the 5K. The race has been an annual event since 1983!
2. Island Vines 5K & 5 Mile Race: September 19, 2021
Snow Farm Vineyard is proud to host the 8th annual Island Vines Road Race! This year, the event will feature 5 mile and 5K options, all on South Hero's scenic West Shore Road. Field sizes are limited so don't wait to register! There is a maximum of 300 for the 5K and 500 for the 5 miles. The registration fee includes either a sample of Snow Farm's finest wine or local beer and post-race snacks.
3. Green Mountain Marathon & Half Marathon: Sunday, October 17, 2021
From the Green Mountain Athletic Association: This certified (VVT15005JK) marathon and half-marathon begins and ends near the house where Clarence H. DeMar, seven-time Boston Marathon Winner, once lived. The half-marathon course is out and back on the west shore of South Hero and Grand Isle; a land of farms, apple orchards, and summer cottages. The terrain is flat to rolling and about 75% dirt road (hard packed and well maintained). NEW IN 2021: The full marathon course is two laps of the half-marathon course.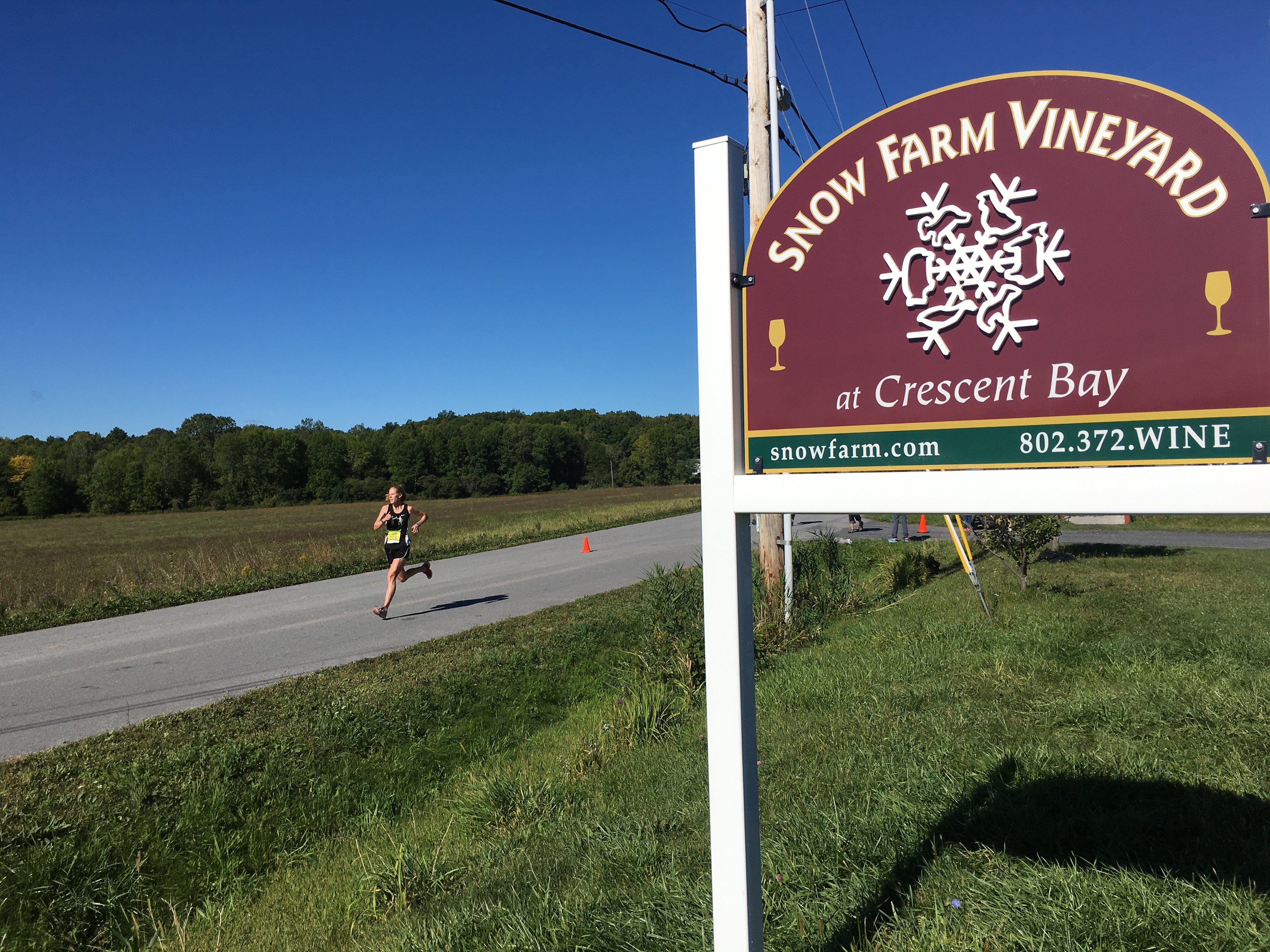 More About the Island Vines Races
Our very own Snow Farm Vineyard is the start and end of this well-loved fall event. Racers and families come to the vineyard to experience Vermont's fall culture.
Autumn lets Vermont show off all its bountiful harvests including the grapes we grow to make wine. Our island neighbors on South Street at Hackett's Orchard and Allenholm Farm grow apples to enjoy or make into cider, doughnuts, and pie.
Each year over 600 people participate in the Island Vines race through the scenic shores and farmlands of South Hero. There is still room to sign up for the 8th annual Island Vines 2021 race. You can choose from the 5K (3.1 miles) or 5-mile options. The race was formerly a 10K but recently changed format.

The race route takes you along West Shore Road which follows the Westerly side of the island. This meandering path is a popular running and biking destination.
The races start at 8:00 a.m. The registration fees are $35. The fee includes either a sample of Snow Farm's finest wine or local beer and post-race snacks. Commemorative race tees are available at an additional fee.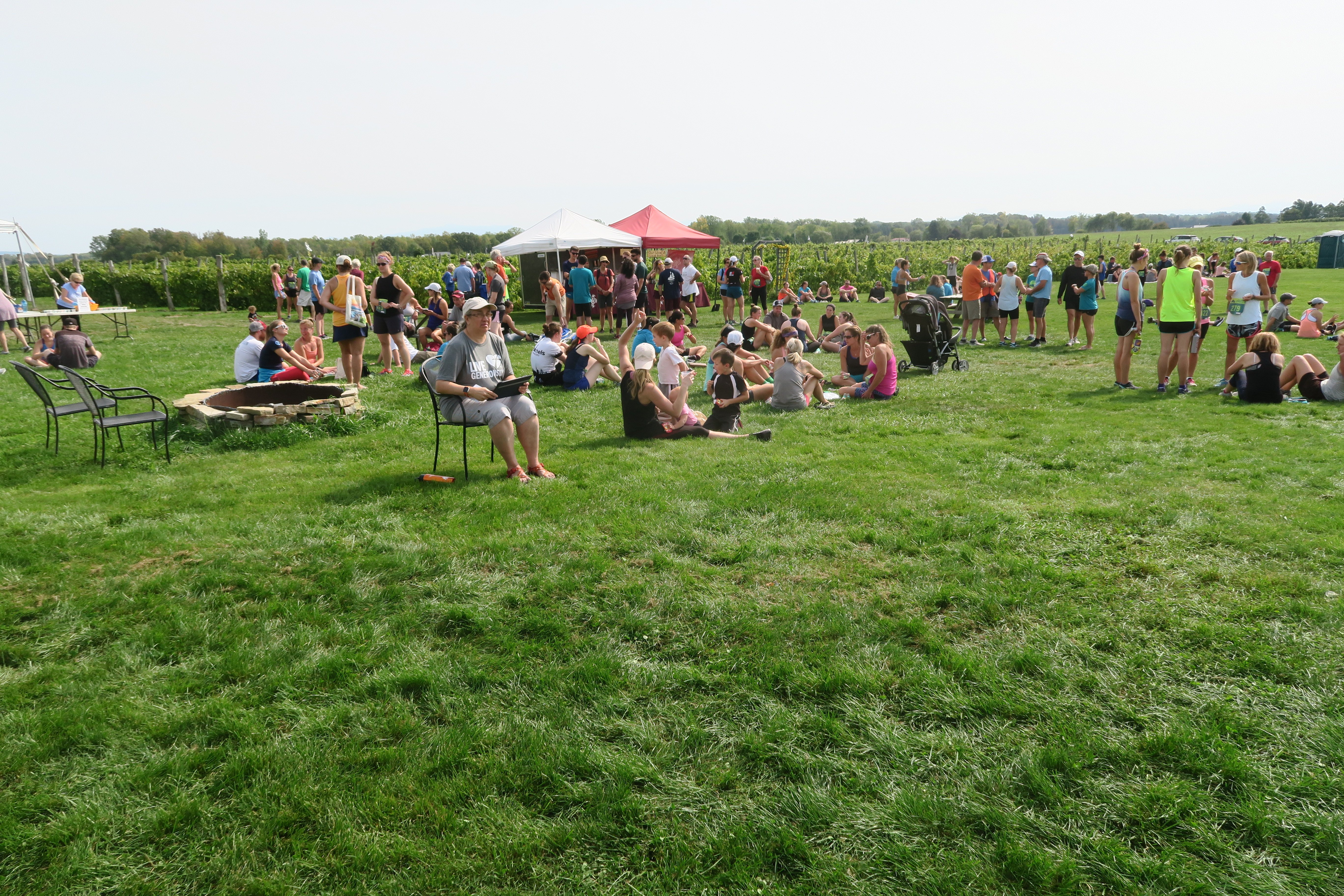 After the race, we welcome you to hang out for a cool down through the vines. You can take a short walk to Fox Hill, behind the vineyard, for breathtaking views of Lake Champlain. Enjoy live music, wine, and local food on-site for an unforgettable experience.
Running Trails in the Champlain Islands
To prep for your race or for a change of scenery, here is a list of a few popular running trails in South Hero, Vermont, located in the heart of the Champlain Islands.
1. Island Line Trail, South Hero, VT
This 13.4-mile trail takes you along an old railroad track that was converted into a trail for running, walking, and biking. You can park and access it in three places: Oakledge Park in Burlington, Airport Park Trailhead in Colchester, and Martin Road in South Hero.
2. Landon Community Trail, South Hero, VT
A quick 3/4 of a mile loop with beautiful views to the east. The trail runs through the Landon Farm, a working farm and sugar-maple forest preserved through the Vermont Land Trust and made available to the public through the Lake Champlain Land Trust. The farmland is managed by Pigasus Meats, a local pork and egg producer.
3. Round Pond Natural Area, South Hero, VT
The Round Pond Natural Area is home to one of the most important wetland areas on Lake Champlain. This peaceful, serene trail gives you the chance to see all kinds of wildlife including, deer, mink, wild turkey, beaver, nesting marshland birds, migrating neo-tropical songbirds, and a variety of amphibians.
The South Hero Land trust also offers regular nature walks. Check out their calendar to find an upcoming walk.
We look forward to welcoming you on race day, or any day you'd like to get off the beaten path for a run on the West Shore of South Hero!
Posted by Nick Lane