Whether you've got a small backyard Vermont vineyard or acres of vines, your success comes down to choosing the right grapes.
It's key to start with varieties that are best-suited for the soil, climate, and growing season. This is what makes up your terroir. At Snow Farm Vineyard, our vines are in balance with the terroir in the Champlain Islands...and it results in a healthy Vermont vineyard with superior grape quality.
We've experimented with lots of grapes over the years and there are some favorites that top the charts. Grapes with distinguished notes, others more subtle, and some with bright brilliant flavors on the tip of your tongue.
Cold Hardy Grapes for Vermont Vineyards
If you're starting out with winemaking in Vermont, start with something hardy – like the Marquette, Frontenac, Le Crescent, or Swenson varieties because they won't need protection in the winter. These cold-hardy hybrids were developed by crossing European and American grapevines and adding other beneficial traits at The University of Minnesota. They're cold-tolerant down to about minus 30 degrees Fahrenheit and are also disease-resistant to most types of mildews and rot.
It takes between three and five years for grapevines to start producing fruit. Once you have some experience growing the tried and true varieties, you could experiment with other varieties that are a little more cold-sensitive and trickier to grow like Riesling.
If you have a hard winter or a heavy cold snap, it can affect the grape production when the vine comes out of dormancy in the spring and you'll have a smaller harvest.
At Snow Farm Vineyard, we benefit from the micro-climate on the shores of Lake Champlain. The lake keeps our winters slightly milder than the rest of the state. If you're lucky enough to be in a spot in Vermont that is also protected from the harsh cold, you can also grow varieties like Baco Noir, Riesling, Seyval Blanc, and Vidal Blanc.
But know that your crop may not always be consistent depending on how cold it gets. For example, the Snow Farm Vineyard Riesling is a cold-sensitive variety that we don't protect in the winter. That means the size of our harvest varies from year to year.
8 of the Best Grapes for Vermont Vineyards
One through five on the list below are the most cold hardy. Six through eight are a bit more sensitive to cold.
The Most Cold Hardy
Frontenac is the oldest Minnesota variety planted at Snow Farm Vineyard. It is a red grape that gives you raspberry and blackberry flavors. The acidity levels are fairly high, so we like to use it to blend with other varieties.
Another Minnesota variety, La Crescent produces very aromatic and flavorful wines. Pineapple, papaya, and grapefruit are often prevalent. Like the Frontenac, the La Crescent is also great for blending, as it adds exotic fruit notes to otherwise neutral varieties.
3&4. Swenson White/ Louise Swenson
These two varieties are from the Elmer Swenson collection. They were developed in Wisconsin and grow very well in Vermont. They can have a high yield, but the flavors are more subtle in these varieties. The flavors tend to be flowery with soft honey notes.
The Marquette grape is a blue and black berried variety that produces a light-bodied red wine. There are aromas of cherries and black currants. Marquette does respond well to oak aging through barrel aging or using oak staves, as it mellows the tastes.

Snow Farm Vineyard's Marquette is earthy with that smooth cherry finish with hints of vanilla. It goes well with red meats and tomato-flavored dishes.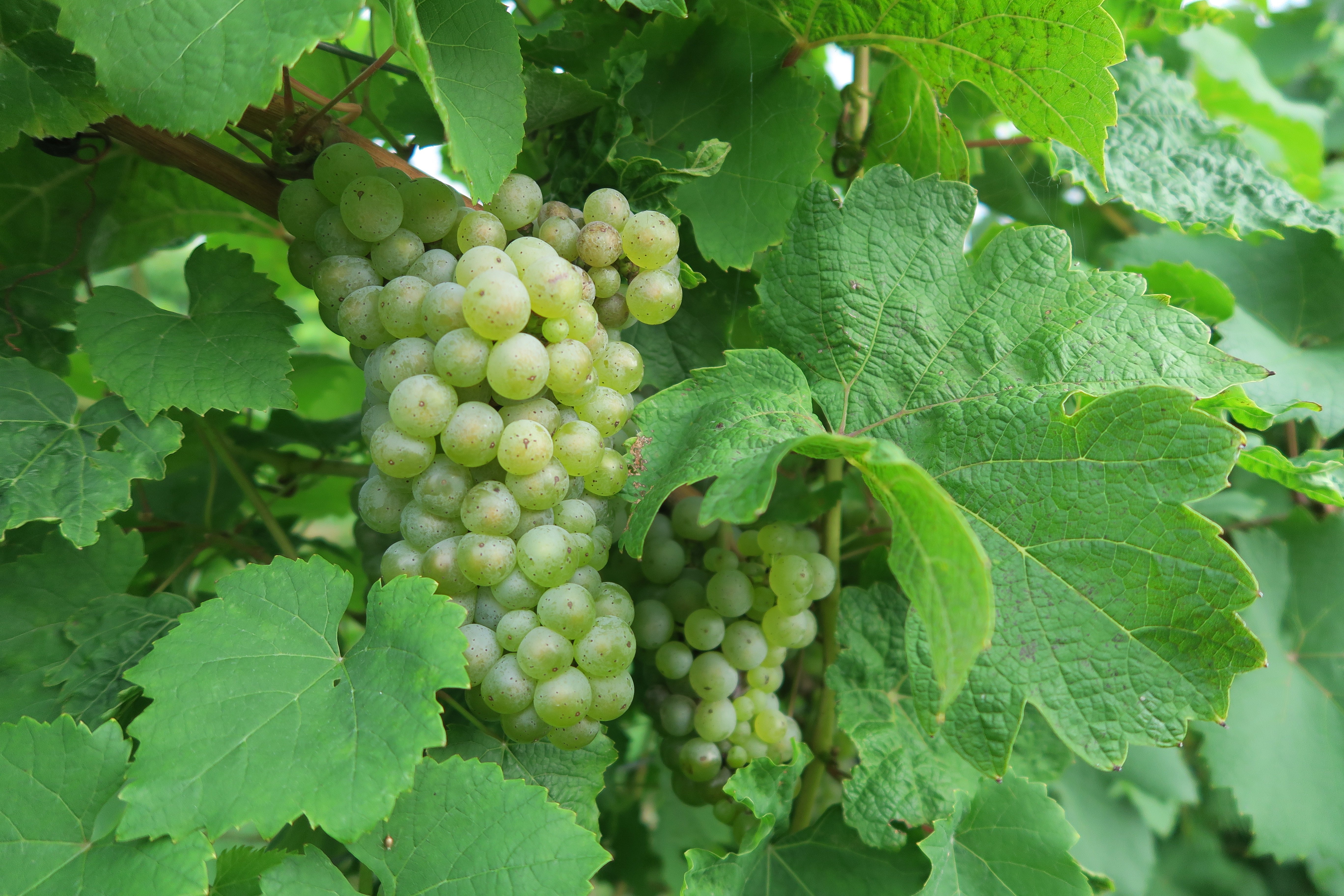 Less Cold Hardy Grapes for Vermont Vineyards
6. Seyval Blanc
This hybrid grape grows well in Vermont, and is no stranger to the Finger Lakes Region of New York where it is grown extensively. This wine-making grape is often produced as a dry white wine. It can be compared to tasting closer to a Chardonnay or Sauvignon Blanc. This grape is great for making Vermont wines.
7. Baco Noir
This wine-making grape has origins that go back to 1894 when French grape breeder Francois Baco crossed Folle Blanche with an unknown member of the New World's Vitis Riparia family. If you're looking to make a medium-bodied red wine, this is your grape. It's known to create smoky, earthy, and spicy flavors.
8. Vidal Blanc
If you have a really warm year Vidal Blanc can be amazing to grow in Vermont. Vidal Blanc produces a fruity white wine with notes of grapefruit and pineapple. Due to its high acidity and sugar potential, it's the grape of choice for dessert wines and Vermont's famous ice wines! Learn more about how we make ice wine.
Other Tips for Vermont Vineyards
Length of Growing Season
Keep in mind the length of your growing season. When is your last frost in the spring and your first frost in the fall? The number of days between the frosts is your growing season length. If you have a variety that requires a longer growing season than you have, you won't be able to make high-quality wine because the grapes won't have long enough to mature.
Soil Type, Slope, and Sun Exposure
It's important to choose a spot that will allow the grapes to have good drainage in the soil. Grapevines need at least 3 feet of draining soil. Pick a slope with southern exposure for best results to lengthen your growing season, and know that a northern slope will shorten the season. The higher elevation you can place the grape vines, the less chance of frost damage.
How Long do Vermont Vineyards Keep their Vines in Production?
Our vines are at full maturity at Snow Farm Vineyard and have been in the ground for nearly 25 years. Their root systems are well established and they are producing their highest quality types of grapes. Proper pruning, pest management, and attention to soil health keeps them healthy.
"They're at their peak in their flavor and because they're well cared for and suited for our growing conditions, they absorb everything our terroir has to offer," Patrick Barrelet, head winemaker at Snow Farm Vineyard, said.
Patrick says that eventually, they'll start to lose their production when they're somewhere between 30 and 40 years old.
"We'll phase those vines out slowly because it takes up to five years for new grapevines to start producing fruit. We're the first Vermont vineyard, so we don't know exactly when we'll transition our vines," Patrick said.
Patrick studied winemaking in France and remembers vines there that were 60 years old and still in production.
"They would start removing and replacing them slowly, so they wouldn't lose production," Patrick said. "Then they could compare the quality between the old vines and the new ones, and blend the wine together to get the best possible combination."
Every vine will be different and at the end of the day, it comes down to using a combination of good advice and intuition.

"I listen to and work with every variety individually...every season is different. I stay flexible and use the grapes for their highest purpose," Patrick said. "One vine might make a totally different wine each year depending on the winter we had, how much rain we got, or how hot it was. When all the elements come together to make a high-quality wine, I am happy," Patrick said.