Burgundy, France is kind of a big deal when it comes to winemaking. Burgundy's wine-producing area stretches across almost 200 miles and is made up of 5 wine growing areas. Winemaking dates back over 4,000 years in Burgundy all the way to when the Romans made wine there in the 1st century AD.
Today, some of the most sought-after and expensive wines in the world come from Burgundy. So, what the heck could Vermont wineries have in common with Burgundy?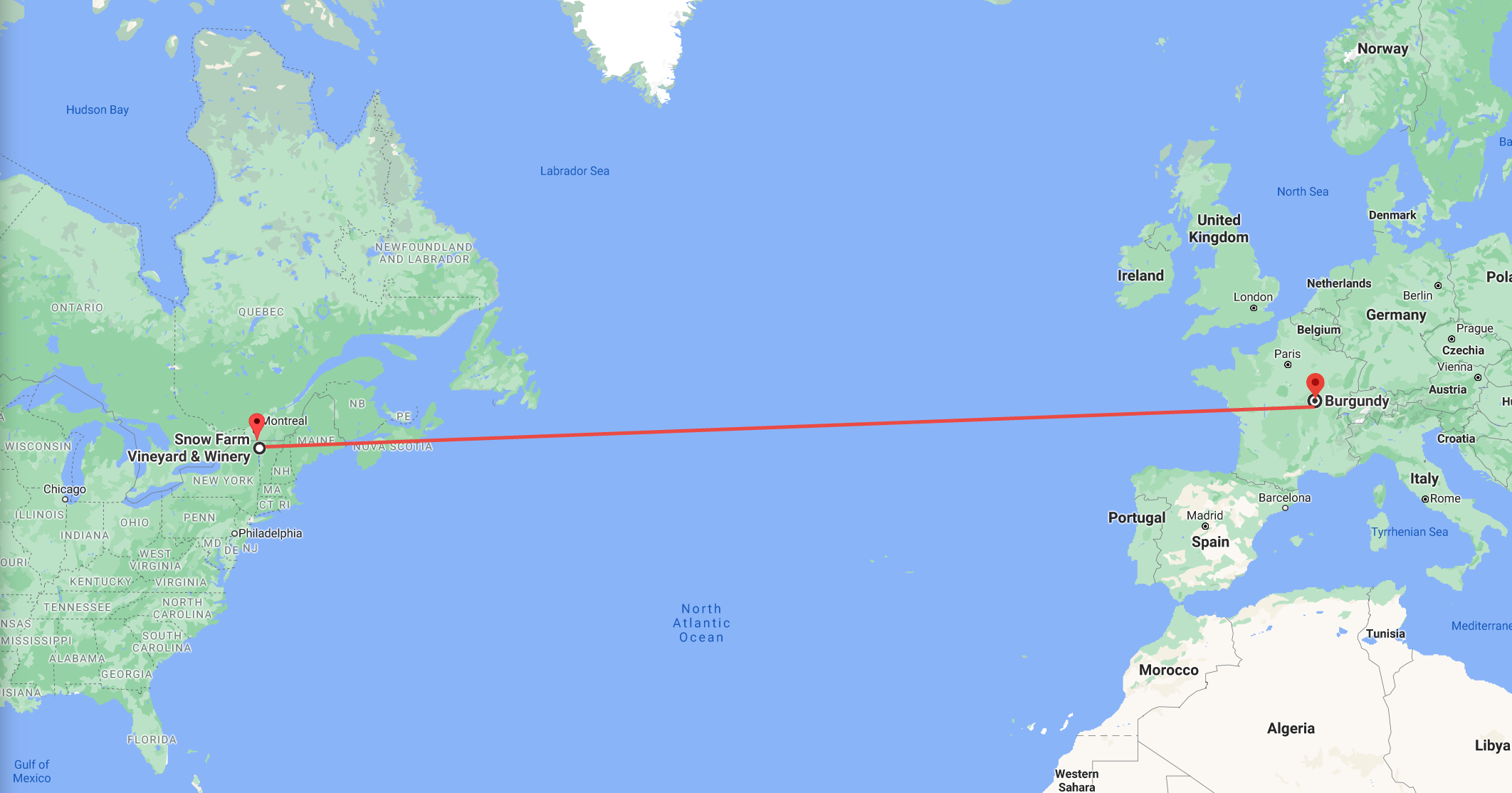 It's All About the Terroir
Vermont wineries happen to be at about the same latitude as Burgundy, we have clay soils like some areas of Burgundy, and a somewhat similar growing season. We also have a similar terroir.
What's Terroir? Terroir is a magical combination of climate, location, grapes, soil type and style of the winemaker. It all comes together to produce a sense of place in your wine.
The value of the wine in Burgundy is all about the terroir. Special value is placed on the location and reputation of the vineyard the wine came from, just like here in Vermont. The appreciation for this sense of place began in Burgundy because they figured out early on that soil type, location and the type of grapes that were well adapted to that region had a big impact on the taste of the wine.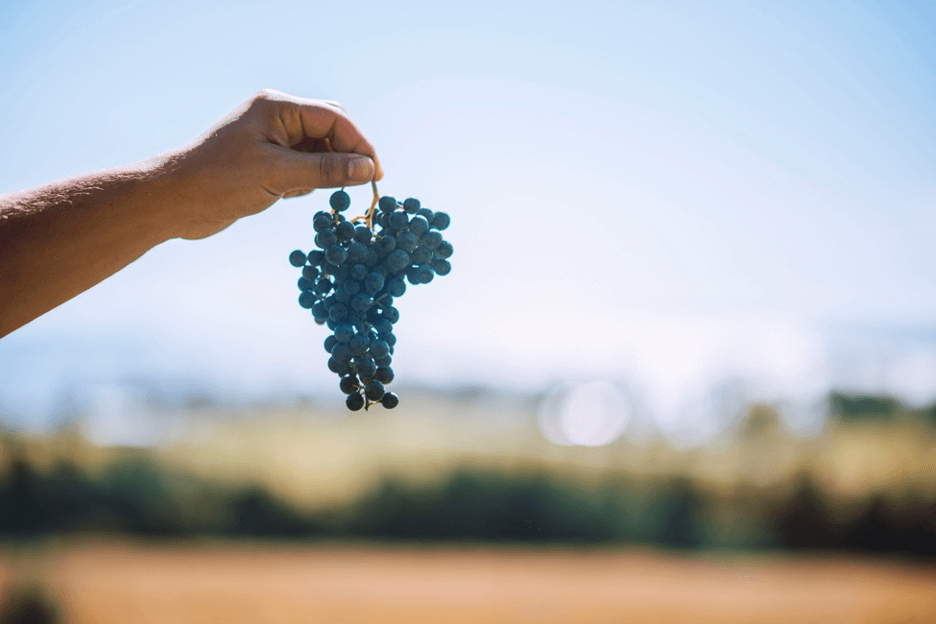 Here in Vermont at Snow Farm Vineyard, we aren't just making wine, we're cultivating a sense of place in our wines on the shores of Lake Champlain. Our climate is more moderate than many other areas in Vermont. The lake has a warming effect on our land that makes our growing season longer than other Vermont vineyards and allows us to grow varieties of grapes that need more time to mature. Also, the lake makes our climate closer to Burgundy, though our winters are still colder than in France.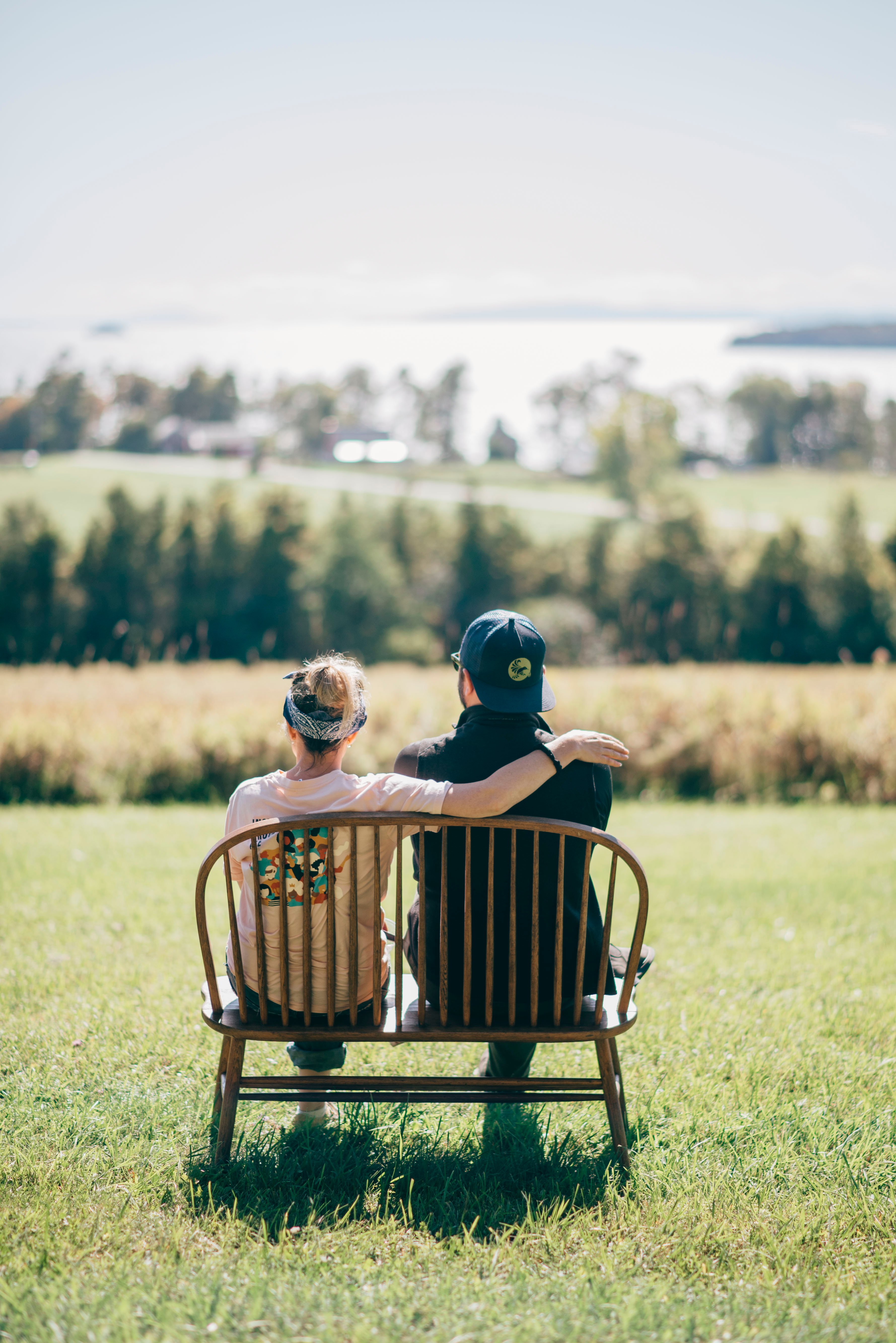 What we love the most is that our lakeside location adds something special to the experience our visitors have. We're not just a Vermont winery. We're a place where people come together to re-connect with their natural surroundings and enjoy wine made from grapes grown on the land they're standing on. Land that boasts beautiful views of the mountain ranges in Vermont and New York. Atop Fox Hill behind the vineyard, you can see for miles out onto the lake. Thousands of people visit us each year to enjoy the wine, the views, summer concerts, events, and each other's company. Our vineyard is a restorative place where you can relax over a glass of craft wine.
The Winemaker
Our head winemaker, Patrick Barrelet tends to the vineyard with the utmost care and respect for the land and the process of making wine.
Patrick has been making wine since he was 20 years old. He is from Bedford, Quebec and he grew up watching his family make wine from grapes they grew on their land. He loved it so much that he went to Europe and lived in Burgundy for a year to study winemaking before moving back to Quebec and ultimately making wine in Vermont. We think he brought some of that Burgundy terroir with him!
"Transforming the sugars from the grape must into alcohol to make a craft wine is fascinating," Patrick said. "Blending the wines later is also interesting. I love that there's always something new even though it's the same cycle year to year. Our goal is to make really great, unique wines that come from a special place."

The Grapes
Wine from Burgundy is mostly made from Pinot Noir and Chardonnay grapes. When we first planted grapes at our Vermont vineyard in 1997 it was an experiment. We tried French hybrids like Seyval Blanc, Vidal Blanc, and Cayuga and viniferas like Pinot Noir. We got a reality check with the vinifera varieties in 2002 and 2003 when we got hit with our coldest winters. It was too hard on those varieties. It's important that we grow grapes that will be a match with our climate.
So, although our style of winemaking is like the French, our types of grapes are not exactly the same. Over the years we've learned how to maximize the production from the varieties we grow with pruning and trellising the vines. Today, we have 13 acres of grapes planted with over 15 varieties including Vignoles, Vidal Blanc, Riesling, Seyval Blanc, Frontenac, Baco Noir, Leon Millot, and Marquette.
Adapting to a Changing Climate
Our climate determines how long our growing season is and what grape varieties we can grow.
As we hear projections that Vermont will get warmer, we're thinking about how we will adapt. We're also doing everything we can to operate in an environmentally friendly way to reduce our impact on the planet today and in the future.
In Vermont, the winter puts a break on grape-growing and limits us to cold-hardy varieties. This would change if we had a longer growing season with a more mild winter. Then, we could grow more varieties like Pinot Noir, Chardonnay, and Gamay, like Burgundy does now.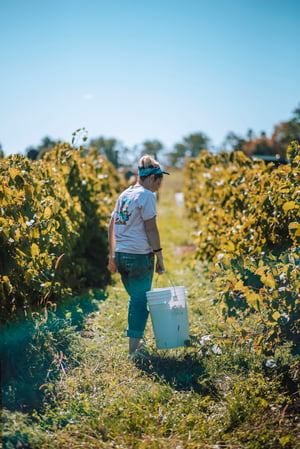 Our biggest concern with climate change is extreme weather like hail, hurricanes, drought, or flooding. If it's super wet or super dry it will make grape growing more difficult. We are always looking at how our grapes are doing over time, what will grow the best, and what will make the highest-quality wines.
We're also always looking at how we can do our part to reduce our impact on the planet. Grapes need to be sprayed with something to help keep them free of disease, like mildew. We use integrated pest management to minimize the use of pesticides.
As for weeds, our trellis system makes weeding difficult as our vines are close to the ground. After many years of trying to eliminate the weeds, we have finally accepted that they are part of the terroir! We hand weed as much as possible, but what is left behind doesn't affect the end product of the grapes, so we don't worry about them too much.
Vineyards Keep Land in Agriculture
From Burgundy to South Hero, no matter where you're making wine in the world, vineyards help to keep land in agriculture. It's a lot easier to purchase locally and support small businesses when you have a farm, food producer, craft brewer, or vineyard in your backyard.
"Vermont wineries keep the land open for agriculture," Patrick said. "If you don't have our vineyard then that land potentially opens up for development. It's important to preserve places that our community can come together to enjoy local products that are made on the land."