Vineyard weddings are all about deep connections. The natural environment creates intimate spaces for connections with the people you love the most. Craft wines transformed from carefully tended grapes spread out before you, are a symbol of love for the land.
It's a truly magical feeling being surrounded by acres of grapevines while enjoying an estate wine made from the vineyard. It feels like you're drinking in the love the winemakers have for their craft and their vineyard.
Vineyards are also perfect for weddings because of their country charm with a bit of elegance mixed in. This makes it possible for a vineyard wedding to be anything you want it to be! Whether you want your guests to sit on hay bales or on white covered chairs, have a five tier cake or serve cherry pies, anything goes and can fit in easily with the surroundings.
At Snow Farm Vineyard, we've hosted dozens of weddings over the years, and every one has been special to us.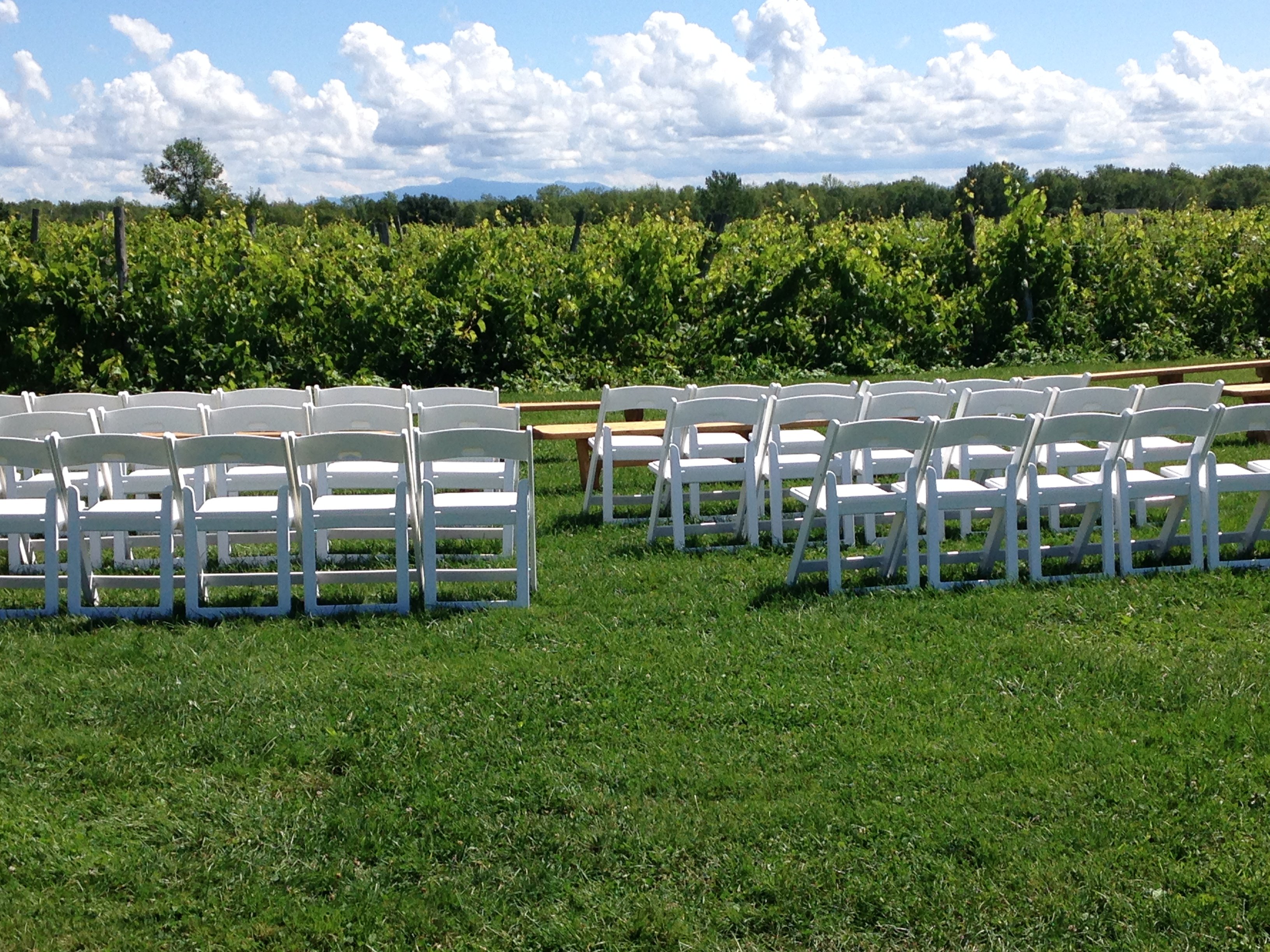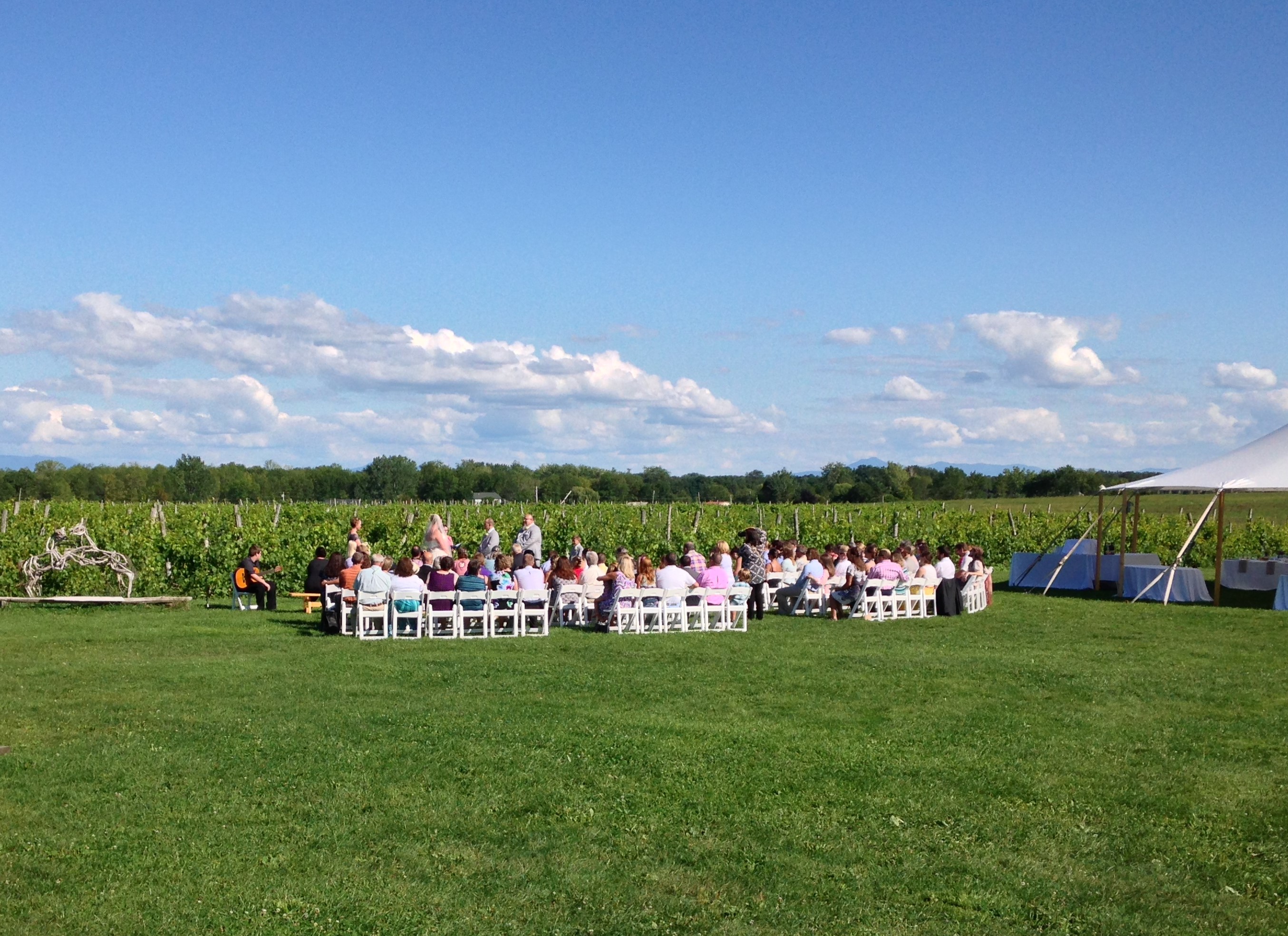 Alex and Ali's Snow Farm Vineyard Wedding Story
Alex and Ali's August 2018 wedding at Snow Farm Vineyard was an absolute dream. They both grew up in Vermont, met in high school, and have always had a deep love for the scenic beauty of Vermont's wide open spaces. They knew they wanted to get married in a spot where they could appreciate the full beauty of Vermont.
They chose Snow Farm Vineyard for their wedding because it brought together a little bit of everything they love about Vermont - the mountains, the lake, and endless green fields.
At Snow Farm, there are a few different spots you can choose to have your ceremony...atop Fox Hill, next to the grapevines, or on the shores of Lake Champlain. Alex and Ali chose to get married at Fox Hill because...that view! It was a clear day that made for stunning sweeping views of the vineyard with the lake and mountains beyond.
Beyond the incredible views and connection to nature, Alex and Ali primarily wanted a party that they happened to get married at. They knew Snow Farm Vineyard would be able to rise to the occasion! And it absolutely was the party they imagined.
They had 85 people and used the reception tent located twenty feet from the vineyard and grapevines. Their guests mingled in the tent, danced their hearts out, and explored the natural scenery among the vineyard vines.
Alex and Ali had the Snow Farm Vineyard beer and wine service included within their wedding package...it was fast, easy and no one was ever waiting in line for a drink! The Snow Farm Vineyard professional bar services are totally customizable and can also include spirits too.
The one detail that made a big impact on their wedding day was that there was a place for everyone to stay nearby. The Bridal party stayed at Crescent Bay Farm Bed and Breakfast at Snow Farm Vineyard, which is only a quarter of a mile down the road from the vineyard.
Their families and friends were all able to find local rental houses nearby. Not only was it convenient, but they could enjoy everything the Lake Champlain Islands has to offer, like the beaches and bike path.
Another favorite for Alex and Ali about getting married at Snow Farm Vineyard? You can return to the place where you had your special day time and time again to reflect on your wedding day and make new memories. Alex and Ali visit often to grab a glass of wine and take the short walk to Fox Hill where they said I do.
We asked Alex what he would say to someone considering getting married at Snow Farm Vineyard.
"Do it! Everything about the location and staff is excellent and I couldn't speak higher about our experience with Snow Farm. Julie and the team are excellent, very flexible and easy to work with."
Learn more here about Snow Farm Vineyard wedding packages. We can't wait to bring your vision to life and share with you the love we have for making high-quality craft wines on the shores of Lake Champlain.
Posted by Nick Lane