Have you been considering becoming a wine club member or gifting a wine club membership to someone you love?
Check out our chat below with one of our first wine club members! We got to know Irene Odell and her husband Craig because they spend their summers at their home in South Hero, Vermont, just a few miles down the road from our vineyard. They spend their winters in Sanibel Island, Florida. We're thankful for their support all year long!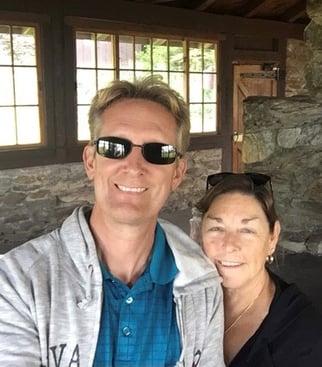 How did you hear about Snow Farm Vineyard?
We bought a house in South Hero in 2018 after my husband gave me a gift to visit Vermont. One of the places we went to visit was Snow Farm Vineyard. We enjoyed the atmosphere and the wine so much that after that trip we knew that South Hero was somewhere we wanted to be. One of the draws was having a winery we could ride our bikes to!
In Florida, we feel like we are at home in South Hero. You cross that causeway to Sanibel Island and there is an immediate lessening of stress, just like entering the Champlain Islands.
How long have you been a wine club member? Which membership do you have?
When they told us they had a wine club, we had to join. We've been members of the Aficionado club for over two years. We get a case of wine three times a year. It's great because we're in Florida in the winter, and Florida has no vineyards. We can get wines from all over the country, but we love Snow Farm so much that we prefer to get their wine sent here.
Why did you sign up? What was your original reason?
We like supporting local businesses. That's really important to us no matter where we are. Julie and Dave, the owners, are such fun people. They're such hard workers and they create such a nice environment - we wanted to do everything we could to support them.
Why have you continued to be part of the club?
It's nice to have their wine in Florida, a place where we couldn't get it otherwise. We also enjoy all the other benefits of the wine club too like bringing our friends to the vineyard for free wine tastings when we're home in Vermont.
What are some of the other perks you've taken advantage of, besides discounted wine and free wine tastings?
We've been to two wine dinners and it was amazing. We did one outside a few years ago for free as part of the wine club. We had our own table for two, and it was a nice opportunity to get outside, have a nice meal, and do something special.
Patrick, the winemaker, had wines to go with each course and explained how he designed them. At the time, he was just finishing up making a special wine that wasn't released yet. They gave us a couple of bottles to take home.
What would you tell someone else who is considering becoming a wine club member?
It's a good deal. If you're a wine lover and you drink enough wine that a case is reasonable, you'll get an amazing break on the price. My husband and I have wine with dinner every night, so it's perfect for us. They also offer smaller clubs as well if a case is too much wine for you.
Plus, you get free wine tastings at the vineyard and other perks. I like feeling a sense of ownership in something local and special. We buy all our maple syrup from Snow Farm too. Supporting a local business is huge.
What do you like most about Snow Farm Vineyard wines?
Their wines are very drinkable, which is important to me. A lot of them are light, especially during the summer. You don't need to drink them with food and you feel like you can have a glass without committing to the whole bottle. Snow Farm wines are never snooty. They're approachable and tasty.
If you're interested in becoming a wine club member, check out our wine club options today.