Have you tried pairing wine with salmon? If not, you're in for a treat. Salmon pairs well with many different types of wines.
In this blog post, we'll discuss the best wine pairings for salmon and share a recipe for an easy salmon dish. So, whether you're a seasoned wine lover or just getting started, read on to learn more about pairing wine with salmon.
| | |
| --- | --- |
| Salmon Type | Pair With |
| Creamy | Chardonnay, Sauvignon Blanc, Frontenac White, Vidal Blanc, Light-Bodied Reds |
| Spicy | Riesling, Light Bodied Reds |
| Smoked | Sparkling Wine, Riesling, Sweet White Table Wine |

Is White Wine Best With Salmon?
It's a common misconception that you can only pair white wine with salmon. Red wine pairs equally well with salmon if you choose the right one. You'll want to look for low tannin wines such as Pinot Noir or Zinfandel and avoid full-bodied reds.
Tannins are naturally occurring compounds mostly found in the skins of the grapes, and they're what makes your mouth feel dry. Full-bodied red wines are aged longer and spend more time with the grape skins, which is why they tend to have higher tannins.
"Full-bodied red wines overpower the taste of fish and are a flavor mismatch," Patrick Barrelet, head winemaker at Snow Farm Vineyard, said.
On the other hand, medium- or light-bodied wines with low tannins pair nicely Barrelet said. Snow Farm Vineyard wines are unique because the grapes used to make them are naturally low in tannins.
"Our wines are a little bit softer and fruitier than most reds," Barrelet said.
Wines to Pair with Spiced Salmon Dishes
If you're making a salmon with a spiced rub or a teriyaki ginger sauce, you'll want to look for a sweeter wine like a Riesling.
Naked Mermaid, a semi-dry crisp sweet wine, with orange flavors and lemon and pear aromas, is also a great option.
Wines to Pair with Smoked Salmon
Try a sweet Riesling or a white table wine like our Snow White. This white wine is mild and smooth, with delicate flavors and aromas. A semi-dry blend of Cayuga and Seyval Blanc grapes, Snow White pairs perfectly with appetizers like smoked salmon.
Sparkling Wines, like our Snow Trip, are also a wonderful match with their dry finish and bubbles.
Wines to Pair with Creamy Salmon Dishes
Creamy salmon dishes pair well with wines that are oaky like a Chardonnay or Sauvignon Blanc. If you're in a region like the Northeast where cold-hardy wines are common, the equivalent is a Frontenac White or Vidal Blanc.
Vidal Blanc carries notes of pear, green apple, and cantaloupe with a floral and subtle almond nose. Frontenac White is a more oaky chardonnay-style wine. Both are well rounded with nice acidity, and pair well with seafood like shrimp, salmon, or tuna, as well as grilled chicken, and fresh salads.
For a red option, Petite Pearl is a silky medium-bodied wine that leaves a mix of ripe red fruit and oak on the palate, finishing off with smooth tannins, complementing salmon nicely (verses taking center stage).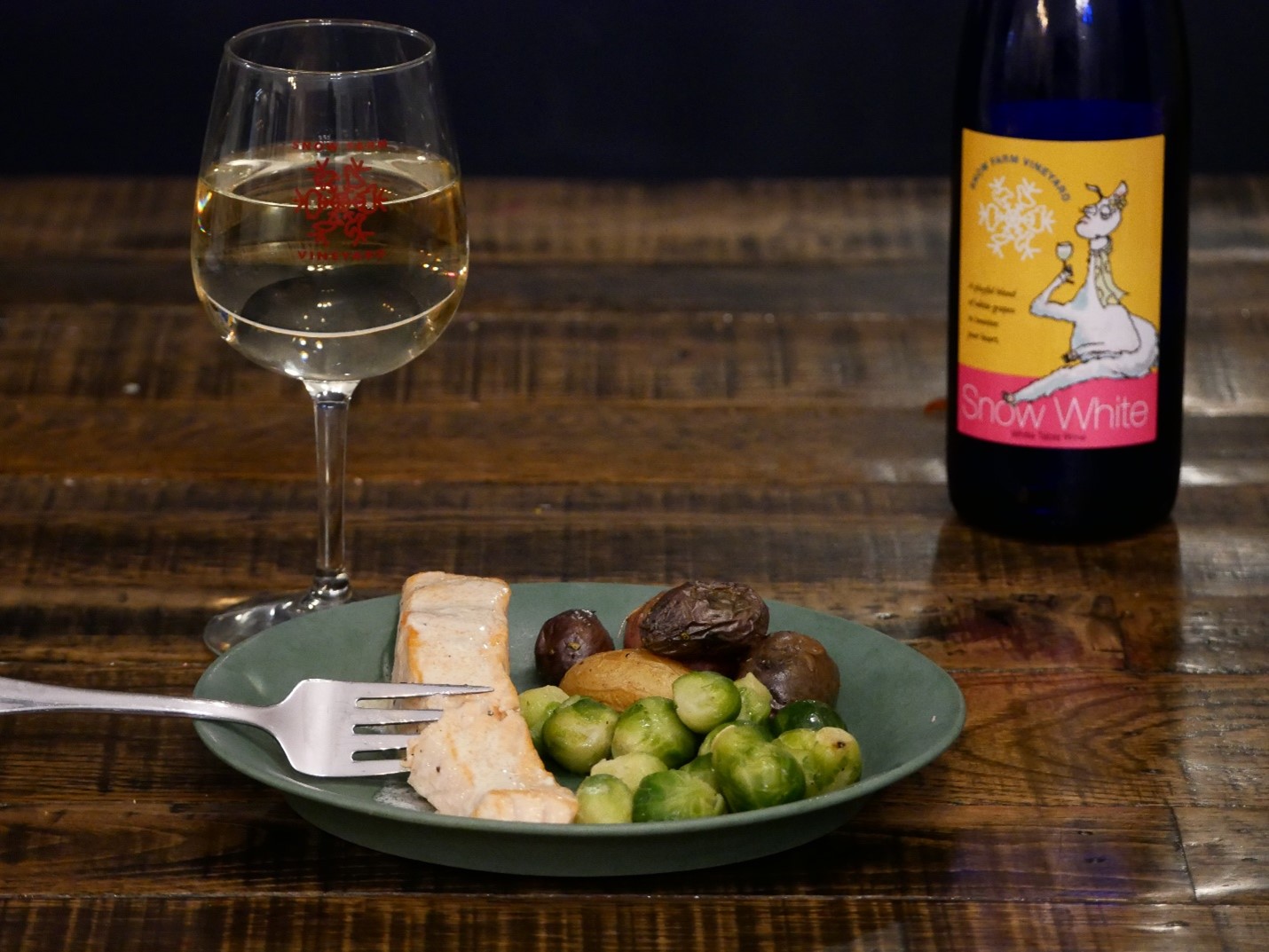 Creamy Pan-Fried Salmon Recipe
You can have this salmon on the table in 15 minutes using one pan! Even more impressive is that you'll feel like you're in a fine dining restaurant when you have a taste.
Ingredients
1 tbsp. olive oil
2 salmon fillets, skin on
1 clove garlic, minced
1/4 cup white table wine
1/4 cup chicken stock
1/2 cup heavy cream
1/4 cup parmesan cheese
Salt and pepper
Directions
Heat olive oil on medium heat in a frying pan.

Add salmon and cook for two minutes on each side. Return fish to skin side down.

Add garlic to the pan, heat until fragrant.

Pour in the wine, chicken stock, heavy cream, and parmesan.

Simmer until slightly thickened, about 4 to 5 minutes.

Remove the salmon and set aside.

Further reduce the sauce for a few minutes.

Plate the salmon and drizzle the sauce on top.
Delicious with fingerling potatoes, rice, asparagus, broccoli, and of course a glass of wine. Enjoy!