Are you looking for a festive drink to enjoy this winter? Look no further than this delicious winter sangria recipe. With wine, orange liqueur, brandy, fruit, and spices, it's perfect for any party or get-together. Plus, it's easy to make so you can spend more time enjoying your friends and family. Cheers!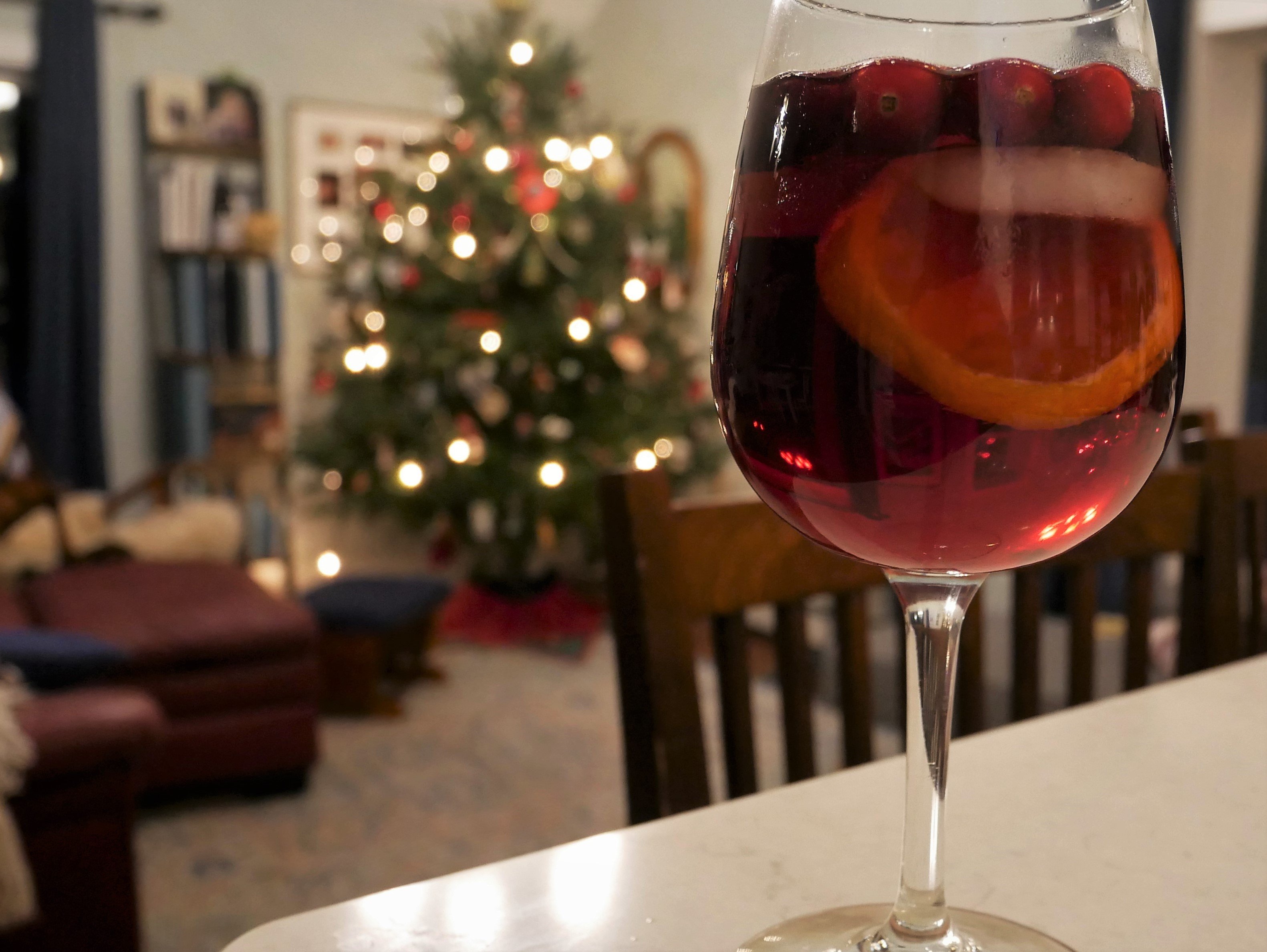 What is Winter Sangria?
Sangria is a wine-based drink that is popular in Spain and Portugal. Winter sangria is typically made with red wine and includes fall and winter fruits like pomegranates, pears, and cranberries.
There are many different recipes for sangria, and each one can be unique, depending on what you have on hand. Pick and choose from each category of ingredients below to make this winter sangria recipe your own.
Orange liqueur: Try Cointreau, Triple Sec, Grand Marnier, or another orange liqueur of your choosing.
Red wine: Look for a Spanish-style wine that is served cold.
Brandy: You can use any brandy you have in the cupboard including flavored brandy, like blackberry or apple. For an authentic winter sangria, choose a Spanish brandy.
Fruit: Pears, apples, cranberries, pomegranates, and oranges will all work. Pick two or three to add to the pitcher.
Sweetener: Choose from agave, honey, or maple syrup.
Spice: Toss in cinnamon sticks, cloves, or allspice.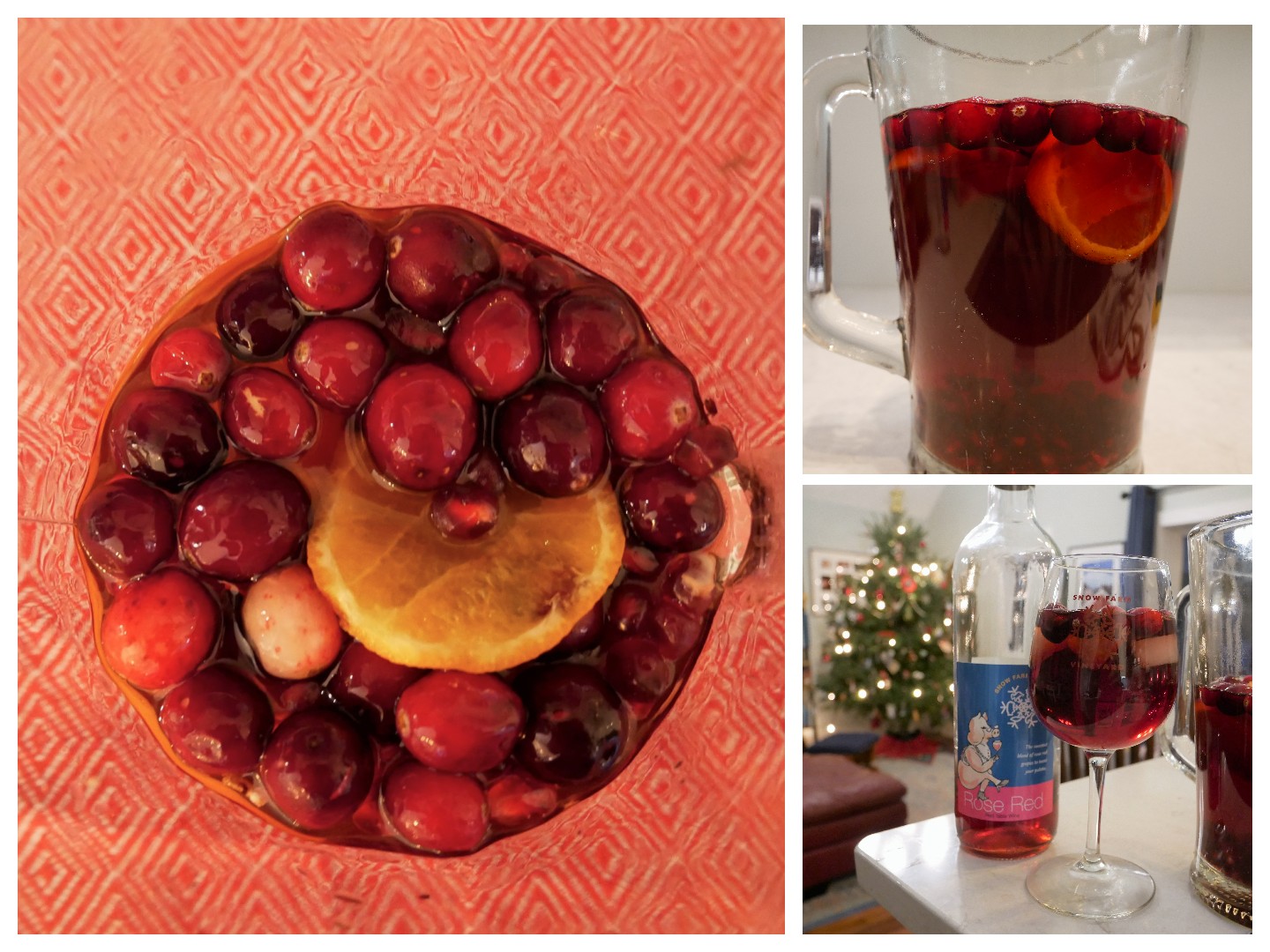 What Wine Works Best in Winter Sangria?
Red wine is known for its flavor and rich texture, which makes it ideal for winter sangria. Look for a bottle of Spanish medium-bodied wine, or even better a red wine that is intended to be enjoyed cold.
The Snow Farm Vineyard Rose Red was born to be made into winter sangria. Best served chilled, this fruity semi-sweet wine is bursting with grape flavors and hints of cranberry and raspberry. It compliments Spanish or Mexican food perfectly.
Winter Sangria Recipe
Serves 6
Ingredients:
2 tablespoons maple syrup
1/2 c. orange liqueur (such as triple sec)
1/4 c. blackberry brandy
1 orange, thinly sliced
1/2 c. cranberries (thawed if frozen)
1/2 cup pomegranate seeds
2 cinnamon sticks
1 750-ml bottle Rose Red
Directions:
Combine maple syrup, triple sec, brandy, orange, cranberry, pomegranate seeds, and cinnamon sticks in a pitcher.

Add the bottle of Rose Red

Refrigerate for a minimum of 1 hour or as long as overnight for richer flavor.

Pour over ice or serve chilled.
The holidays are the perfect time to enjoy winter sangria with friends and family. Whether you're celebrating New Year's Eve or just a regular weekday, winter sangria makes your day a touch more exciting!
You can find all of our favorite cocktail recipes on our blog in our wine cocktail & recipes section; we hope that one of them will inspire your next holiday party. And don't forget to shop Snow Farm Vineyard wines - they make the perfect addition to any gathering! Shop online or stop by the South Hero tasting room today.