Spring is here, and with it, another growing season!
Join winemaker Patrick Barrelet as he walks us through vineyard activities during the spring. From pruning the vines to releasing new spring wines, there's always something new happening in the vineyard during this time of year.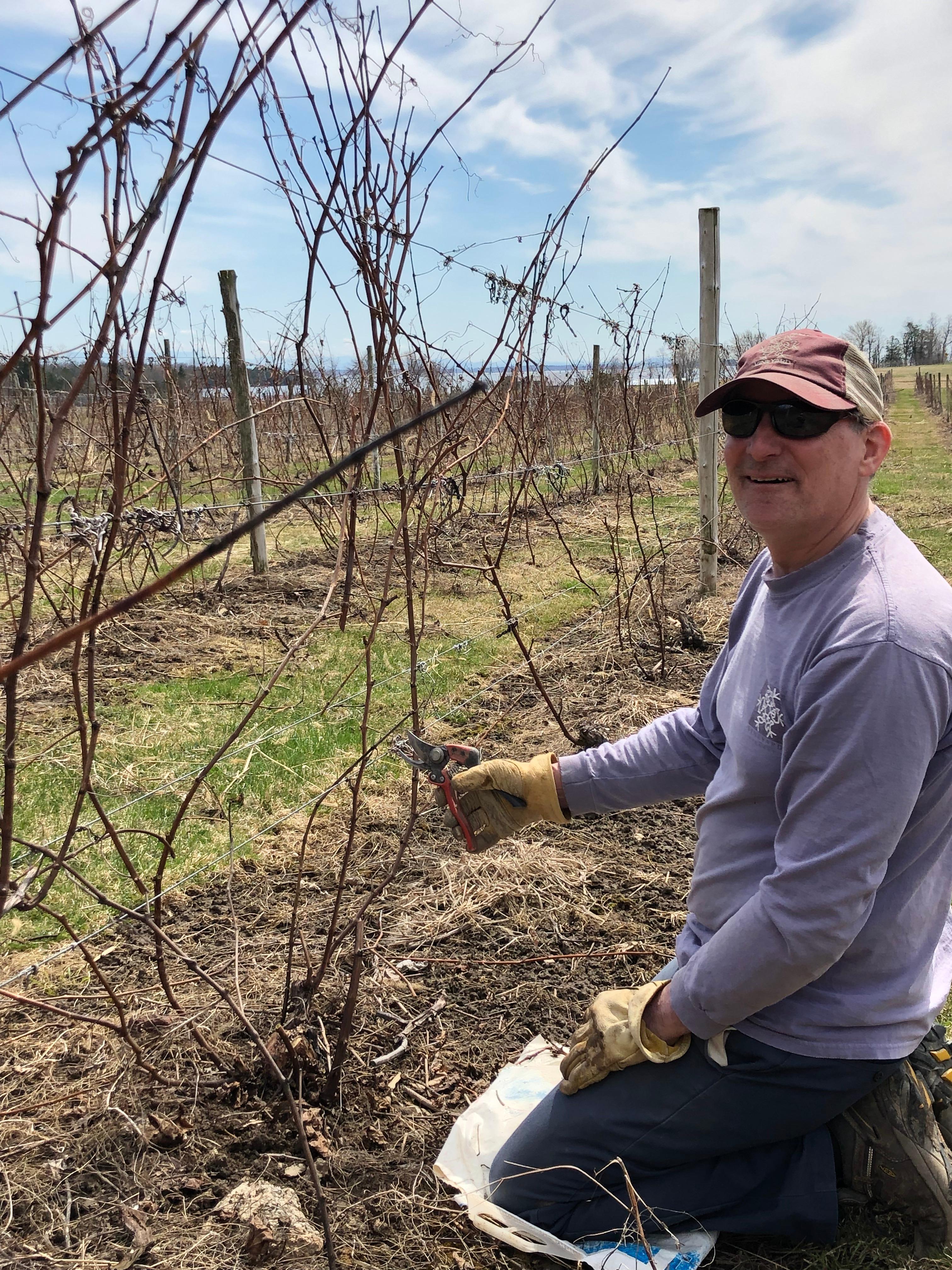 Head winemaker Patrick Barrelet of Snow Farm Vineyard.
Spring Pruning Tips
As temperatures start to warm up, it's time to think about spring pruning. We can't think of anything more quintessentially spring than spending a sunny day outdoors tidying up the grapevines and enjoying the fresh air.
Pruning is somewhat of an art. It's a balance of good practices and intuition. Patrick learned to care for vines and make wine alongside his father and uncle in Bedford, Quebec, where he grew up. He went on to study winemaking at two different schools; Beaune and Dijon in Burgundy, France. He says it's all about balance.
"If your vines are balanced, you'll have nice wood and nice fruit with clusters that are bigger and will get riper," Patrick said. "You don't want to let the vines grow a lot and have a lot of grapes one season and not a lot the next. To achieve balance, you want to remove a lot of the dead wood and weak stuff, and concentrate on keeping some canes and spurs from last year's growth."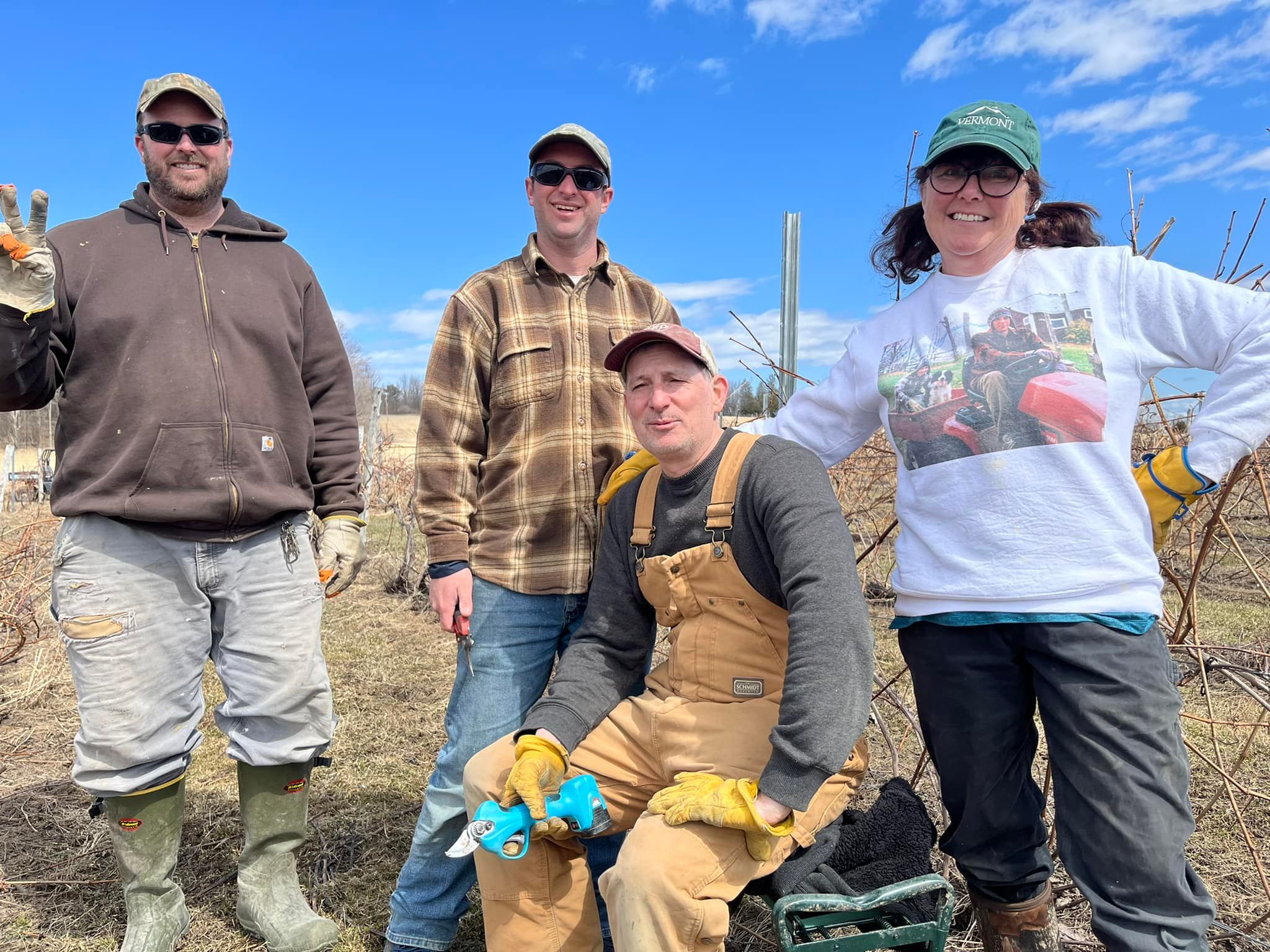 From left to right: Nick Lane, Alex Lane, Patrick Barrelet, and Julie Lane of Snow Farm Vineyard.
When to Start Pruning
When you prune depends on the grape varieties you have.
For hardy varieties like Frontenac, Concord, and Marquette, you can start pruning after a few hard frosts in the fall when you're sure the vines are dormant.
For more tender varieties like Seyval, Vidal, or Riesling, you'll want to wait until spring so you can assess if the vines are showing signs of damage. If you see a lot of dead areas, you can start pruning in mid-March and finish by the end of April.
Pruning for Mature Vines
How much you prune depends on how mature your plant is. With a mature plant that is at least two years old, you'll want to focus on the size of the canes. Canes are the one- or two-year-old branches of the grape plant. They grow as shoots off the main trunk.

"Your canes need to be the diameter of your little finger or a pencil, and if you have canes way smaller than that, or if you have canes bigger than the diameter of your thumb and huge, you left too much on," Patrick said.

Many people keep large grapevines to grow up a trellis or an arbor. They bring beauty to an area, but may not grow as many clusters of grapes, and can be at risk for disease.

"Sometimes people have all these nice canes. It's beautiful and they think, 'let's just keep more.' If you do that you will have a lot of buds that grow together and you'll have more disease and less aeration, with less sunlight hitting grapes," Patrick said. "And then you won't get the nice quality grapes you may want."

So how many buds is enough? The general rule is to keep five buds per linear foot. Like any perennial fruit tree, the buds go dormant in the winter and begin to open in the late spring. Be sure to stop pruning once the buds start opening.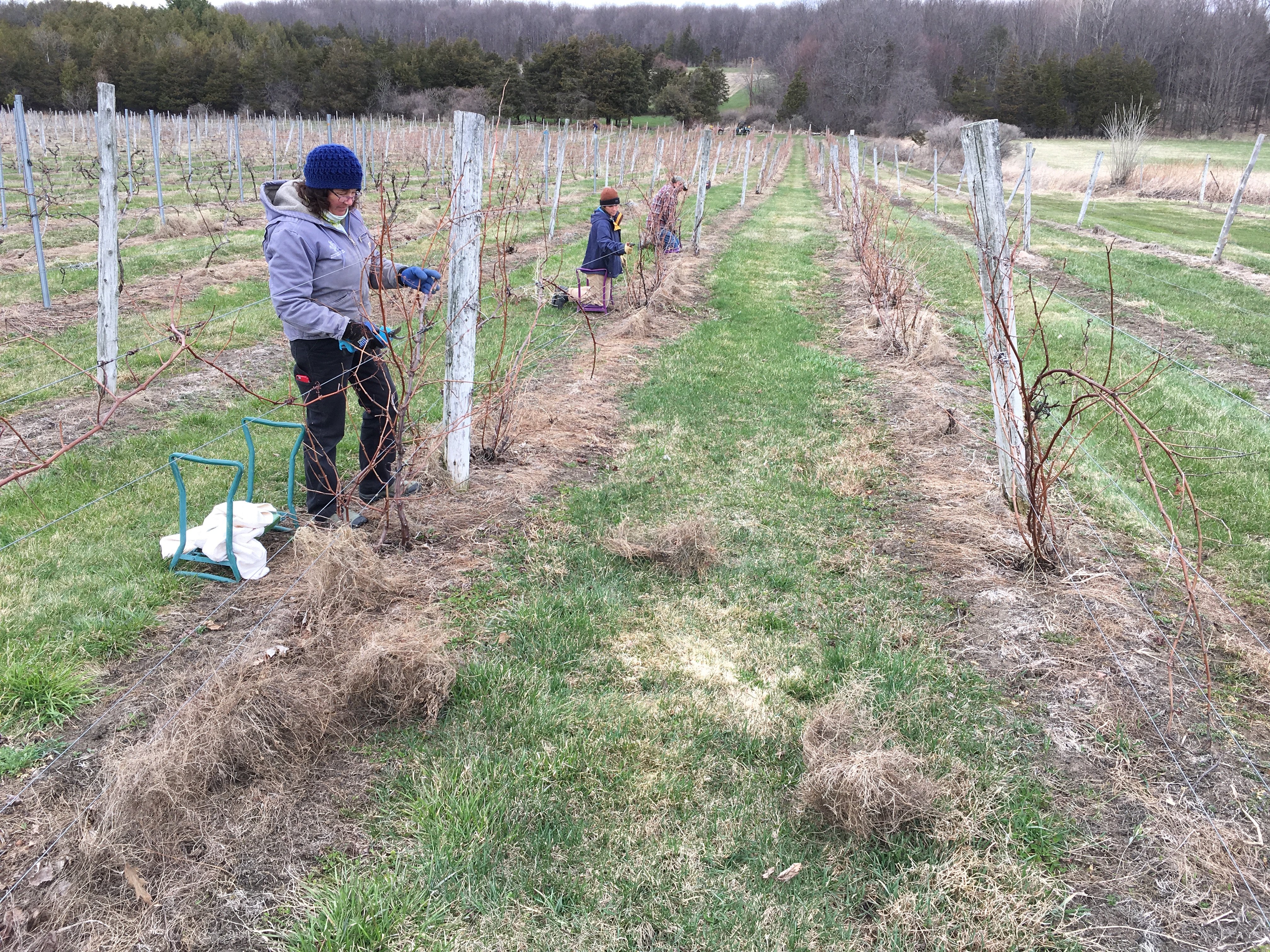 Pruning for Young Vines
When you first plant your vine, it will usually have one or two canes. The spring after you plant it, you can start gently pruning. All you need to keep are two buds!
"If you keep too many buds, then there will not be enough root structure to feed the plant." Patrick said ."After the first year of planting, I bring it down to two buds and let it grow, after that if the canes are still the size of a pencil, I bring it down again to two buds for the first few years."
Listen to All of Patrick's Pruning Tips
Grab some headphones and listen to Patrick's tips below as you prune!
In between your spring pruning, be sure to take a moment to appreciate the beauty of the vines; their delicate branches reaching up towards the sun, and another season to enjoy the gifts of nature.
Wines to Drink in The Spring
We've put together a list of some of our favorite Snow Farm Vineyard wines that are perfect for springtime sipping and celebrating.
What sets Snow Farm Vineyard apart from many vineyards, is our light and fruity reds.
"Every year our wines are meant to drink young and sell within a year or two," Patrick said. "If you're drinking our new releases in the spring, you'll be experiencing them after they were just bottled when they are often their most fruity."
Spring wines to try this season:
Reds
Crescent Bay Red: Ripe red fruit with complex flavors and aromas. Fragrant berry notes with smooth tannins and a hint of oak.
Marquette: Woody aromas and a hint of berries. Smooth oaky flavors with a tart dark cherry finish.
Whites
Snow White: Semi-dry with delicate flavors and aromas. Mild and smooth.
Seyval Blanc: One of our most popular wines and a favorite of our head winemaker. Dry, nicely balanced, light, yet fruity.
These delicious wines can be found at retail locations across Vermont, so pick up a bottle or two before they run out. Happy Spring!