In 2009, Julie Lane planted a field of four varieties of grapes at her over 200-year-old red farmhouse in South Hero. A longtime teacher and gardener, she enjoys watching things grow.
"I'm a farmer at heart and recently became a Master Gardener. Back then, I didn't have any sense of making the wine because it takes three to five years after planting to have the first grape harvest," Julie recalled.

Little did she know, in just three years, the rows of grapes she planted would become part of a successful winery and vineyard, and the reason she changed careers at 50.
Julie was already a minority owner in Snow Farm Vineyard and worked there part-time in the summer.
"It was June, and I said I'll just work in the vineyard in the summer and then get back into teaching, and then thousands of things happened, and I never looked back," Julie shared.

It was 2012, and Snow Farm Vineyard in South Hero, located a quarter mile from where Julie and her husband Dave live, was going through a transition. The proprietors of the vineyard and majority owners were moving on and looking for a new owner. The vineyard and winery were right in the middle of their farm and their youngest son had worked with the vines for several years. The thought of someone else owning the property was devastating news for the Lanes, whose family had been dairy and beef farmers on the land for many decades.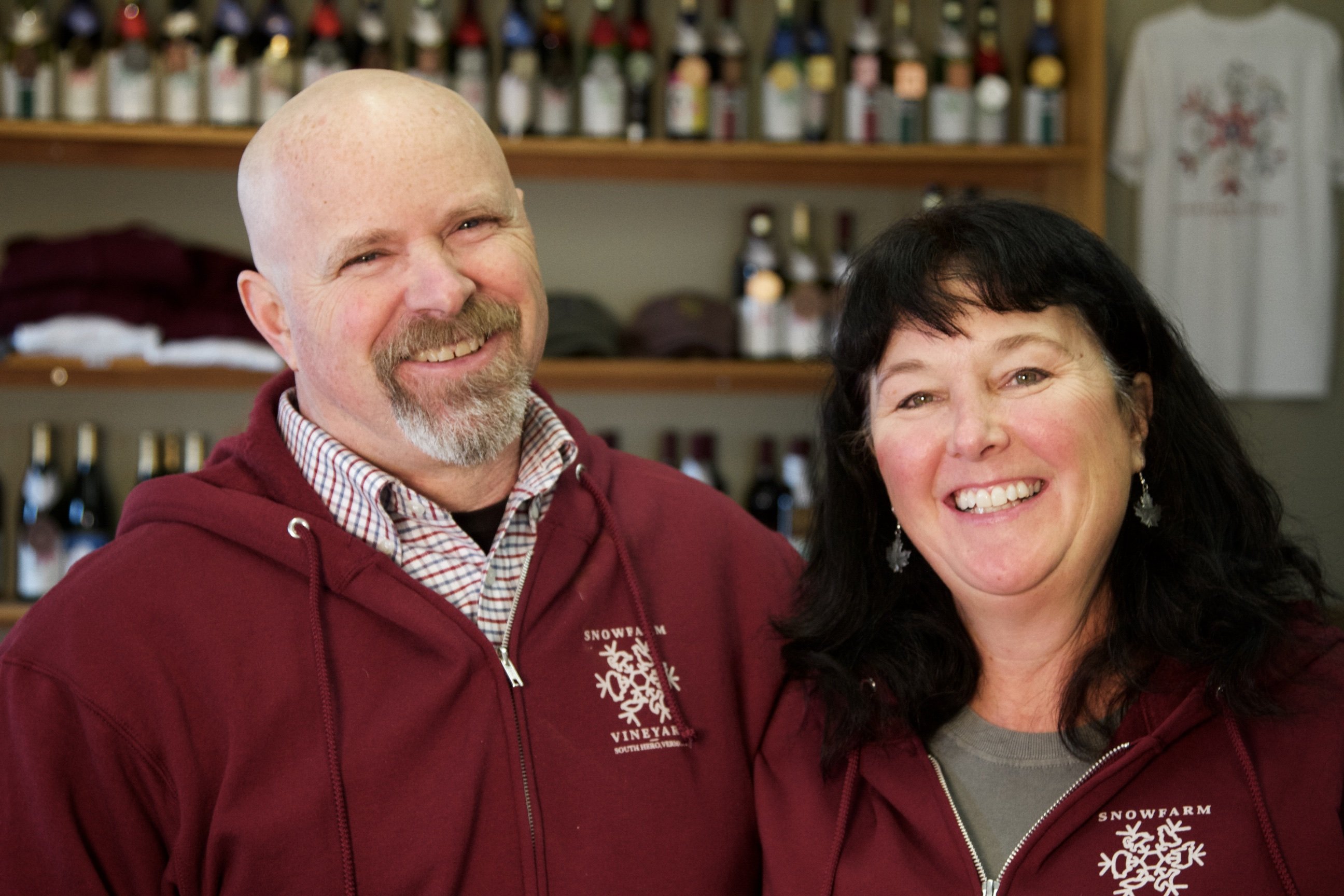 Dave and Julie Lane of Snow Farm Vineyard.

"We want people to know that the vineyard was originally a part of Crescent Bay Farm and is still in agriculture. We want to keep it that way forever," Julie shared.

So, they decided to buy it and become the majority vineyard owners and joined forces with Patrick Barrelet, the existing winemaker at Snow Farm Vineyard.

"I left teaching that summer and said, let's buy Snow Farm Vineyard. I had been teaching for 25 years. It was a sudden thing that we knew we had to do to bring it back into the farm," Julie said.

And so the grapes at the Lane farmhouse became part of the 13+ acres of grapevines used to create Snow Farm wine.

"I said, Patrick, you make the wine, and I'll take care of the front-of-the-house part," Julie recalled.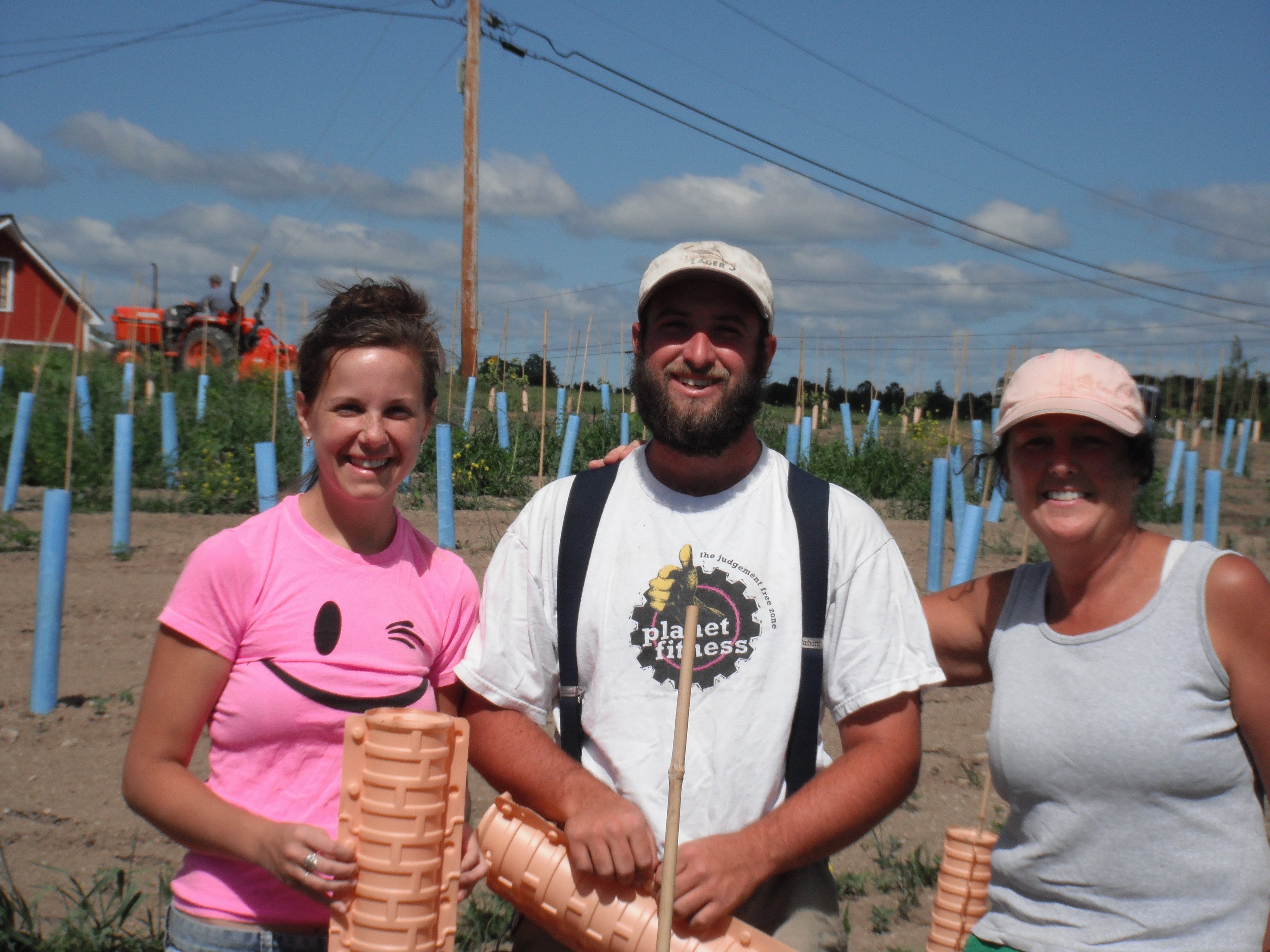 Melissa, Alex, and Julie Lane planted grapes in 2009 at the Lane farmhouse in South Hero.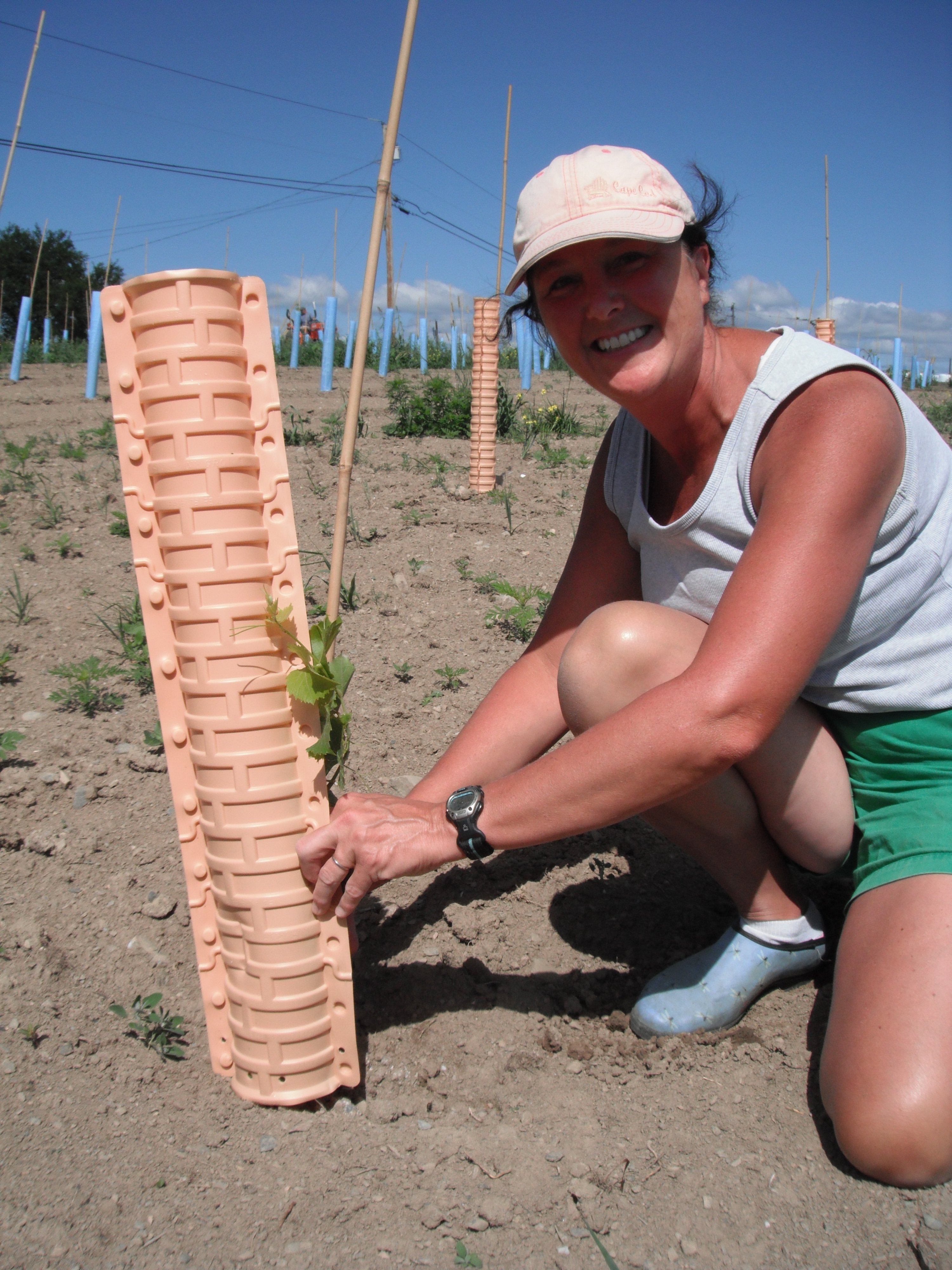 A long-time horticulturist, Julie knew she might start a vineyard one day, so she planted grapes at her home. Little did she know, the vineyard next door would soon become her own.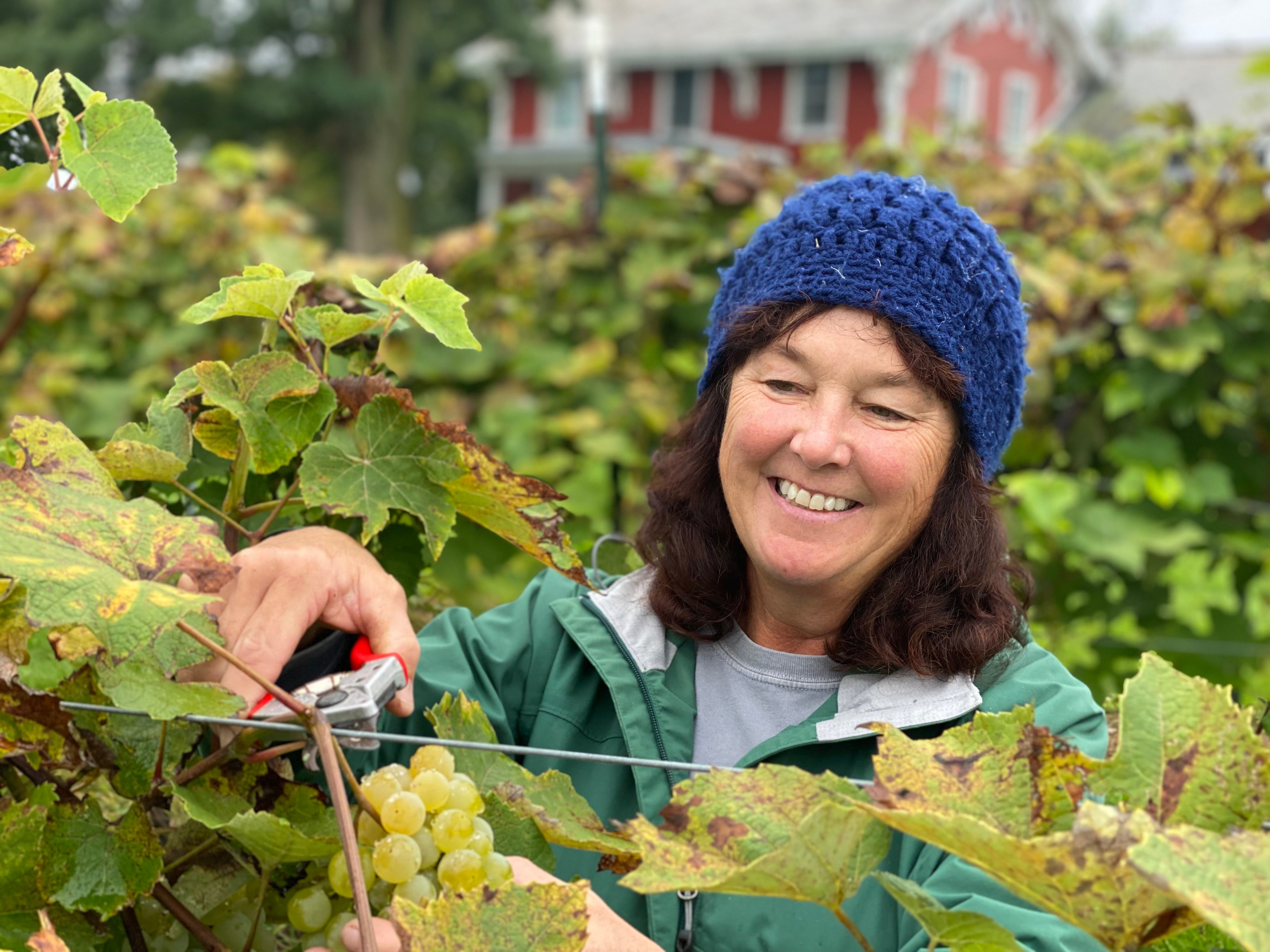 The mature grapevines Julie planted over a decade ago at her farmhouse have grown to produce a wide variety of wines for Snow Farm Vineyard.
Always an Educator
Julie, who grew up in rural western New York and has an undergraduate degree in animal science, used her love of agriculture and her background in teaching to help take Snow Farm to the next level.

She recalls that the decision to become a vineyard owner was a natural one that mainly stemmed from her desire to create nature-based experiences people enjoy.

"I miss the creativity of teaching, but the vineyard allows me to be creative too," Julie said.

As she learned the ins and outs of the vineyard, Julie focused on bringing more people to the tasting room and became the educational leader and event manager.

"The existing business was going, but it wasn't growing. Patrick needed support and partnership," Julie said.

Soon enough, with Julie's determination, bus tours were rolling in, and bicyclists were coming from as far as Canada to stop at the tasting room. Since then, Snow Farm Vineyard has become a popular destination for locals and tourists alike.

Visitors can tour the vineyard and learn about the winemaking process, visit the tasting room to sample the wines or attend one of the many events held throughout the year, such as the summer concert series, winter wine downs, or the annual grape-stomping harvest festival. The winery also hosts private events and weddings and offers an online store and wine club for those who can't visit in person.

"It's fascinating for people because we grow our own product. Some winemakers buy all of their juice from elsewhere, and it's not from their land; we're not doing that. We're truly making a taste of a place," Julie shared.

Julie says Snow Farm Vineyard wines are 95 percent estate-grown. That means the grapes are farmed, fermented, aged, and bottled into wine on-site at the vineyard and winery. The farm sources other fruits in their wines, like Aronia berries and apples, from nearby farms.

The primary focus for Julie for years has been on educating customers about Vermont wine, which many people don't recognize by name. However, she says many Vermont wines have a similar taste profile to the typical wines people already know. Each Snow Farm wine has a story behind them too, making them even more unique. Her favorite is the Naked Mermaid.

"It's a semi-dry, sweet blend of La Crescent, Louise Swenson, and Swenson white grapes. When our son Nick was young, he was kayaking in the bay in Lake Champlain, and there was a woman that was jumping off one of the cliffs, and he came back and said, 'I think I saw a mermaid,' and ever since then, we talk about mermaids here in the bay."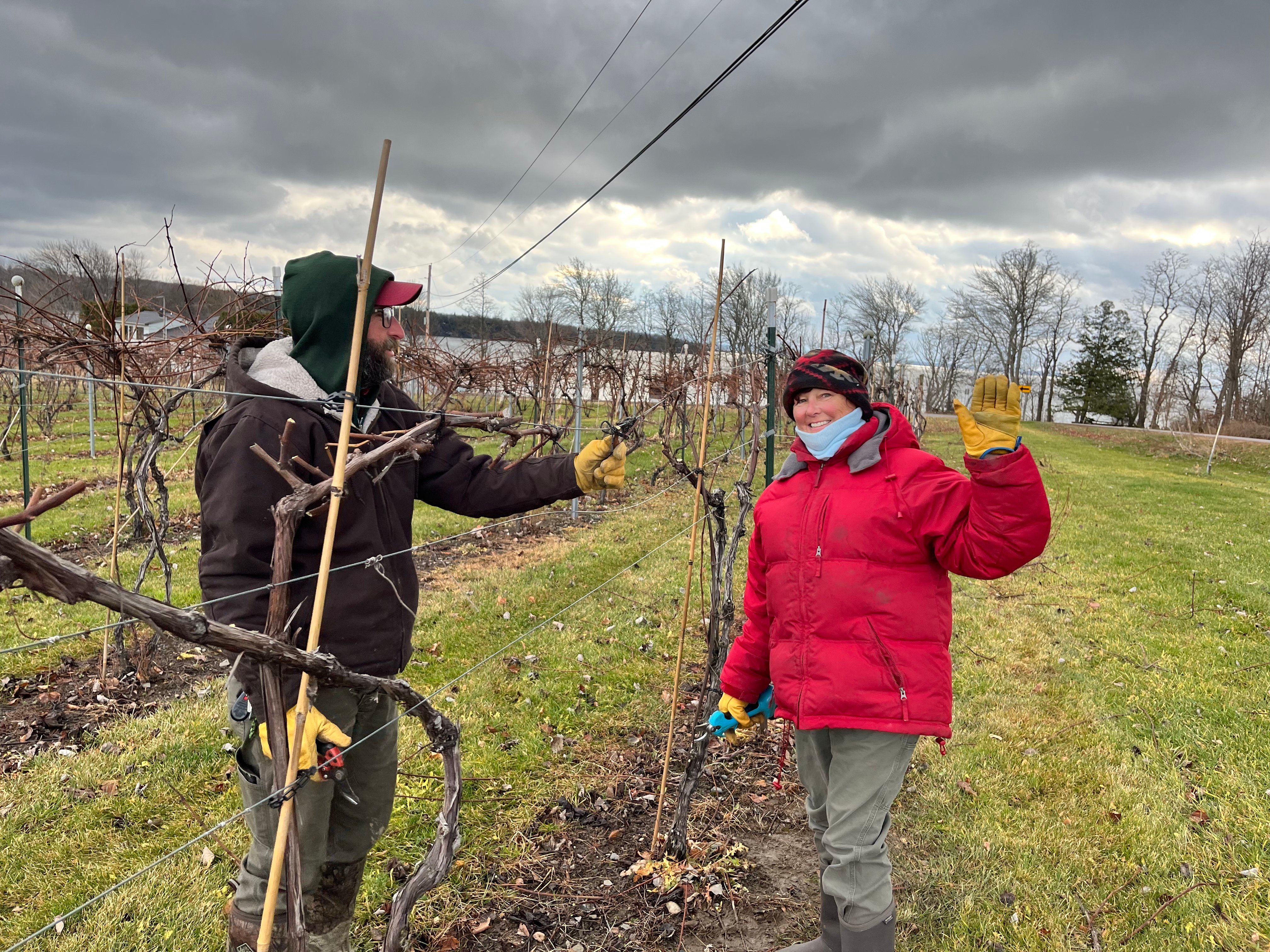 Julie and her son Alex pruning the vines at Snow Farm Vineyard.
The Next Phase of Growth
The constantly changing seasonal tasks on the 140-acre farm and vineyard mean Julie and her family continually adapt to help with any job.

"The seasonality keeps you enriched," Julie shared. "We may be filling wine bottles together, outside pruning the vines, or tapping trees for our maple sugaring operation; there are so many different parts of the business."

As Julie and Dave's sons Nick and Alex take on more leadership at the farm, Julie says she's looking forward to focusing more on education and hospitality including their guest accommodations, Snow Farm Inn, as well as keeping up with the latest trends in winemaking.

"We're grape-to-glass, so we want to keep up with what's new," Julie said. "Natural wines are huge now, and so we have introduced Pet-Nat with natural yeast and bottle fermented so that it has a little sparkle in it. We're also excited to launch Snow Farm Distillery this year and offer spirits made from our grapes and local fruit."
The Importance of Women in Wine and Agriculture
The 2019 Census of Agriculture revealed that 14 percent of U.S. farms are operated by a woman as the principal operator, and 37 percent of all farms have at least one female decision-maker who is not the principal operator. Experts say these numbers are triple what they were in the 1980s.

Julie says she's happy to see the increase in women in farming because collaboration with women makes for stronger businesses and products.

"There are a lot more women in charge in one aspect or another, and there are strong women out there who are great leaders," Julie shared. "We all have something to offer. In the wine world, your wine is different from the wine next door, and that's the winemaker's touch, the terroir."

As Julie reflects on her choice to change careers later in life, she says it's never too late to follow your passion, even if you aren't quite sure where it will lead. There is incredible potential in the unknown; all you have to do is grab it with both hands to watch it grow.