The fall season is a busy time for Vermont vineyards. From harvesting the grapes to preparing for winter, there's a lot that goes on as a year's work culminates.
In this blog post, we'll take you behind the scenes of Vermont's oldest vineyard to show you what happens during the fall season.
We'll also explore some of the challenges that vineyards face during this time of year and how they overcome them.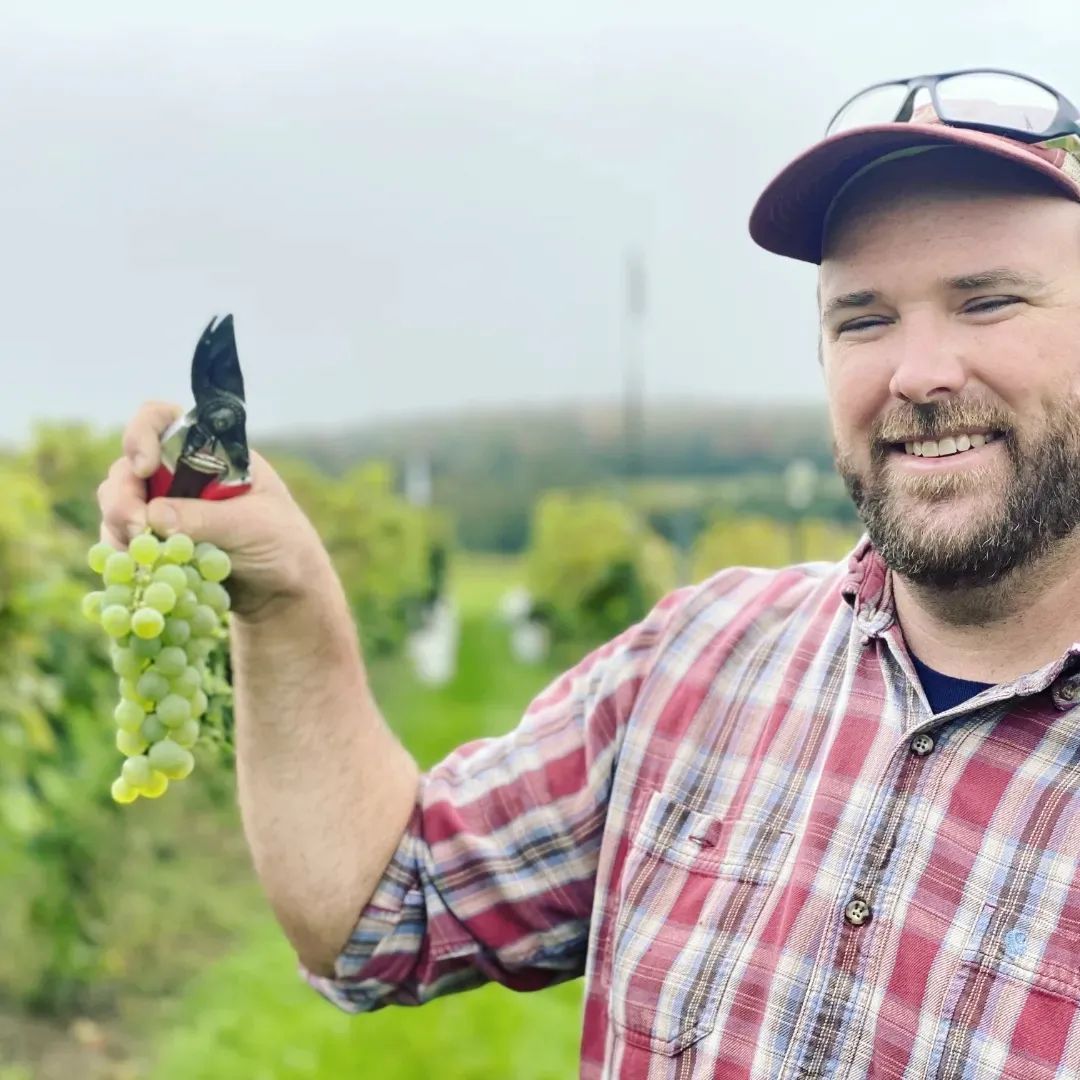 Nick Lane of Snow Farm Vineyard harvests grapes by hand.
The Enjoyable Parts
The most enjoyable part about fall in Vermont for a winemaker is the relief when the harvest is finished.
"Bringing the grapes in is very satisfying," Patrick Barrelet, head winemaker at Snow Farm Vineyard in South Hero said. "Once they are in, I feel like they are safe now, and they can become what we want them to be which is great wine."
The majority of the grapes are picked from early September into late October, depending on the weather. Snow Farm Vineyard harvests over 40 tons by hand during this short time.
In Vermont, the last grapes on the vine are picked in December, after the first hard freeze, to be made into ice wine, a delicacy made only in cold regions.
Cool fall days in Vermont make harvesting grapes easier compared to hot regions like California.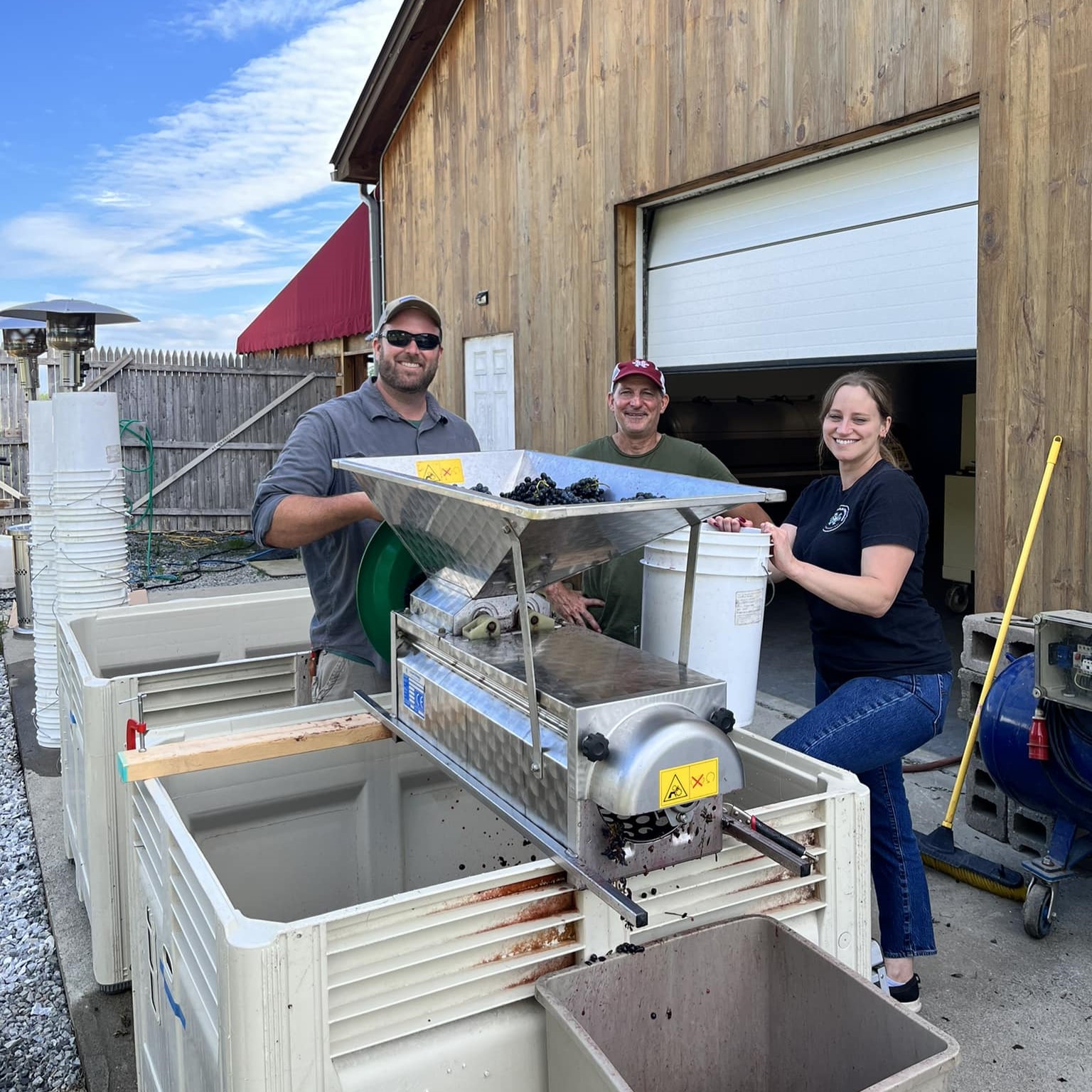 Nick Lane, Patrick Barrelet, and Cassandra Martin of Snow Farm Vineyard put red grapes through a crusher destemmer.
The grapes must be picked at just the right time to ensure that they are ripe and ready for fermentation. Many people think white grapes should be first, though that is not always the case in Vermont!
Winemakers test the sugar content and pH before harvesting. A refractometer is a simple tool that measures Brix, or sugar content, of a grape.
It takes each variety a different amount of time to mature. Because Vermont weather is unpredictable, a variety may do well one year and fail to thrive the next. That's why Vermont vineyards need to have a diverse selection of grapes.
At Snow Farm Vineyard the order of harvest is generally as follows, though it depends on the weather:
Léon Millot
Baco Noir
Seyval Blanc
Frontenac Gris
Frontenac White
Cayuga
Vignoles
La Crescent
Marquette
Riesling
Vidal Blanc
Once the grapes are in the winery, where they go next depends on whether they are red or white.
White grapes don't necessarily need to be destemmed before going through the wine press to remove the juice. Whole-cluster pressing is known to create a lighter-styled wine. Once the juice is separated the wine goes into fermentation tanks.
Red grapes go through a crusher destemmer first and then ferment with the skins on before being pressed and put into tanks.
At Snow Farm, the press can handle just over one ton of grapes at a time.
After the grapes have been harvested and are fermenting, the vines rest until it's time for pruning in the winter and early spring, depending on the variety.
The Challenging Parts
Although fall is one of the most beautiful times of year in Vermont, it can also present some challenges for vineyards. One of these challenges is dealing with inclement weather like heavy rain which dilutes the grapes.
"The grapes swell up and if you pick them right after the rain they will be soaked up with water," Barrelet said. "For high acid grapes that is good, but for low sugar grapes, they become diluted even more, so they are less sweet, and then everything is diluted, including the aromas."
Grapes can swell so much during heavy rain that they split open. When this happens, there is no time to wait for them to come back down to size, and they must be picked immediately to avoid rotting.
Winemakers also watch the plants for signs of disease in the fall. Though red leaves are beautiful in autumn when they appear on the trees, they are a warning sign when they appear on grape vines.
"When you see red leaves it's a hint you have a virus or some disease," Barrelet said. "As the vines get older, it's like a tree, the leaves start to turn yellowish and then they fall off in the fall."
Barrelet says he's also thinking about the challenges of climate change which could mean more pests, viruses, and less viable varieties.
"Changes in climate may make it harder for us to make good wine," Barrelet said. "Having such a big variety of grapes at our vineyard makes it a little safer because if we have a really long hot season, we have varieties that can handle it. We also have varieties that can handle a short cold season too."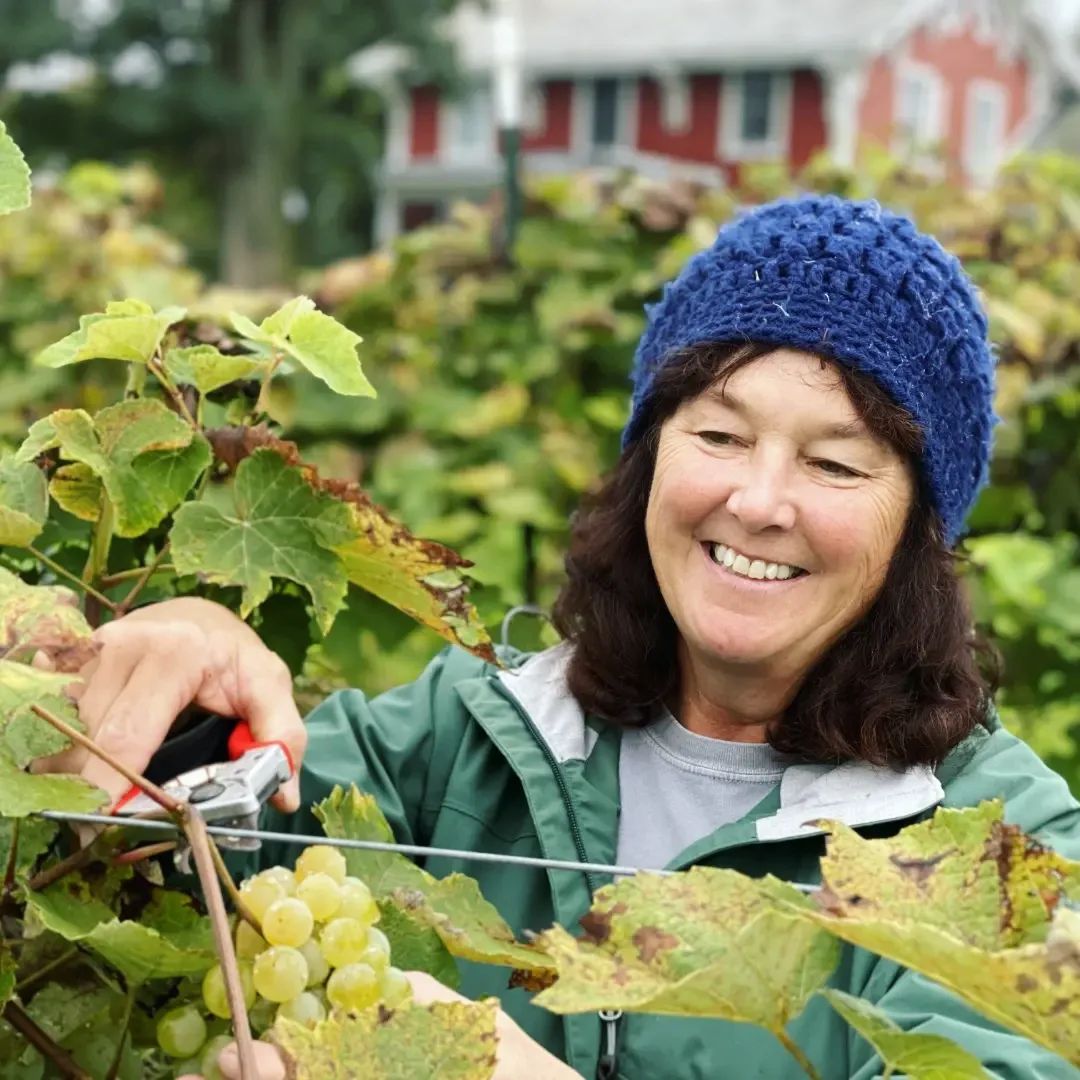 Julie Lane of Snow Farm Vineyard harvests grapes by hand.
Visit a Vermont Vineyard this Fall
The fall season is a busy but exciting time for Vermont vineyards. From harvesting grapes to preparing for winter, there's always something going on. Although there are some challenges that come with this time of year, namely inclement weather, these are outweighed by the positives such as stunning foliage and experiencing the harvest after a year's work.
So next time you're looking for something to do in Vermont during the fall, be sure to visit a local vineyard and see firsthand all that goes into producing your favorite wines!
Snow Farm Vineyard hosts an annual fall harvest festival with food trucks, live music, wine tastings, hay rides, and more that you won't want to miss.